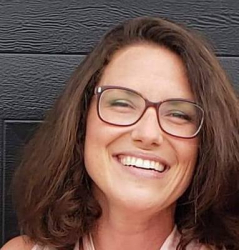 Latest posts by Sarah Caldwell
(see all)
While Arkansas can still get very cold and residents will experience freezing temperatures, winters are typically shorter. The summer is hot and humid, making for a subtropical-like climate. The northern part of the state will see ice storms, snow, hail, and freezing temperatures while the southern part of the state will have more mild winters.
There's a large variation from the north to the south, which impacts the planting zones quite a bit. Arkansas is also known for thunderstorms and tornadoes bringing the average precipitation up to about 50 inches per year. It is drier in the north than it is in the south.
Growing zones span from 6b-8a, and you can eliminate a lot of frustration by understanding which zone you're in and choosing the plants that have the best chance of survival where you live. There's a large variety of plants, vegetables, trees, and flowers that grow well in Arkansas. You will have a season full of produce with carrots, lettuce, tomatoes, green beans, cucumbers, and herbs.
There are also plenty of native flowers that you can plant for a gorgeous garden, including beautyberry, azalea, clethra, calycanthus, and holly. If you're more interested in perennial shrubs, there's black-eyed Susan, echinacea, and plenty of native ferns.
Arkansas Growing Zones
According to the USDA, Arkansas spans Zones 6b-8a, so while the breadth of zones seems small, it has a big impact on the growing season and the plants that will survive in each area.
The north experiences a colder, dryer winter while the south has a short, mild winter with more precipitation. However, the entire state experiences hot, humid summers.
Zone 6b
Zone 6b has a minimum average temperature of -5 to 0 degrees Fahrenheit. While colder temperatures can occur, this is a good place to start when determining how hardy your plants need to be.
Growing Tips
If you live in Zone 6b, use the USDA Hardiness Zone Map to help you decide what plants will grow best. There are plenty of fruit and nut trees, flowers, vegetables, and other plants that you can choose.
You'll experience success with eggplant, tomato, pepper, and other vegetables that are easy to transplant. You can directly sow cabbage, beans, corn, squash, and cucumber anytime after May 1. Check the maturation dates on the packages so you know when to expect them.
Cold hardy fruit and nut trees grow well in Zone 6 and include things like apple trees (McIntosh, Gala, and Honeycrisp), European pears like Bartlett and Conference, peach trees like Madison and Reliance, plumbs, blackberries, blueberries, cherries, walnut, pecan, chestnut, and pine nut.
Zone designations help you determine which plants will survive the winter in your area, but they don't take into account other weather factors like rainfall, drought, soil fertility, microclimates, unpredictable weather patterns, and a whole host of other growing conditions.
The Zone 6 growing season is considered medium to long. It's a great place to plant a variety of flowers so you'll have blooms in three seasons. You can even plant flowers that have longer blooming seasons that will last throughout the growing season.
Frost Dates in Zone 6
Estimated frost dates are vulnerable, thanks to unpredictable weather, but these estimates can still help you figure out roughly when to plant. The last frost date in the spring of Zone 6 is typically between April 1 and April 21. The first frost date usually falls between October 17 and October 31.
Zone 7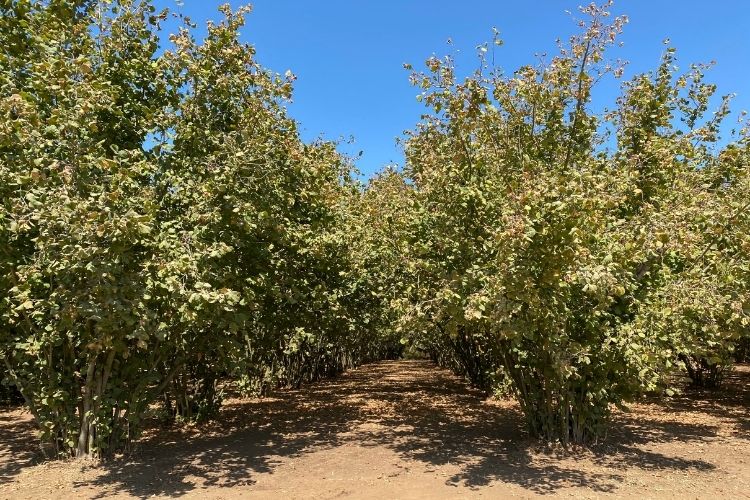 Arkansas contains both subsets of Zone 7. The overall minimum average temperature in the zone is 0-10 degrees. Zone 7a has a minimum average of 0-5 and Zone 7b has a minimum average of 5-10. One interesting thing to note about Zone 7 is that the boundaries changed in 2012. If you've been an avid gardener for that long, you will have already noticed.
The USDA updated their Hardiness Zone Map in 2012 to reflect an increase of 5 degrees over the 1990 map. That change reflects a noticeable change in the Zone 7 boundary.
Growing Tips
Summer in Zone 7 seems to bring an endless supply of vegetables, fruits, and nuts you can grow. Pecan, walnut, chestnut, hickory, hazelnut, blackberries, strawberries, blueberries, peaches, apples, apricots, and pears are just a few.
Many people think it's not possible to grow citrus trees in this zone, but there are quite a few varieties that will be successful. Find a trusted local nursery that can help you determine which citrus varieties you may be able to grow based on your location and soil composition.
Zone 7 has a long growing season with plenty of opportunities for you to enjoy a wide variety of flowers, shrubs, and trees.
Frost Dates
Just like any other zone, first and last frost dates are estimates. The last frost date is typically in mid-April in Zone 7, but frosts have occurred as late as May. First frost dates are generally mid-October but can hold off until the first week of November.
Zone 8a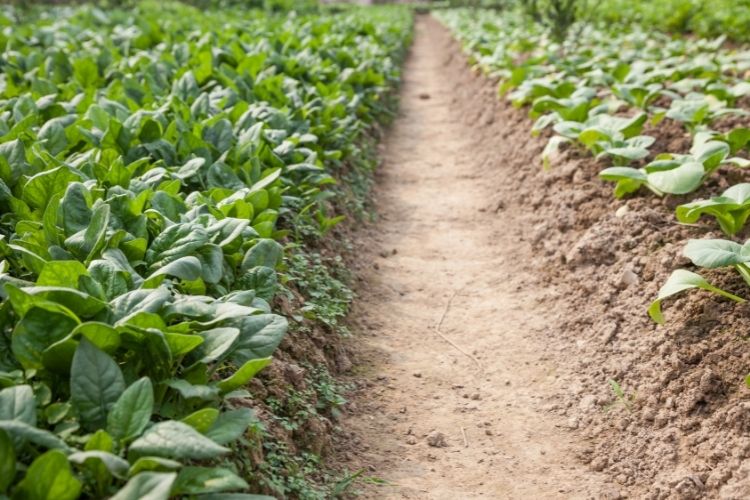 The minimum temperature in Zone 8a is 10-15 degrees. This is the only subset of Zone 8 that Arkansas experiences, although temperatures have been known to dip below this number.
Growing Tips
You can grow quite a few plants in Zone 8 including vegetables like beans, peppers, tomatoes, okra, and so much more. Mediterranean herbs like parsley, rosemary, and oregano also thrive here due to the hot, humid summers. Berries of all kinds are also great choices.
While the temperature can dip below freezing in the winter, it normally doesn't. It's relatively easy to extend your growing season by using mulch around your cold-weather vegetables like spinach and lettuce.
You can also protect your winter plants in Zone 8 with row covers, but make sure you raise the cover on sunny days to avoid overheating, even in the winter. Another way to extend your growing season in Zone 8 is to use hoop tunnels over row crops and raised beds.
Frost Dates
The first frost in Zone 8 is typically between October 11 and October 20 while the last frost date is between March 21 and March 31. While it doesn't freeze often, you will encounter several light frosts throughout the winter that can damage plants that are less hardy.
Native Arkansas Plants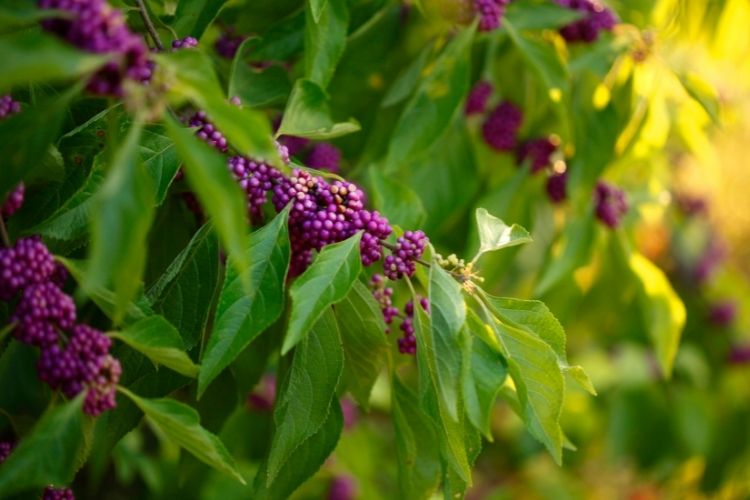 While there are certainly a variety of plants that thrive throughout Arkansas, there are a lot of native species that will do well, look beautiful, and keep your landscape true to the region in which you live.
These types of plants pair well with Bermuda grass, the most popular grass in Arkansas, and they will flourish in most yards. According to the Arkansas Native Plant Society, these are some of the most popular options.
American Beautyberry
This plant is a true show stopper in any garden. It produces stunning purple berries on long-reaching branches. It's native to Arkansa and can grow up to 9 feet tall and 4 feet wide.
When pruned and maintained, it can remain around 4 feet tall. It's a great food source for songbirds, but it is not resistant to deer. It loves wet soil and can thrive at the edge of your lawn or on steep slopes.
Solomon's Seal
The arching stems on this plant create interest in your garden bed, and it will thrive in the shade, so you can plant it in those spots that don't get much sun. It produces bell-shaped blooms that hang from the stems, offering a romantic feel.
Varieties can be white, pink, or green, but all flowers eventually turn to berries that will nourish wildlife. It's only about 3 feet tall and 2 feet wide, so it's great for a small garden.
Florida Anise
Believe it or not, this unique plant is actually native to Arkansas. It makes a great non-traditional privacy hedge. It's a hardy evergreen that will be beautiful year round. The leaves give off a spicy scent, but the flowers can smell like fish.
It is capable of growing up to 15 feet tall and 10 feet wide, so it's a great option for backyard privacy.
Black Willow Tree
These gorgeous trees make great shade trees and they don't grow too tall. They're usually between 35 and 100 feet. Slender branches make it look smaller than it really is, and they're a great source of pollen for honey bees. This tree will do well in a sloped spot and help to bind the soil to prevent excess runoff.
Sweetshrub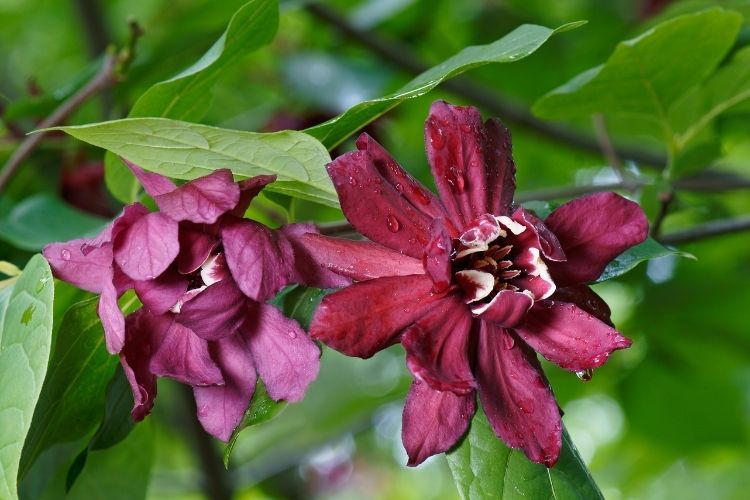 This plant is also called calycanthus or Carolina allspice, and the purple flowers give off a spicy flavor. It's rated for Zone 4b, but will do well all over Arkansas. It grows to 9 feet tall and can have a 9-foot spread. It will thrive in full sun or partial shade.
This is a great plant to line walkways or footpaths so you can get up close and experience it. It's also good for mass planting or general garden use. Deer don't care for it, so it will be left alone for you to enjoy.
Yaupon Holly
This small evergreen will only be about 20 feet tall. It has a gray trunk and many twig-like branches. Bright green leaves turn a beautiful gray in the winter, and they're not prickly like many other holly varieties.
These plants make great hedges. You can line a path or flank the front of your house. The females produce red berries in the winter and it offers a great amount of variety in any garden.
Summersweet
This shrub only grows about 5 feet tall and will do well in full sun or partial shade. It likes acidic, moist, well-drained soil and will attract throngs of pollinators like bees, butterflies, and birds.
It will look different at different times of the year, from beautiful green leaves and white or pink flowers to golden leaves and dried seeds.
Azaleas
There are plenty of azaleas, or Rhododendron varieties that are native to Arkansas. They are one of the most common shrubs in Arkansas. They come in dozens of colors and sizes, so you can choose anything that fits in with your landscaping needs.
Smaller varieties may only be about 12 inches tall whereas larger options can be as tall as 15 feet.
Purple Coneflower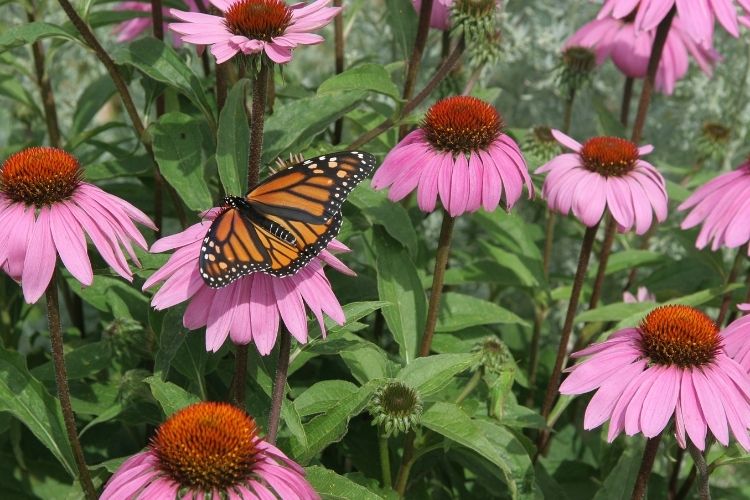 This native Arkansas plant will thrive in nearly any landscape. The strong stems have pale purple or white flowers shaped like cones. They bloom from May to July and can withstand drought and full sun. It will be fine in dry soil and direct sunlight all day long. It can also attract bees and butterflies.
Arkansas Beardtongue
This 2-foot plant used to be classified as a snapdragon and is now considered a plantain. It has dark olive leaves and purple stems. The bloom from April to June and do well in the Ozarks, but are not as common in the Delta region or the Gulf coast.
While this flower is part of the natural Arkansas habitat, it's not a common variety in nurseries, so it's hard to find. However, if you can find it, it's a great choice, and you know your garden will be unique.
Early Buttercup
Early buttercup is one of the first flowers to bloom in the spring. They will start popping in mid-March before any other variety. The look pretty and smell amazing, but they'll also attract birds, butterflies, and bees.
They're yellow and love full sun, but may also do well in partial shade. The soil should be well-drained, but these beauties love edges and look amazing in garden beds, along property lines, and in front of fences.
Carolina Horse Nettle
This flower will do well in areas without small children or pets because it's a toxic perennial in the nightshade family. The flowers are attractive and will turn into berries in late August. While it's sometimes known as bull nettle, it's not actually a nettle. It's also called apple of Sodom or radical weed. The leaves smell like potatoes when you crush them and they do well in full sun, but will tolerate partial shade.
They'll thrive in wet or dry conditions in a variety of different soil types. Bumblebees love horse nettle, so if you want to attract these pollinators, planting horse nettle will help.
Lady Fern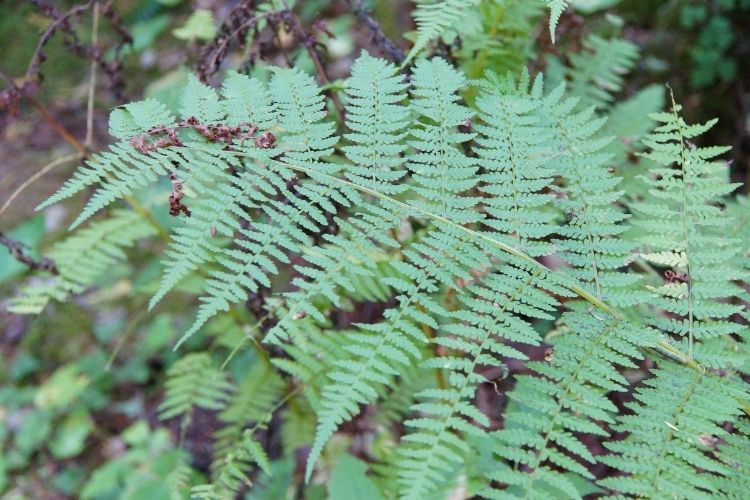 There are plenty of fern varieties that are native to Arkansas like sensitive fern, hairy lipfern, resurrection fern, wooly lip fern, and royal fern. Lady fern grows wild in moist woods, meadows, and swamps, as well as along the banks of streams and rivers.
It's incredibly low maintenance, which is the main reason why you see it a lot. The leaves are bright green and look like lace. A single frond can be up to 1 foot wide and 3 feet long. They're easy to grow and maintain, and they look beautiful.
FAQs
Question: What Plants are Edible in Arkansas?
Answer: There are plenty of things you can plant in Arkansas that are edible. Some include chives, chicory, dandelion, asparagus, chickweed, elderberry flowers, chanterelle, lamb's quarters, day lily, purslane, violets, sassafras, and morel mushrooms.
Question: Do Wild Blueberries Grow in Arkansas?
Answer: There are a lot of native blueberries that grow wild in Arkansas, but the most common is V. pallidum. It's found in the Ozarks of Arkansas as well as Missouri, Oklahoma, the Ouachita mountains, and in states east of the Mississippi from Alabama to Michigan, and all the way over to Maine.
Question: Can You Grow Avocados in Arkansas?
Answer: While avocado trees thrive in subtropical and tropical environments, they can grow in Arkansas if they're protected from the frost. Usually a deep planting with soil mounting around the trunk is advised. You should also cover them with blankets before a freeze.
Final Thoughts
Arkansas has a long growing season with many native plant varieties that are both functional and beautiful. While Arkansas does experience freezes, it's not often. With hot, humid summers, it's considered a somewhat subtropical environment.
Growing zones range from 6b-8a, so there's not a large range, but the northern climate is still very different from the south. It will take care and consideration when determining what to plant where you live.