People buy long planter boxes for different reasons. For some people, their gardens, patios, or backyards may have limited space, and planter boxes are the easiest way to add more gardening areas. They put these boxes on walls, underneath windows, or on railings. For others, planter boxes allow them to work with plants more comfortably. While some may want to use planter boxes to showcase their plants.
Whatever your reason, there is a perfect long planter box for you, such as:
Prepare a cup of coffee and grab a comfortable chair, as we tell you more about these recommendations for the best long planter boxes, their features, and why they're perfect for you.
What Are Planter Boxes, Anyway?
Planter boxes are an excellent way to beautify your garden while also making it easier to maintain your flowering plants. You do not have to dig, stoop, or bend too much when you have a planter box.
You have the option to put soil into your planter boxes and grow plants such as herbs and other edibles. Or you can use it as a display case for your potted live plants and flowers. If you keep your plants in containers, you may be able to switch them around as the seasons change.
What's more, planter boxes help you gain more planting space. For instance, you can add a planter box under a window or line your patio with them. Instead of bare space, you now have a window or patio garden.
So what are the best planter boxes that you can buy right now?
1. Countryside Flower Box Planter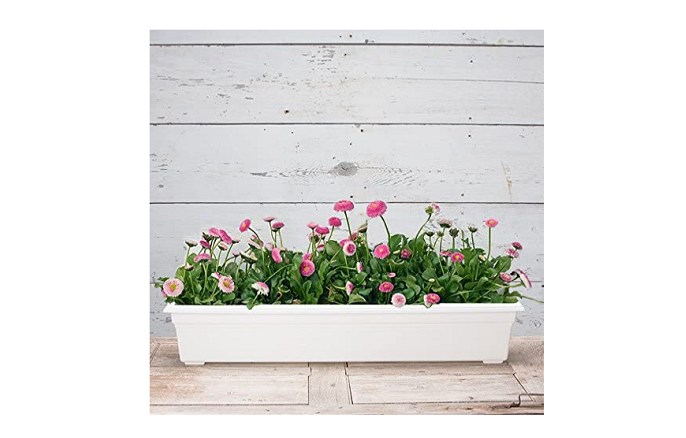 The Countryside Flower Box Planter is a traditional plastic planter box. With its matte finish and durability, these planter boxes will be a great addition to your patios, window, decks, or porches.
What's more, these planter boxes have feet so you can lay them on the ground and not worry about the soil getting waterlogged. There is no need to put them on elevated platforms to ensure proper drainage.
The planter box also comes with drainage plugs that you can open to let water drain faster. It's also resistant to ultraviolet rays, which can degrade the plastic material and make it brittle. What's more, it's frost-resistant as well. The Countryside Flower Box Planter is lightweight and comes in four colors: white, brown, sage, and terracotta.
Measuring eight inches (20 centimeters) wide and 6.5 inches (16.5 centimeters) tall It comes in four different lengths:
18 inches (45.7 centimeters)
24 inches (61 centimeters)
30 inches (76.2 centimeters)
36 inches (91.4 centimeters)
You can use this planter box indoors or outdoors.
Pros
Versatile and can be mounted on brackets or placed on the ground
Waterlogging is not a problem
Durable material that is resistant to both UV-light and frost
Recyclable material
Cons
May not last for long when used outdoors
Some customers complained about the bulging center and that the brackets that were supposed to keep the bulging in check do not work
2. DCN Plastic 2800-0-09 Window Planter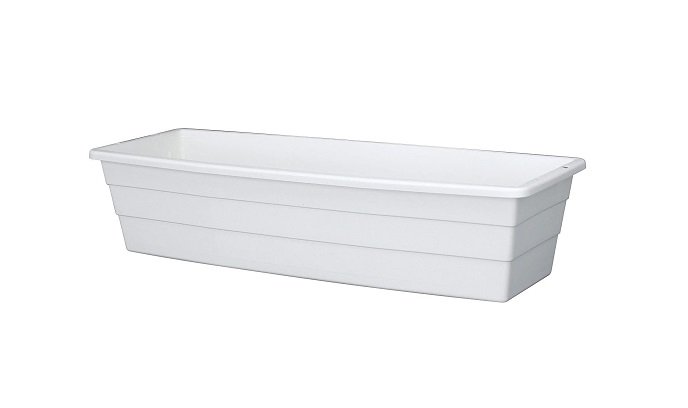 The DCN Plastic 2800-0-09 Window Planter has a classic planter box design that is perfectly suited for your windows. It measures 18 by 6.75 by 4.5 inches (45.7 by 17.1 by 11.4 centimeters) and costs less than $10.
This planter box can hold 6.3 quarts (5,943 cubic centimeters) of soil, while the thick walls ensure that it doesn't crack so easily.
However, this is not as flexible as other planter boxes out there. It's specifically for windows and doesn't have built-in feet that will raise it off the ground a bit. It also doesn't have drainage holes.
The drainage hole can be opened from within, so if you put soil into the planter box, you will have a difficult time opening or closing it later on. If you're going to use it as a container for your potted plants, it's going to do nicely.
You will get to change the plants inside the planter box with ease and you do not have to pay much for it.
Pros
More affordable than other planter boxes
Perfect to use as a container for potted plants
Excellent window box
Cons
Drainage hole is opened from within, so if you're putting in soil, you have to decide if you are going to leave the hole closed or open it
You will need to elevate it by putting it on something stable if you're going to put it on the ground
No holes for water to seep out of, except for the drainage plug
3. DR&Co Modern Rectangle Planter Box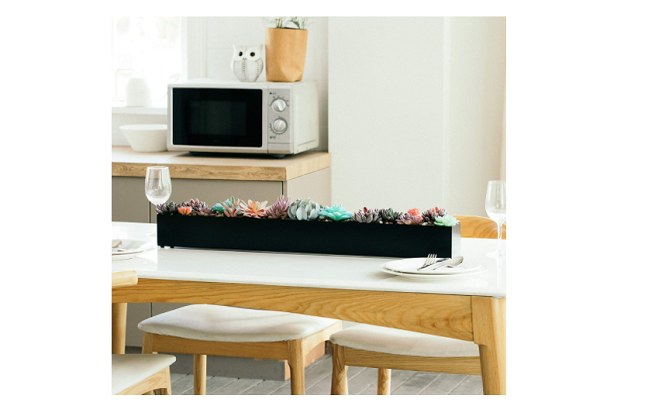 The DR&Co Modern Rectangle Planter Box is a classic indoor planter box that is elegant looking and eye-catching. The minimalist planter box has a solid color and a metal material.
The beautiful yet simple planter box has a matte finish that is resistant to scratches. The coating doesn't fade over time and it doesn't chip. These qualities make this product perfect for planting small plants such as succulents.
Succulents are a great way to spice up your indoor space and give it some green. According to this page, you can plant succulents close together and they will stay at the same size for a long time. But if you want them to grow, give them enough space to spread out their roots.
There are a wide variety of succulents in every color, letting you add bursts of colors on your tabletop or window sill. The DR&Co Modern Rectangle Planter Box comes in either black or white, letting you highlight your plants.
This planter box is made with 304 stainless steel, ensuring that even with constant watering, you do not have to deal with rust. It also comes with four rubber pads that keep it off any surface for better stability.
As for its measurements, these planter boxes have a width of 3.25 inches (8.3 centimeters) and a slightly taller height at 3.5 inches (8.9 centimeters). You can choose between a planter that is either 32 inches (81.3 centimeters) or 16 inches (40.6 centimeters) long.
Pros
Covered by a 60-day warranty
Eye-catching minimalistic design
Made with high-grade stainless steel
Best for displaying plants and other smaller trinkets
Cons
More expensive than other planter boxes made with other materials
Not suitable for use outdoors
4. Classic Home and Garden Wood Window Box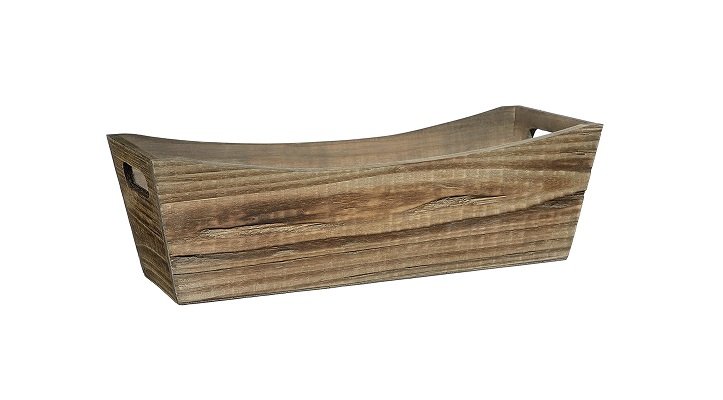 The Classic Home and Garden Wood Window Box might not be as long as other products on this list, but it does exude a certain charm due to its simple yet elegant looking finish. These planter boxes measure 16 by 6.0 by 5.0 inches (40.6 by 15.2 by 12.7 centimeters).
There are four varieties of this product. There is the buffalo brown, galvanized accent, handled buffalo brown, and whitewash. All of these are made with wood and have an excellent finish.
If you're worried that the wood would rot because of the damp, then you will like that this product includes a removable liner that protects the wood from moisture. They are also weather-resistant and is not sensitive to the sun's UV rays because of its protective finishes.
You can use it for just about anything, such as floral arrangements, table centerpieces, or as a succulents planter box. It's also great for both outdoor and indoor settings.
Pros
Excellent rustic look, making it a simple yet elegant way to add beauty to any space
Durable because of its protective finish and comes with a plastic liner
Flexible and can be placed anywhere such as your countertop, patio, windowsill, or desk
Cons
More expensive than plastic planter boxes
Some reviews complained about receiving broken planter boxes with white mold
Doesn't include anything to catch water draining from inside
5. Cocoyard Industrial Style Elevated Metal Planter Box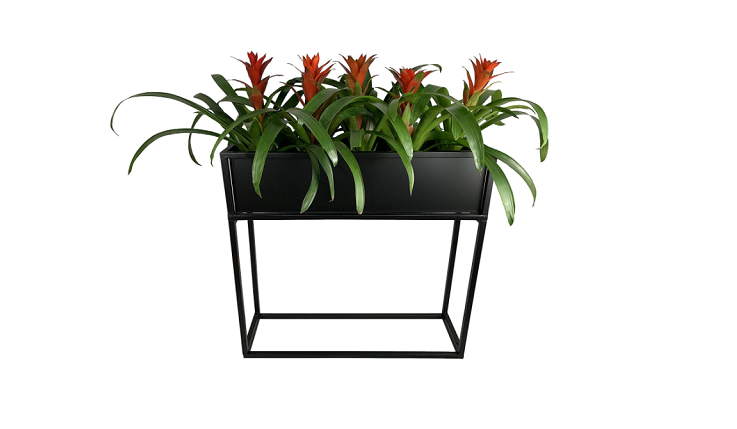 The Cocoyard Industrial Style Elevated Metal Planter Box brings together a plant stand and a planter box in one product. This planter box allows you to keep your plants off the ground, and is perfect for those areas with digger pests or are prone to flooding.
This elevated planter box is made of metal that is covered with powder coating to make it very durable. You can use it indoors as well as it can blend in with any decor you might have at home.
With this product, you can take your flowers just about anywhere. Put it under your window, inside the house, or perhaps liven up a hallway. There is no limit in where you put it. If some space needs plants, you can put it there.
This planter box measures 28 by 8 by 28 inches (71.1 by 20.3 by 71.1 centimeters. The inside box measures 26.6 by 7 by 7 inches (67.6 by 17.8 by 17.8 centimeters). The legs are removable so you can easily store it, or use it as an ordinary planter box.
Pros
Affordable planter box and plant stand in one
Versatile and can be placed anywhere
6. Boldly Growing Large Wooden Raised Planter Box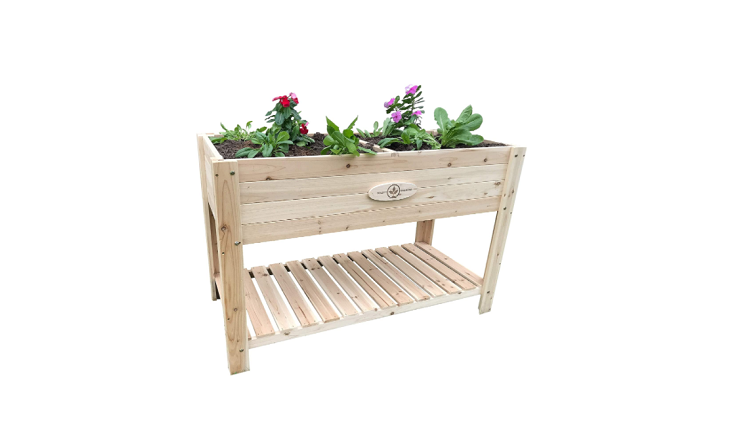 The Boldly Growing Large Wooden Raised Planter Box is great for those outdoor spaces or for those who would like a wooden planter box that has a natural look. You can also apply your favorite finish.
This product is great for those who have a lot of plants as it measures 47 by 22 by 33 inches (119.4 by 55.9 by 83.8 centimeters) and can hold five cubic feet (0.14 cubic meters) of soil.
The planter box is made with rot-resistant wood and is made very durable with its finely sanded wood. You can replace or get a refund for any reason within one year of purchase.
This planter box comes to you unassembled, but it will only take minutes as everything fits perfectly and all you have to do is to screw it in.
Pros
Beautifully designed unfinished wood planter box
Easy to assemble
Sturdy construction
Cons
Some quality control issues where the bottom of the planter falls out
7. FDW 3-Tier Wooden Elevated Planter Box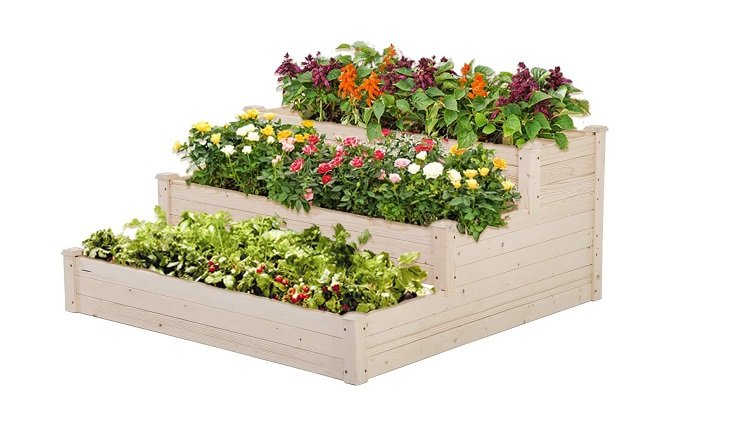 The FDW 3-Tier Wooden Elevated Planter Box is perfect for those who want to have lots of plants but doesn't want to cover a lot of space. This planter box has a step design that gives you three tiers of planting fun.
Measuring 48 by 48 by 22 inches (121.9 by 121.9 by 55.9 centimeters) overall, each step measures 48 by 16 by 7 inches (121.9 by 40.6 by 17.8 centimeters). This wooden planter is made with fir wood, which is popular because of its rot resistance, strength, and durability. The wood used measures 0.6 inches (1.5 centimeters) thick.
With this planter box, you can try out three different planting methods, or utilize three separate areas for different kinds of plants. What's more, you can separate each tier, so you can have three detached planter boxes when needed.
Pros
A raised garden bed allows you to enjoy gardening without stooping very low onto the ground
Affordable, considering that you're getting three planter boxes in one product
Sturdy design with lots of screws on an already durable fir wood material
Cons
Can be very heavy at 38 pounds (17.2 kilograms) without soil
8. Best Choice Products Elevated Planter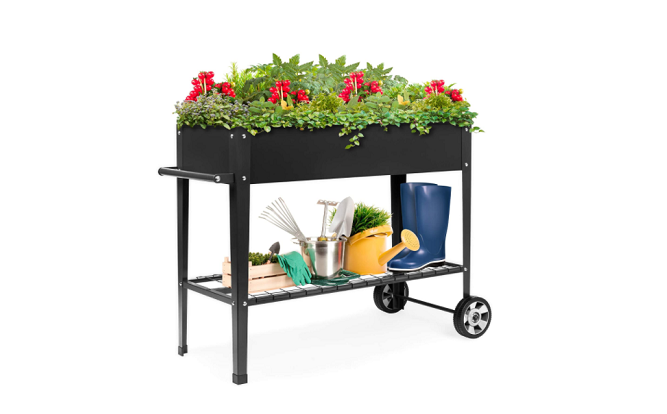 The Best Choice Products Elevated Planter is an excellent addition to your patio, backyard, and other outdoor spaces. This elevated planter box measures 42.3 by 19.5 by 31.5 inches (107.3 by 49.5 by 80 centimeters) and can be used for growing herbs, plants, and vegetables. No more crawling around in the dirt!
It comes with built-wheels so that you can move it around easily. What's more, you have shelf space underneath so that you can store your garden tools, soil bags, pots, and other materials. You can even use it for potted plants.
The metal planter box has a powder coating that makes it scratch resistant. This planter box comes with a drainage hole that ensures that your plants are not waterlogged and can prevent root rot.
Pros
Mobile and you can transport your plants with ease because of the built-in wheels
Makes gardening without crawling around possible
Drains well
Extra storage space for your stuff
Cons
Some complaints about the legs not being sturdy enough to be moved around if the planter already has soil
Complaints about the terrible customer service
9. KETER Urban Bloomer Raised Garden Bed with Self Watering Planter Box and Drainage Plug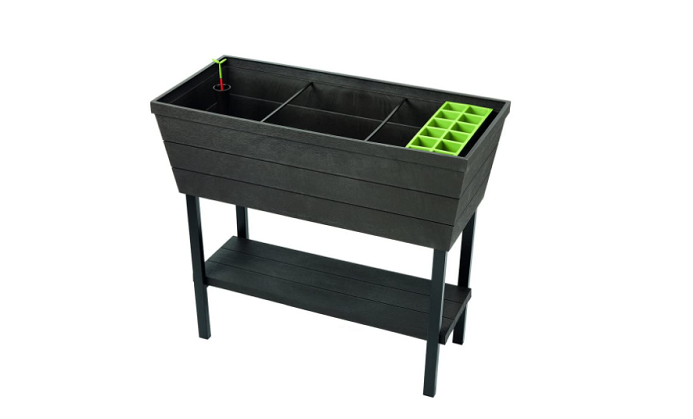 Sometimes, gardeners go on vacation or forget to water their plants. That's not a problem if you have a self-watering planter box that can keep the soil moist and your plants healthy.
The planter box also comes with a water gauge that will tell you to drain or add more water. The KETER Urban Bloomer has a water reservoir that helps deliver water to parched soil. You no longer have to worry about your plants drying out.
On the other hand, you do not have to worry about overwatering the planter box because there is a drainage tap that you can open to let excess water out. This is a good way to protect your plants from root rot. This KETER planter box allows you to do some gardening with utmost comfort, as you do not have to bend down or crawl around. The soil bed is at the right height for you to plant without bending over.
What's more, it comes with a sprouting tray that is going to be useful if you want to start seeds alongside your established plants. It also has a bottom shelf that will allow you to store your gardening tools. It can also be a place for potted plants.
This Keter planter box is weatherproof and easy to clean. The materials will not fade in time and the planter box is maintenance-free.
It measures 32.3 by 14.7 by 30.7 inches (82 by 37.3 by 78 centimeters), giving you enough space for 12.7 gallons (0.05 cubic meters) of soil.
Pros
Ergonomically designed to make planting comfortable for you
You no longer have to guess to make sure that you're watering your plants properly
Beautifully designed planter box that you will want to display on your porch or in your garden
Cons
Some quality control issues with different customers complaining about different components
The self-watering feature is limited only to potted plants getting water from the reservoir
10. Outland Living Store 6-Foot Raised Garden Bed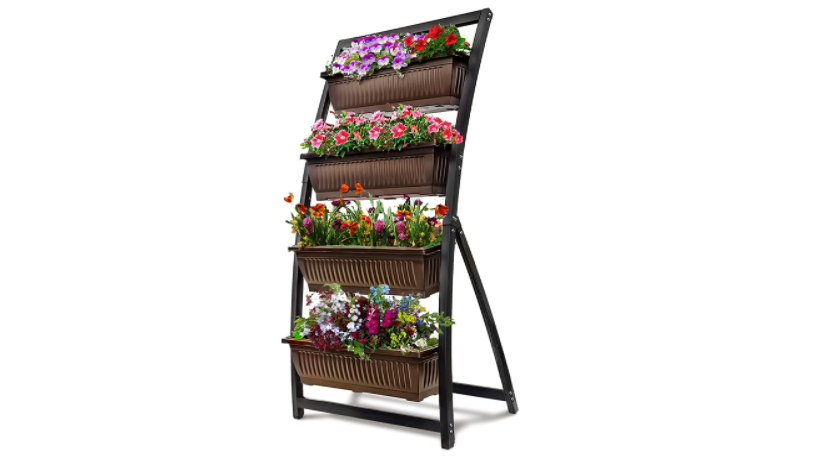 If you like vertical gardening but do not want to drill into your walls, then the Outland Living Store 6-Foot Raised Garden Bed is perfect for you. This product is also excellent for any indoor or outdoor space. Add plants and flowers to your patio, balcony, kitchen, living room, or just about any area you like.
The bins are made with food-safe plastic and measures 26.5 by 9.5 by 8 inches (67.3 by 24.1 by 20.3 centimeters). Meanwhile, the stand measures a bit more at 30 by 23 by 65 inches (76.2 by 58.4 by 165.1 centimeters).
You will like the slightly curved design of this product, making it eye-catching and beautiful. What's more, because it's a free-standing vertical garden, you can move it just about anywhere. You do not have to worry about hanging things on your walls.
This product comes in two colors: espresso brown and forest green. You can set it up so that you do not have to waste too much water keeping your plants alive. It has a cascading design wherein water pours from the top to bottom.
This planter box has a reservoir and drainage hole to give you full control of your watering.
Pros
Stable and durable
Space-saving and elegant design
Ergonomically design that helps you plant without having to crouch or bend
Cons
Expensive
Some customers complain about the quality of some parts, as well as pre-drilled holes not aligning perfectly
11. Buhbo Modern Trough Rectangle Planter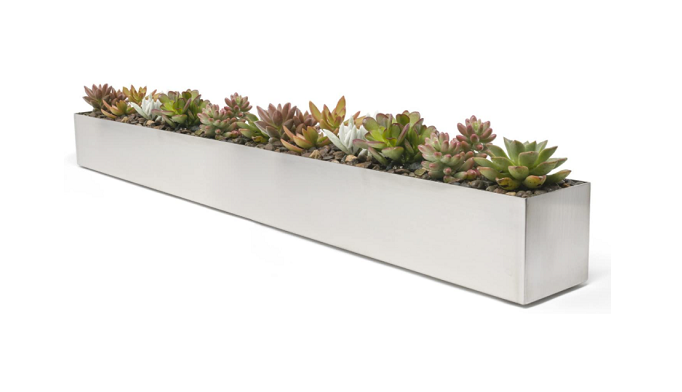 The Buhbo Modern Trough Rectangle Planter gives you an option when it comes to color and sizes. It has three big sizes for you to choose from:
32 by 8 by 6 inches
16 by 3.25 by 3.5
32 by 3.25 by 3.5
Each size has three color options: silver, black, and white. Both the white and black versions have drainage holes in them.
This planter box uses a 0.06-inch (1.5 millimeters) thick 304 stainless steel, making it very durable. It has a brushed finish that makes it look very elegant and simple with its industrial appearance. As such, it blends well with your home decor.
The Buhbo planter box allows you to bring your garden indoors, the narrower options 3.25-inch wide options are perfect for lining up succulents, while the wider eight-inch option is great for small plants. What's more, it comes with four rubber pads that make the planter box more stable, regardless of where you place it.
Pros
Eye-catching industrial looks
An easy way to showcase your plants
Durable material
Cons
FAQs
Question: What are the things to consider when choosing a long planter box?
Answer: Long planter boxes take up a lot of space and it might make sense to first scout your area and pinpoint places where you'd like to add a planter box or two. Measure that area to make sure that the planter box fits.
Decide on a planter box that's beautiful to look at on its own. Remember that during the winter, you may have to transplant the plants elsewhere if they are not frost-hardy. As such, the planter box you have in your garden might be bare and brown.
Further, you should decide on the plants you want to put into the planter boxes. Long planter boxes are perfect for succulents and small plants, perhaps annuals or perennials. If you're going to use it for shrubs, you might want to get a wider planter box. If you're planning to plant a single tree, a long planter box might not make sense: choose a wide and deep planter.
Drainage holes are important if you're going to place the planter box in an area with no rain cover. Your plants will love you for draining the water out, which may destroy their roots. Choose a planter box with drainage holes, or choose a material that you can easily drill holes into.
Question: What's the best material for long planter boxes?
Answer: There is no easy answer for this one, each material has its own pros and cons, so it's all a matter of preference.
Metal
Metal long planter boxes will allow you to add an industrial look to your garden, or an elegant one, depending on the specific planter box that you choose. It's also sturdy and will not sag in the middle as much as other materials do.
But metal planter boxes tend to be on the expensive side. It is also prone to rusting over time, so choose a metal planter box that's been coated with a rust-resistant coating. You can also choose something galvanized. You should also know that some grades of steel might not be ideal for growing some plants such as vegetables.
Wood
Long wooden planter boxes look great without costing too much. But even rot-resistant wood such as douglas fir or cedar will eventually rot. You have an option of going with redwood, which lasts up to two decades, but these can be very expensive.
Plastic
Plastic planter boxes are also an excellent choice. It's not pricey and is not prone to rot or rust. What's more, the material is durable and doesn't retain heat too much so your plants are not damaged by extreme temperatures when placed under the full sun.
If you need more drainage holes, you can easily drill into a plastic planter box without ruining the entire thing. It's also lightweight so you can hang it on your balcony or deck without worrying too much. Plus, plastic can be molded to include a variety of designs.
The key to getting the best plastic pots is to ensure that they are made with food-safe and non-toxic plastics. They should also be UV-resistant so that they do not become brittle over time. Stay away from dark-colored plastic planters as they may retain heat, or at least keep these out of sunny locations.
Thick plastic planter boxes can also be a good option. But plastic can break and it's going to be difficult to reuse or recycle them.
Ceramic or Terracotta
Ceramic and terracotta planter boxes are a beauty to look at, and they can easily make your space more elegant. With a solid-colored ceramic planter, you can create a focal point in your garden, balcony, patio, or indoor space, but it will not steal the spotlight away from your plants either.

However, long ceramic planter boxes are hard to come by, and most options are only up to 10 to 14 inches (25.4 to 35.7) long, such as this FLOWERPLUS Planter Pot. The good news is that some products come with a wooden base, which adds visually appealing contrast to the ceramic.

Another downside to ceramic or terracotta planter boxes is that they usually have one drainage hole, which might not be ideal for plants that are prone to root as water cannot easily flow out of the container.
It's also easy to break a ceramic or terracotta container, so much so that repotting might be a problem because you might end up with a broken planter box. They can also have crusty white buildups over time because of absorbed mineral salts.
Question: Should you use liners in your planter boxes?
Answer: There are several liners available out there, such as the Joen 36 Inch Extra Thicker Trough Coco Liner. You can also use landscape fabric as a liner.

Some of these products cost as much as or more than the price of your planter boxes if you're going for the more affordable ones. It's natural that people would ask if it's worth buying a liner, or if it's something that they can forego.

There are quite a few benefits that you can get out of using a planter box liner. It provides your planter box with good drainage as it can keep your soil moist but doesn't allow water to stagnate.

It also helps with too much soil loss because it keeps the soil from getting washed away while water drains out. This means that you have less mess around your planter boxes. Liners can also keep soil from getting in contact with your planter box.

If you're planting on a raised bed, these liners help keep the weeds and pests out. However, there are some cons. For instance, using a plastic liner might mean that your soil is not getting enough drainage.

Liners are also a pain to replace. Most of the time, you will need to remove everything from your planter box, replace the liner, and put everything back.
Avoid the Messy Cleanups and Heartaches with the Best Long Planter Boxes
Long planter boxes help you add a beautiful green space to just about anywhere. Choose the best from any one of our recommended products. For those who want the traditional planter box, you can't go wrong with the classic designs and flexibility of the Countryside Flower Box Planter or the more affordable DCN Plastic 2800-0-09 Window Planter.
If you need something to liven up your indoor space, there is always the DR&Co Modern Rectangle Planter Box or the elegant-looking Buhbo Modern Trough Rectangle Planter. Or choose one of the beautiful designs of the Classic Home and Garden Wood Window Box for one of your windows.
You can also choose from among the Boldly Growing Large Wooden Raised Planter Box, Cocoyard Industrial Style Elevated Metal Planter Box, if you want to have a product that allows you to garden easily without having to crouch or bend.
There are also planter boxes such as the Best Choice Products Elevated Planter that has wheels os you can move your flowers around easily.
For more serious gardeners, there are planter boxes that allow you to do more with small spaces. The FDW 3-Tier Wooden Elevated Planter Box or the Outland Living Store 6-Foot Raised Garden Bed both gives you a chance to try out vertical gardening with planter boxes.
However, if you want the ultimate best, you might want to consider the KETER Urban Bloomer Raised Garden Bed with Self Watering Planter Box and Drainage Plug. This planter box allows you to work with your plants without bending, while also having a sprouting tray and a storage area for your tools.