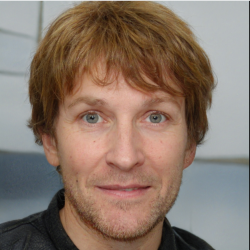 Latest posts by John Hughes
(see all)
Home gardening is a popular activity for most people. According to recent studies, over 91 million households in the US did home gardening in 2019.  If you live in an urban area, the chances of having ample space to grow anything meaningful are slim. 
For a person that loves gardening but doesn't have the luxury of space or time, the Garden Tower Project could be just what you need. With this system, you can grow your food wherever you are in the world. Read on to learn more about this unique concept and see if it is something you might want to take on.
What is the Garden Tower Project?
The Garden Tower Project® is the brainchild of Colin Cudmore, Joel Grant, and Thomas Tlusty. Their idea — incepted on April 19, 2012 – was to develop a self-sufficient ecosystem with fresh food, abundant water supply, and great ambiance.
Why the Garden Tower Project Was Started
A lot of people around the world have no access to a reliable food supply. According to data by the United Nations, nearly a third (2 billion people) of the world's population didn't have access to safe, nutritious, or enough food in 2019. By coming up with this project, the founders' vision was to help address the following issues.
Scarcity of fresh food for people living in arid areas – In some places, people don't have enough rainfall — meaning that gardening and growing plants is challenging. So, it becomes even more difficult for those living in food deserts to access fresh foods. The Garden Tower consumes less water since you only need to water your plants once or twice a week.

Lack of space – Growing your vegetables and fruits can be challenging when you don't have enough space. The Garden Tower only needs four square feet of space (available even in tiny homes), and it grows your plants vertically. The towers are in the form of stackable containers arranged vertically, thereby consuming little space.

To encourage safe and sustainable organic gardening – Using synthetic pesticides and herbicides makes most people shun food grown this way in favor of organic foods. The tower is organic and chemical-free.

The tower provides waste management solutions – With its composting core, it can compost scraps from the kitchen, either with or without worms.

Features of the Garden Tower
The Garden Tower is 43 inches tall and 36 pounds in weight. This weight is without soil, which would make it heavier. Some bundles come with premium caster wheel kit or extension kit options, so please check before purchasing. The tower comes with a host of great features, which include the following.
1. Materials
The Garden Tower features materials that are food-safe, non-toxic, and friendly to the environment. They include FDA-approved dye and a UV-protection antioxidant package for safety, durability, and recyclability.
2. Rotation
The Garden Tower rotates 360 degrees, which makes it easy to find the plants that you want. It also enables you to maintain and care for plants because you can reach them from any angle.
3. Composting tube
The central vermicomposting tube can hold grass clippings, leaves, and vegetable scraps. The Garden Tower works best when used with worms, but it's still okay without them. Worms break down the food scraps inside, which helps to minimize odors.
4. Planting space
The Garden Tower is a planter that's great for growing plants indoors and outdoors. It only takes up a 4×4 square foot space. It has enough room to grow up to 50 different plants on it.
5. Watering your plants
When watering, you'll notice that the water will percolate down the side of the system. It then picks up nutrients from the soil or compost that collects in the bottom tray. Put this water to good use by pouring it over the top of your planter the next time you need to water. 
6. Portability
The Garden Tower is modular, which means you can break it down for easy storage or movement. It also can be secured to a platform with wheels, which is helpful if you need to move it around. Be aware, though, that the base can be heavy, and you may need help moving it.
Reviews of the Various Garden Tower Bundles
Garden Towers come in different colors and sizes. The company has several bundles available now, as opposed to when they only had one. The versions come with advanced modern technology that makes gardening and growing fruits and vegetables more effortless. Here's a detailed review of each bundle that will help you choose what's best for you. 
Garden Tower 2 Composting Container Garden Review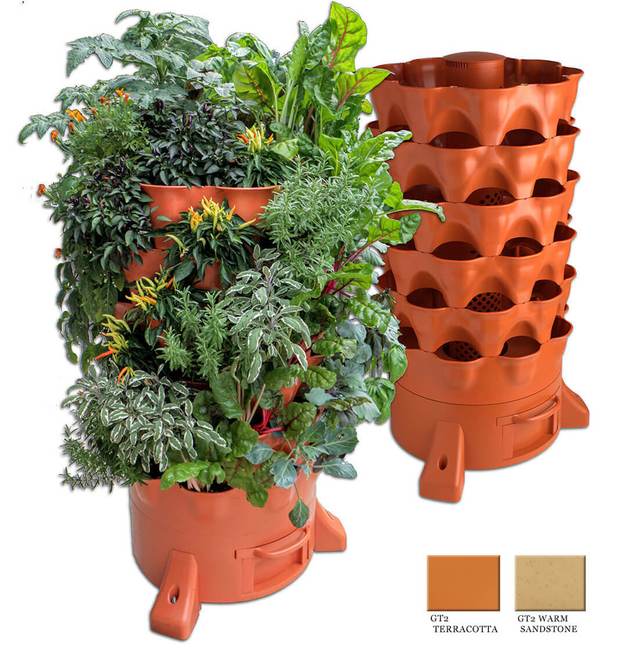 This Garden Tower 2 will help turn your kitchen waste into organic fertilizer. The system can recreate the natural ecosystem making it easy to break down trash efficiently.
Features and Benefits
Its large openings on the sides allow you to grow your plants with ease.

It has six layers that hold up to 50 different plants, such as herbs, vegetables, and fruits.

You can rotate the different levels of the garden tower easily. So, you can keep tabs on your plants as they grow.

The base is broad enough and well supported to keep your vertical garden stable at all times, no matter the surface.

It has a large area at the base where excess water drains when you are watering your plants. You can use this water in your subsequent watering.
Pros
The levels rotate more efficiently compared to the earlier version.
Cons
The garden tower may be too heavy to move when fully stacked with growing plants.

It has a weak composting core which tends to break if overstuffed with kitchen waste.
Garden Tower Move and Grow Bundle Review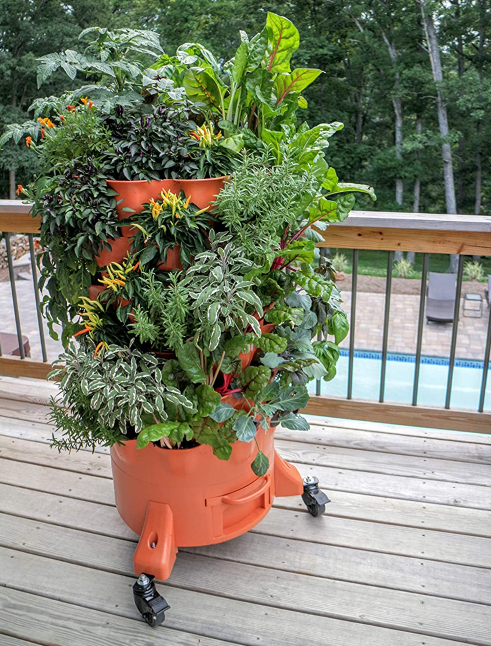 The Garden Tower move and grow bundle comes with the Garden Tower 2 plus a heavy-duty locking caster kit.
Features and Benefits
The caster wheel kit allows easy movement of the tower from one place to the other. So, even the aged can move it with ease. 

The wheels have multiple locking brakes that prevent any sudden movements once you have moved the tower.

The wheel kit also comes with a lifetime warranty that allows you to have them repaired or replaced.
Pros
It's easy to move around with fewer hassles.

Wheels come with a lifetime warranty.

There's no shipping cost if you order the bundle plus the Garden Tower 2.

You can pay in four interest-free installments.
Cons
The wheels make it easy to move the tower even by children, so you should lock the brakes. 
Garden Tower Project Starter Bundle Review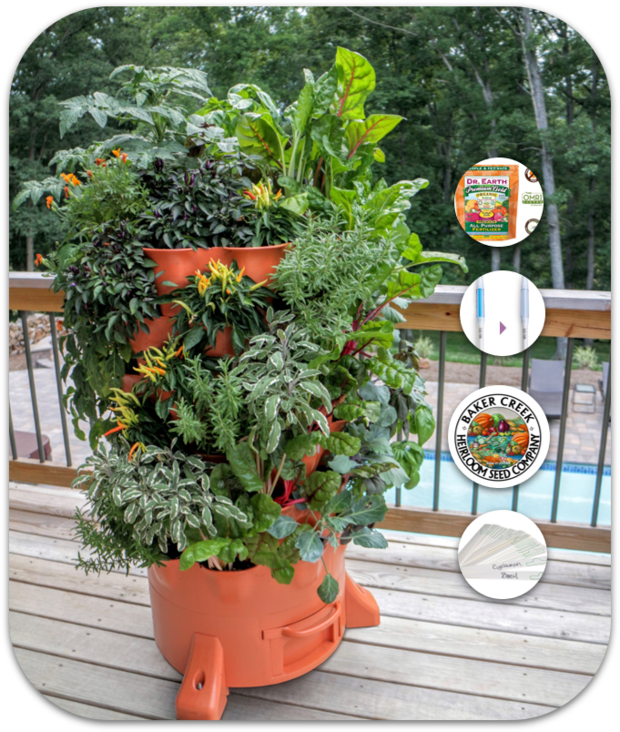 If you are new to gardening and need something easy to use, the starter bundle is perfect for you. 
Features and Benefits
It has plant labels that you can use to identify the plants. The tags are reusable, meaning that you can use them in the coming growing seasons.

A greenhouse that you can use to start your seeds. It supports up to 72 seedlings.

The package also includes seed starting soil, so you can quickly put it in your vertical garden and start seeds.

Dr. Earth plant food, a nutrient-enriched organic fertilizer that stimulates plants' growth, is also included.

Another great add-on to the starter bundle is a gift card for heirloom seeds. These seeds will give your garden an instant boost and help you get started quickly.

In addition, there's a soil moisture indicator that shows you when you need to water your plants. So you won't have to worry about whether you are watering your plants correctly.
Pros
The bundle comes fully equipped to suit novice gardeners

It's available at a discounted price

You can pay in four interest-free installments

It has a three-year manufacturer's warranty
Cons
Its composting core is narrow and cannot fit large wastes

Moving the tower can be a challenge due to its weight
Garden Tower Deluxe Bundle Review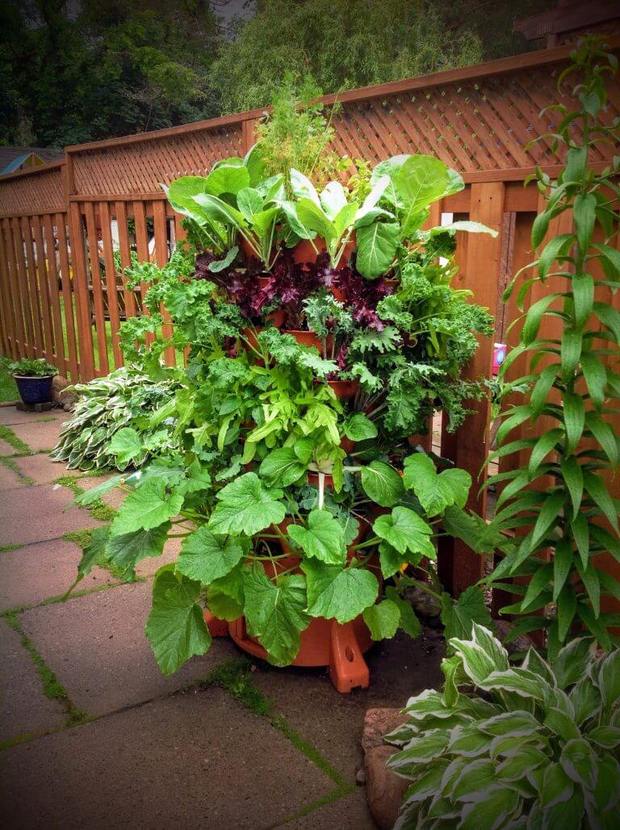 The Garden Tower Deluxe Bundle is the ultimate package for customers who want to take their gardening to the next level. The Deluxe Bundle offers excellent value for money and includes everything you need to be a successful gardener.
Features and Benefits
Save-a-Drop hose water meter – to help you keep track of your water usage, thereby saving you money. 

Premium caster wheel kit – to help you move the package easily

Seed starting greenhouse – to guarantee that you can grow your plants fast

Moisture indicators – which help you plan your watering schedule

Organic low salt plant food – to boost the health of your plants and stimulate growth

Plant marking stakes – they help you label different plants growing in the garden tower.

Seedling heat mat – The mat provides heat for the seedlings, which promotes growth. 
Pros
The heating mat and greenhouse makes sure that you can start your seeds indoors despite the weather conditions

It comes as a complete package that provides you with all the necessary items to start a successful garden

It has a three-year manufacturer's warranty
Cons
Quite expensive compared to other bundles

The composting core is narrow and can't accommodate a lot of waste at once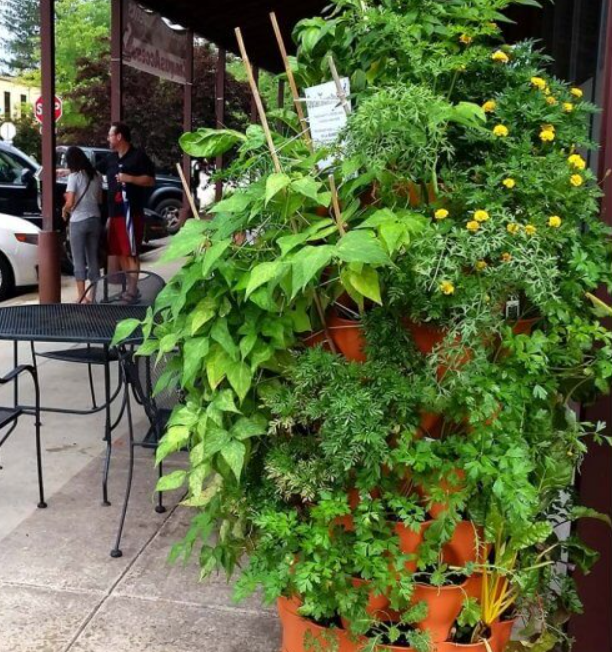 The Garden Tower 2 extension kit is an excellent solution if you want to grow more fruits and vegetables. The extension kit comes with two compartments that you can attach to the central tower. 
One way to expand your garden tower is to purchase an additional two levels. You can plant 20 more plants in the same grower when you do this, taking it from six levels to eight levels. Buying the additional compartments means you also get an extra two compost tubes.
Pros
With the extension kit, you can grow more vegetables and fruits

It consumes less space since the extension kits go into the existing tower
Cons
The additional compartments increase the tower's height, which presents a challenge when watering and moving the tower.
Reasons the Garden Tower Is Right for You
The Garden Tower is the perfect solution for many as it allows you to grow up to 50 different crops or more – organically and effortlessly. Here are just a few reasons you need it.
1. Grow Your Fresh Food
Growing your fruit and vegetables in a Garden Tower is quite advantageous. Fresh produce grown in the tower has more antioxidants, minerals, and vitamins than you would find at the store. You can also enjoy a more diverse diet as you'll be able to grow a variety of fruits, vegetables, and herbs.
2. Requires Less Weeding
The Garden Tower requires very minimal weeding, if any, compared to regular gardens since the plants leave little or no space for the growth of weeds.
3. Consumes Less Space
The tower is only 4 feet x 4 feet, which means it takes up very little space. Growing 50 plants in such a small space is easy. You can even place the tower on a patio or balcony. 
4. You Can Grow Throughout the Year
This garden tower is fully customizable and works year-round. The best part is that you get to choose what plants to grow so that you can have a continuous supply of fresh produce all year round. 
5. Easy to Extend or Increase in Size
If you need to produce more, you can quickly expand your growing space. All you need to do is buy extension kits that provide you with additional slots to plant more food.
6. Little Maintenance Required 
The garden tower requires minimal maintenance.  Its only requirement is watering your plants once or twice a week.
What Can You Grow in Your Garden Tower?
The benefits of a Garden Tower are numerous. From saving space to growing high-yield crops, vertical gardening has it all. The best part? You can produce a wide variety of plants in your vertical garden. Here are some of the plants you can grow in your tower.
Peas

Parsley 

Chives 

Lettuce 

Parsley 

Spinach

Broccoli 

Tomatoes

Cauliflower 

Cucumbers 

Strawberries
FAQs
Question: Does the Garden Tower compost tube smell?
Answer: The Garden Tower compost tube doesn't smell. This is because it allows your kitchen scraps to be composted with worms (although the composting core also works without worms). It does, however, smell if you add meat, fish, or animal waste. So, make sure you compost only organic kitchen scraps.
Question: How many worms do I need for my Garden Tower?
Answer: The Garden Tower gives you a lot of options for what to put in it. It also comes with a compost tube and a soil column. You can use up to 500 red wiggler worms or 25-50 earthworms. Put the red wigglers in the compost tube and the earthworms in the soil column. After that, they'll eventually move to the areas where they work best.
Question: How do I winterize my Garden Tower?
Answer: In places with a milder climate, covering your tower with a tarp or trash bag can help protect your plants from freezing. Doing this gives them the best chance of regrowth in the spring.
Question: How often should I water plants in my Garden Tower?
Answer: It's vital to keep an eye on your water usage. When you first start your Garden Tower, you'll only need to use a few gallons of water per week. But as the plants begin to grow and the temperatures heat up, you'll need more water. You can check when your Garden Tower needs more water by using the moisture indicator.
Conclusion
As the name suggests, Garden Towers are typically small spaces stacked into a tower shape. These are vertical gardens, which means you'll be growing plants upwards instead of outwards. The towers make growing vegetables in small spaces much more accessible than ever before. Garden Towers are becoming very popular with people who live in smaller homes or apartments where having a garden isn't an option.
Garden Towers are perfect if you have a small space but want to grow plants inside. Choose any of the bundles discussed above, and you'll have access to fresh food all year long.