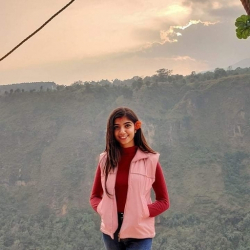 Latest posts by Rukmita Ghimire
(see all)
Who wouldn't want their garden to be healthy and their garden chores performed with the assistance of a simple, handy machine? Isn't that correct? If you are interested in agriculture and want to maintain and improve the health of your field or garden, you must have a cultivator on hand.
It is vital to undertake extensive research before making any purchase. We've put up an article to help you choose the best cultivator to make that difficult decision a little easier. It is vital to understand what the tool is and what it does. So let's get this party started.
What is a Cultivator?
A cultivator is a tool for loosening and mixing dirt. A cultivator can help you fine-tune your soil and improve the aesthetic appeal of your garden. On the other hand, a cultivator might not be the best choice for starting a new garden or field plot.
For secondary tillage, it is an essential piece of agricultural machinery. A cultivator is a tool that improves soil aeration, removes weeds, keeps the soil moist, and stimulates soil microorganisms, all of which contribute to the health of your soil by providing nutrients.
Let's look at the different types of cultivators and how they work now that you know what they are.
Types of Cultivator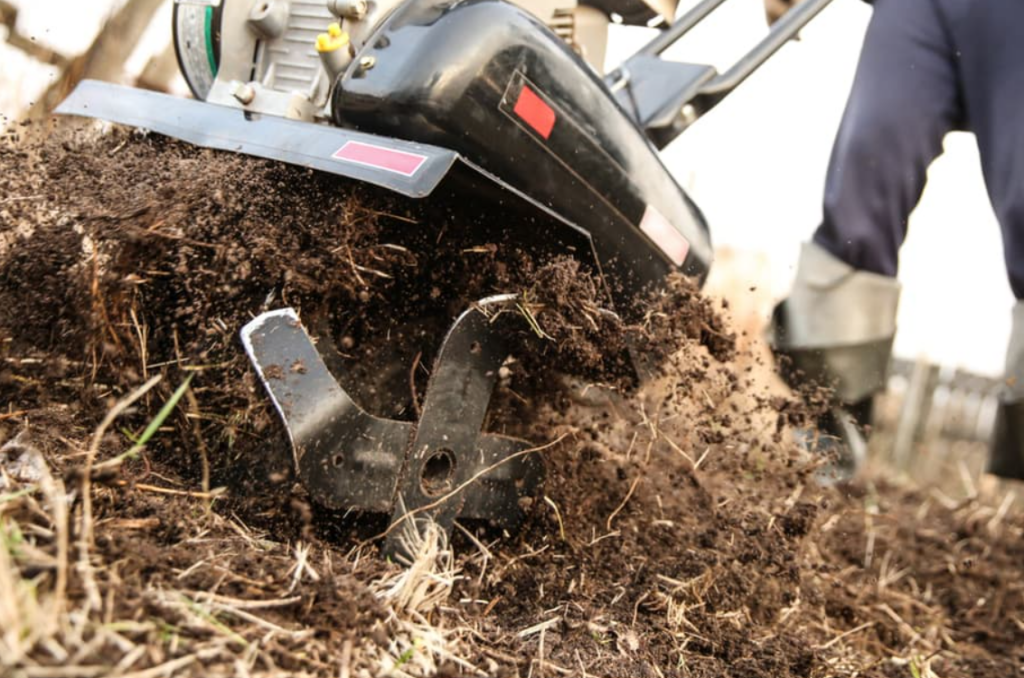 The term "cultivator" is a broad one that is difficult to categorize. Let's see if we can put it into one of the five categories listed below.
Disc Harrows
Disc harrows, also known as discs, are a type of harrow with a large blade weight and are ideal for primary agriculture. Although cultivators are typically used for secondary tillage, such as breaking in new ground, you can also use them for primary tillage.
A disc harrow is a hefty frame with a collection of discs pushed by a drawbar. These are ideal for rough terrain where a lot of effort is required to apply. Offset discs, tandem discs, and speed discs are the three types of disc harrows.
Chain Harrows
Chain harrows have short tines and chains. They're designed to break up and reduce soil clods leftover from initial tillage.
Power Harrows
A power harrow is made up of vertical tines connected to horizontal axes. It is preferred over others because of its less impact on soil structure.
Spring Tine Cultivators
This is a simple and effective method of seedbed preparation. The machine has between 15 and 70 spring steel tines. This machine is used to till the soil between crop rows.
Rigid Tine Cultivators
Rigid tine cultivators, also known as chisel plows, have a rigid leg connected to a mainframe and protected by springs. They are used for deeper tilling and do not cause soil inversion. They both loosen the soil to the same degree.
Tips on Selecting the Right Cultivator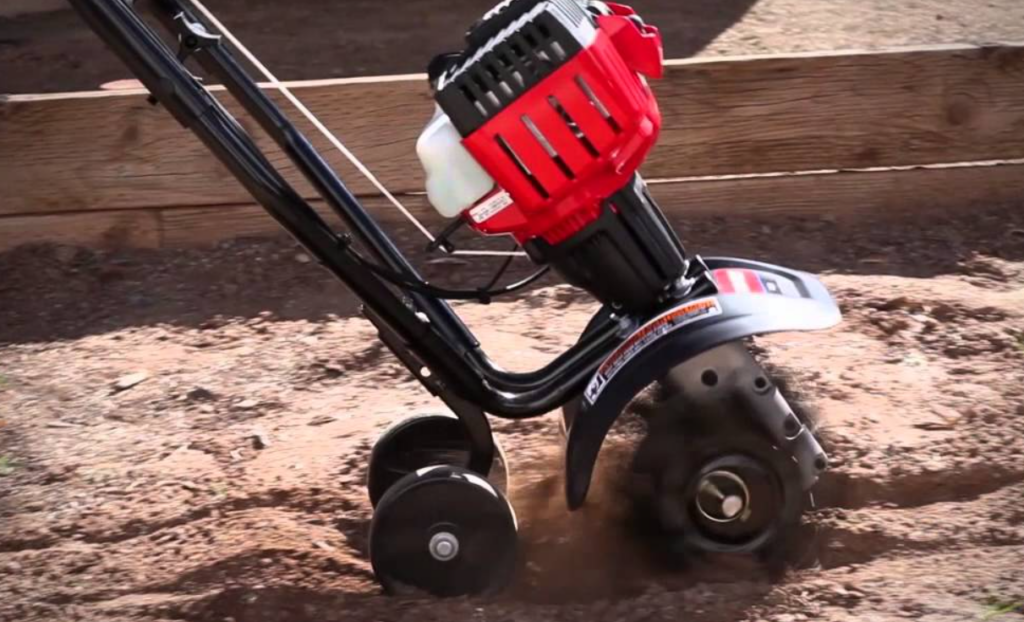 Before deciding on the type of cultivator you want, there are a few more factors to consider. Here are some examples:
Type of Soil
It is one of the most important things to consider before making a purchase. It's because it chooses the type that is best suited for your property. Larger cultivators should be used rather than mini tillers if the soil is rocky or rough.
Size of the farm
Another thing to think about is the size of your criterion. You can use a mini-cultivator if you have a small garden (less than 1500 square feet). Because of their portability and lightweight, electric cultivators are ideal for small gardens and farms.
You can choose a 5 HP or 6 HP cultivator if you have a medium garden of 1500-5000 square feet. If your farm is larger than 5000 square feet, you can use a cultivator with more than six horsepower. However, you should not make your decision solely based on one factor; other factors should be considered as well.
Type of Engine
If you're comfortable using a mix of oil and gas that's readily available, you can get a cultivator with a 2-stroke engine. If you don't want to do that, a 4-cycle engine can be used instead, eliminating the need to mix oil and gas.
Maximum Tilling Depth and Width
It is one of the most critical elements to consider before investing. In terms of depth and width of tilling, you must match the cultivator's capabilities to your requirements.
The Best Cultivators: At a Glance
In no particular order, these are some of the greatest cultivators on the market. You can select one based on your preferences.
Tacklife Advanced Tiller
What to Pick, Electric or Gas Cultivator?
Before acquiring a cultivator, every customer has a very significant concept in their head. The question on your mind is, "Which cultivator works better for you, electric or gas?" Before making a definitive decision to invest in a gas cultivator or an electric cultivator, read the post where I highlighted the advantages and disadvantages of having either of them.
Electric Cultivator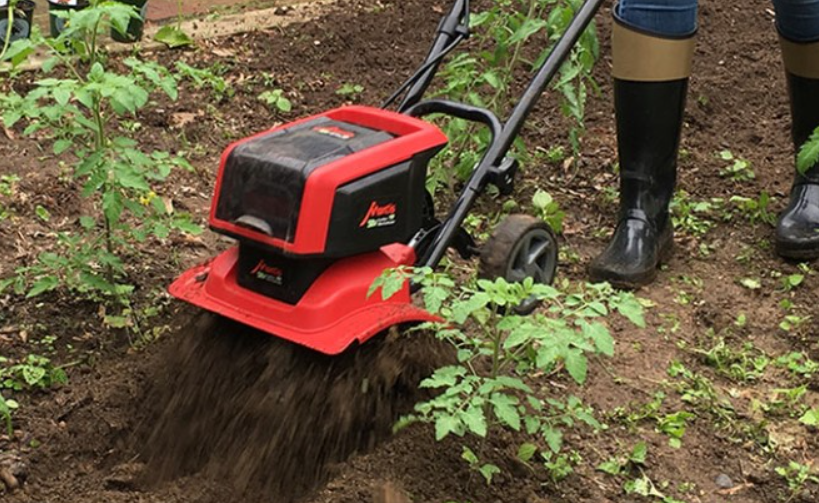 They are lightweight cultivators that are easy to use, making them ideal for small farms or gardens with limited areas. Because they have separate motors, this cultivator has various advantages over gas cultivators. Small electric motors power electric cultivators, whilst gas cultivators are powered by a gas engine.
Pros of Electric Cultivator
Time and money-saving: It saves your time and money. You do not need to refill or mix fuel and oil.
Quiet: It operates with much less noise than gas cultivators do. Without the noise, you can enjoy and complete your job peacefully.
Easy storage: It takes less space and is very easy to store in smaller spaces.
Adjustable tines: electric cultivator has tines that are adjustable in-depth and width treatment.
Small tines: Their small tines allow you to weed the spaces between the plants without damaging your crops/plants.
Less maintenance: They require less maintenance than any gas-powered cultivators. You can just finish your job with any extra hoo-ha- no oil changes, refueling, or fuel filter changes.
Cons of Electric Cultivator
Less powerful: In comparison to gas cultivators, electric cultivators are not as powerful as you might want.
Mobility: If you use a corded electric cultivator, you cannot take it to where electric sources are unavailable. However, cordless cultivator tries to solve this problem to an extent but not completely. The cordless cultivator cannot operate straight for more than an hour without charging. Hence, it is safe to say that the electric cultivator has mobility issues.
Now, if you're thinking about getting an electric cultivator, there's one more thing you should know about them. Do you prefer corded or cordless electric cultivators? Do not be scared by this entirely new layer that has been introduced here. I can tell you that this is knowledge worth having before purchasing a cultivator.
| | |
| --- | --- |
| Corded electric cultivators | Cordless electric cultivators |
| You need a household power outlet and an extension cord to operate. | Easy to use and allows you to work without being tethered to the power source. |
| Plug it in and push along your garden rows. | Charge a battery, throw it into the cultivator and enjoy your 45 minutes on the job. |
| If you are spending more than 45 minutes in the workplace, a corded cultivator is for you. | Cordless cultivators are for you if the workplace is more than 100 feet from an electrical source. |
Examine both corded and cordless electric cultivators, consider your needs and availability, and make your decision. A brief hint is that the cultivator you choose can be connected with various attachments and extras, allowing you to get the most out of your electric cultivator. The one thing I can guarantee is that whether you choose corded or cordless, it will transform your soil from brittle to gorgeous.
Top Electric Cultivators
If you have decided to buy electric cultivators to cut the dilemma and save time, I have enlisted some of the best ones available in the market.
Gas Cultivator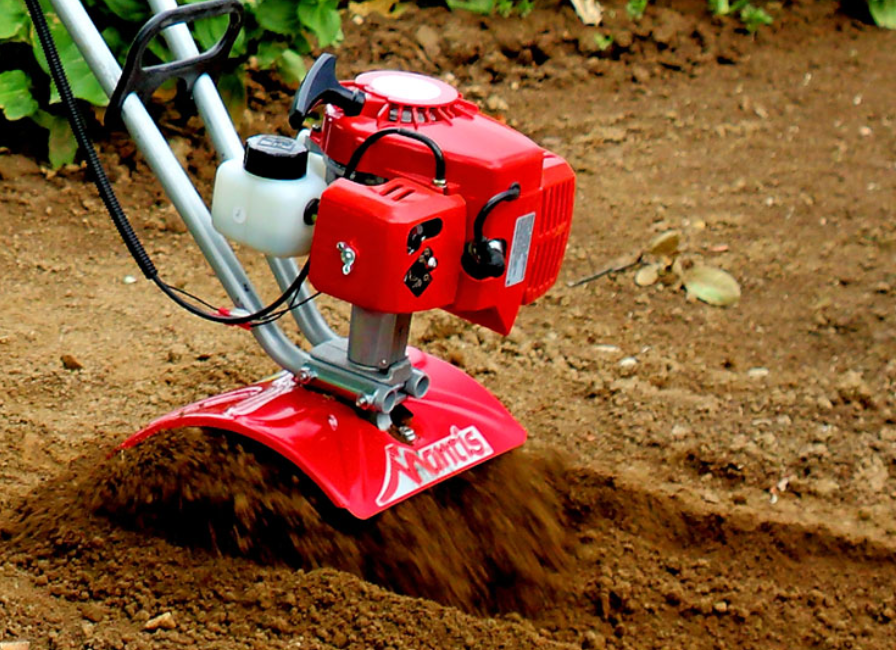 They have a heavier weight than the electric cultivator which is 25 pounds on average. They rip up the soil as the tines propel forward. In addition, the gas-powered cultivator provides thorough mixing of the soil. If you have a big garden with dense and hard soil, go for a gas cultivator.
Pros of Gas Cultivator
Heavyweight and power of gas: The heavyweight of the gas cultivator makes it best suited for blending dense soil and amendments.
Powerful engine: The powerful engine and the powerful gas allow you to mix and aerate soil that contains more clay than sand (that makes the soil hard).
No need for an electric outlet: As it does not require an electric charge to operate, it can be operated far away from the electric outlet. In short, it can be taken anywhere in the world without concern about the electric charge.
Reversible tines: certain gas-powered cultivators come with a set of reversible tines that enhance the performance of the cultivator.
Extra Workout: You get an extra workout of the forearm from the steering and guiding the cultivator while ripping the soil.
Cons of Gas Cultivator
Heavy: It is quite heavy to carry due to the onboard gas
Maintenance: As it requires fuel to operate, you have to maintain mixed fuel for a 2-cycle engine or regular gas for 4-cycle engines.
Noisy: Gas-powered cultivators are noisy and can make you feel tired in less time.
Now, having some idea of gas cultivator you are tilting towards buying gas cultivator, you need to have some more things to understand before making the firm decision. Which is better, a 2-cycle cultivator or a 4-cycle cultivator? Let's see and decide together.
| | |
| --- | --- |
| 2-cycle cultivator | 4-cycle cultivator |
| The engines have fewer moving parts than 4-cycle ones. | The engines are more fuel-efficient than 2-cycle one. |
| Wear and tear happening in the parts is less but with enough power. | As they have moving parts, wear and tear produced is also more. |
| Less weight | More weight |
| Simpler maintenance | The engine is heavier and larger; thus, it is challenging to use throughout the day. |
| Buy if you want a cultivator that has effective power to weight ratio so that you can work for a longer period. | Buy if you want a cultivator that can easily handle dense and hard soil. |
A quick tip: To do the complete job of furrowing, dethatching, and edging, you can pair cultivators with different types of attachments, turning them into a multipurpose cultivator.
Top Gas Cultivators
Even after deciding to buy a gas cultivator, there is a mammoth of tasks remaining. From the hundreds of gas-powered cultivators available in the market, it would be easier if you look out for the following recommendations.
Best Cultivators
Even though I have dropped names of the best cultivators on different categories, now let's learn why they are the best and also their shortcomings in detail so that you can make your decision.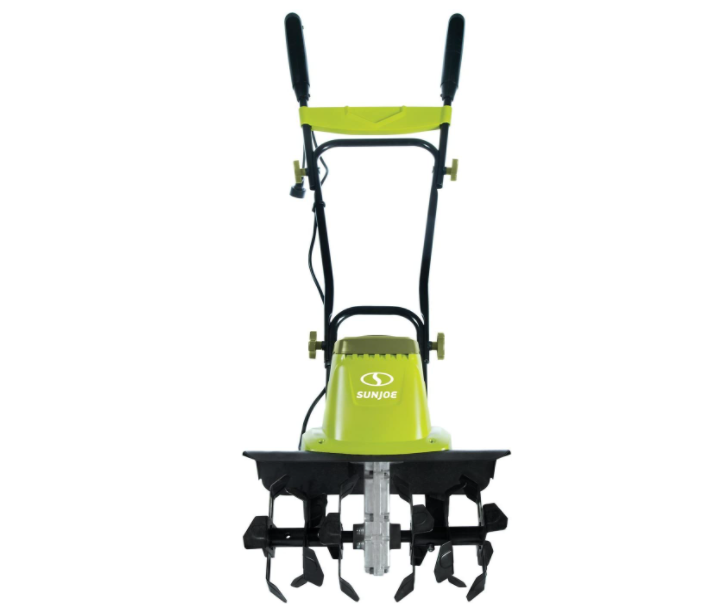 Who doesn't want a sturdy, long-lasting cultivator at an affordable price? One of the reasons the Sun Joe cultivator is on the list is because of this. It can create a route that is up to 8 inches deep and 16 inches wide. It is easy to keep and travel, weighing only 27.1 pounds.
Key features
5 amp electric motor
Three positions
Adjustable height rear wheels
Six heavy-duty steel tines
Two years warranty
Pros
Low maintenance motor
Easy storage and transportation
Wide cultivation path
Cons
Lightweight so difficult to get deep down in the soil
Not powerful enough to till the wetter soil and crabgrass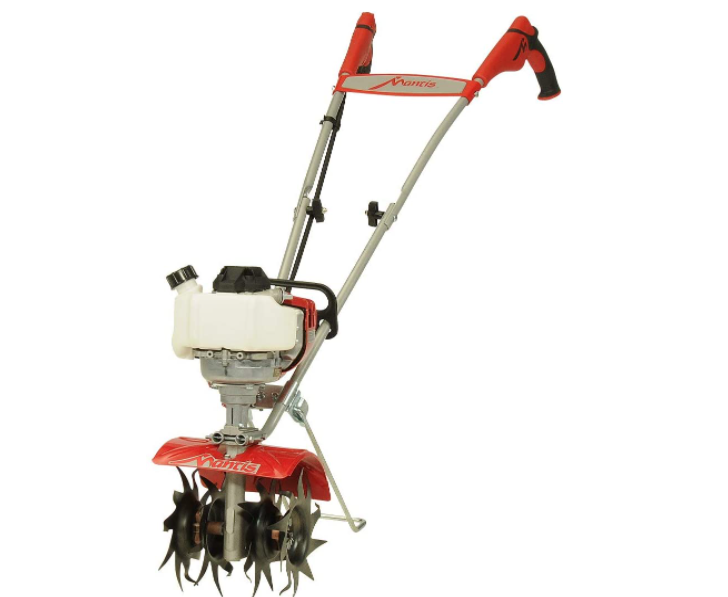 The Mantis gas-powered cultivator, which is driven by a powerful Honda 4-cycle, 25cc engine, is a sturdy, durable, and high-quality cultivator that can operate twice as fast as other cultivators on the market. It is only 24 pounds in weight and is simple to store, control, and carry. It has a throttle that is quite sensitive and can be operated with your fingers.
Key features
Honda 4-cycle, 25cc gas-powered motor
Tilling depth ranges from 2 inches to 10 inches
Maximum tine speed of 240 RPM
9-inches tilling depth
Pros
Powerful motor to cut through hard soil, rock, and debris
Easy and lightweight
Foldable for compact storage and storage
Cons
Fumes emission during usage
Comparatively expensive
High maintenance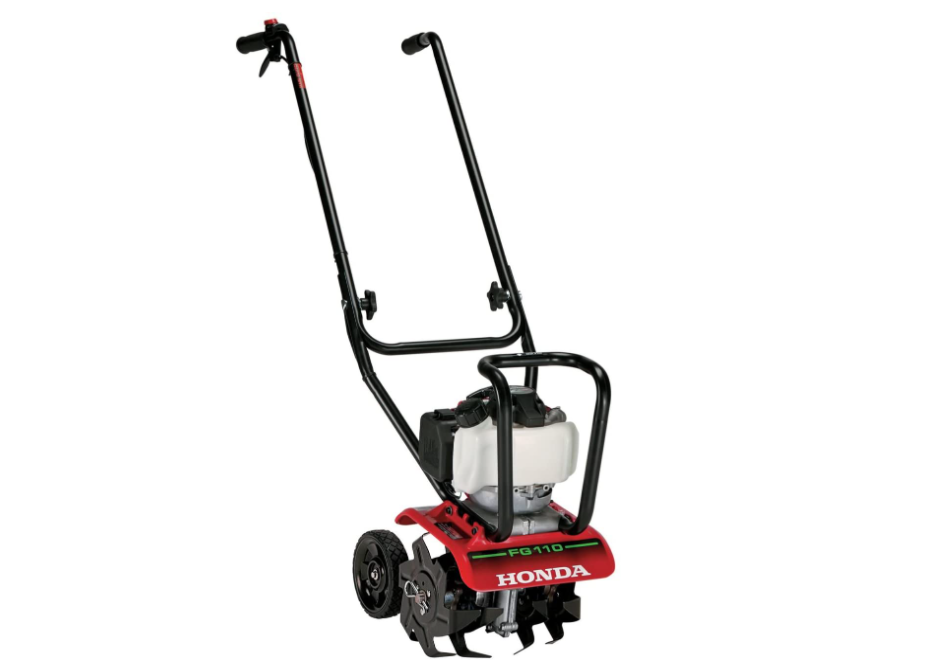 It's a dependable, durable, lightweight, compact yet strong micro tiller cultivator that can break new ground and cultivate loose soil. It comes with a dependable Honda GX25 small 4-stroke engine that is easy to start. The engine is also protected by my handy engine guard, which protects the engine's top, front, and back.
Key features
4-stroke Honda GX25 engine
Easy transport because of its lightweight feature (less than 29 lbs.)
Honda hybrid tines backed up with limited lifetime warranty
4 optional attachments
9-inch tilling width
Pros
Lightweight, easy to carry and maneuver
Easy starting
Engine guard
2-year warranty
Cons
Louder
Maintenance and fuel refill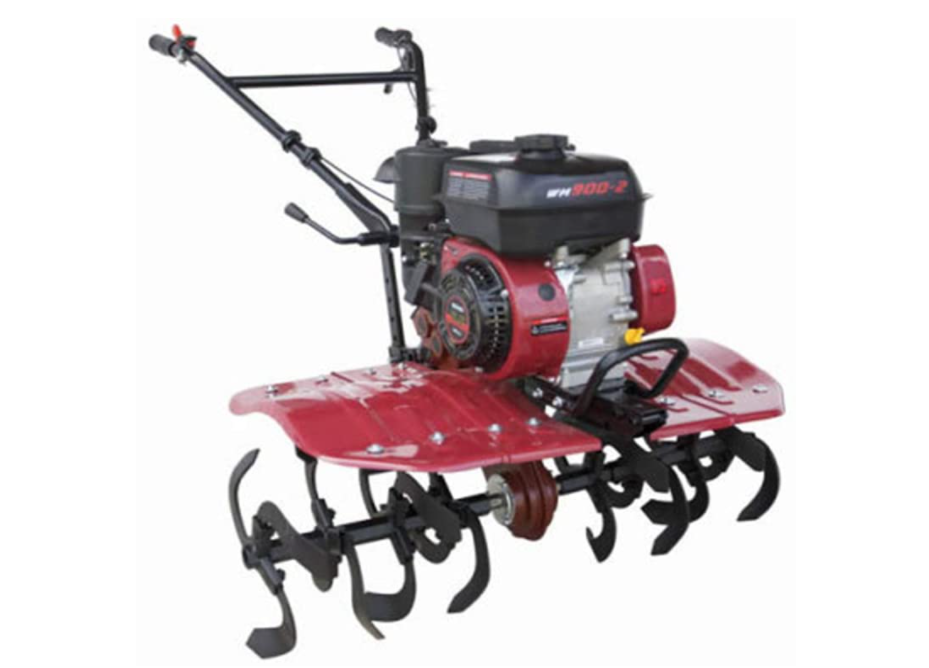 Its structure is basic, flexible, and compact, making it ideal for paddy, wheat fields, and other similar applications. It comes with a variety of tillage implements. A 170F-2 gasoline engine powers the vehicle.
Pros
Prevents impurities from entering the pull plate air inlet
More convenient maintenance
Low fuel consumption
Simple and flexible operation
Cons
It may not be suitable for large farms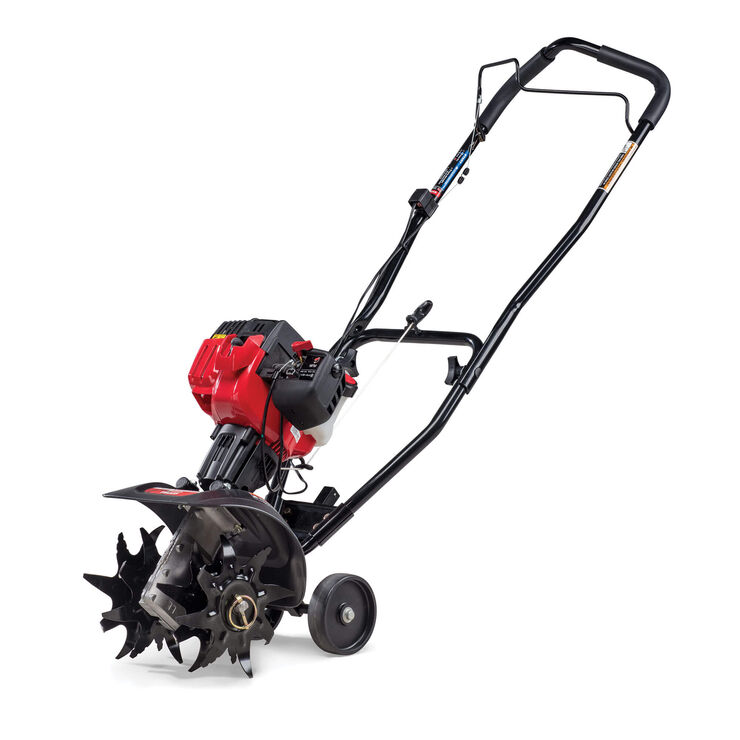 With a 2-cycle 25-cc engine, it's a dependable cultivator. It's simple to use and perfect for weeding and cultivation. Thanks to the 8-in steel tines, you can effortlessly finish your landscaping.
Key features
2-cycle 25-cc engine
8-in steel tines
4-forward rotating tines
6-9 inch cultivating width
6 lbs. weight
2-year limited warranty
Pros
Powerful and durable
Flexible
Lightweight
Compact for easy storage
Cons
It might be difficult to start at first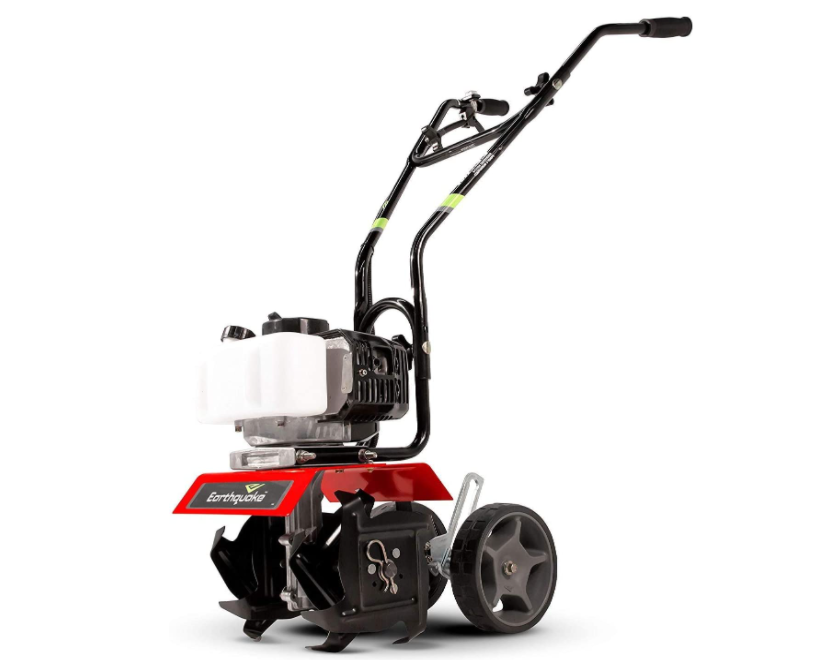 It's a versatile cultivator that may be used for weeding, mixing, and aerating. It is powerful enough to break the pre-tilled surface, but it will not work in a brand-new garden. It has an overhand grip and a throttle configuration that keeps you from jumping or bouncing.
Key Features
2-cycle, 33cc gas-powered motor
Push-button start
Easy to use
Adjustable tines between 6-10 inches
Five-year warranty
Pros
Compact
Easy to use
Good for weeding and aerating
Cons
Heavier
It makes more noise than electric cultivators
Not powerful enough to till the hard surface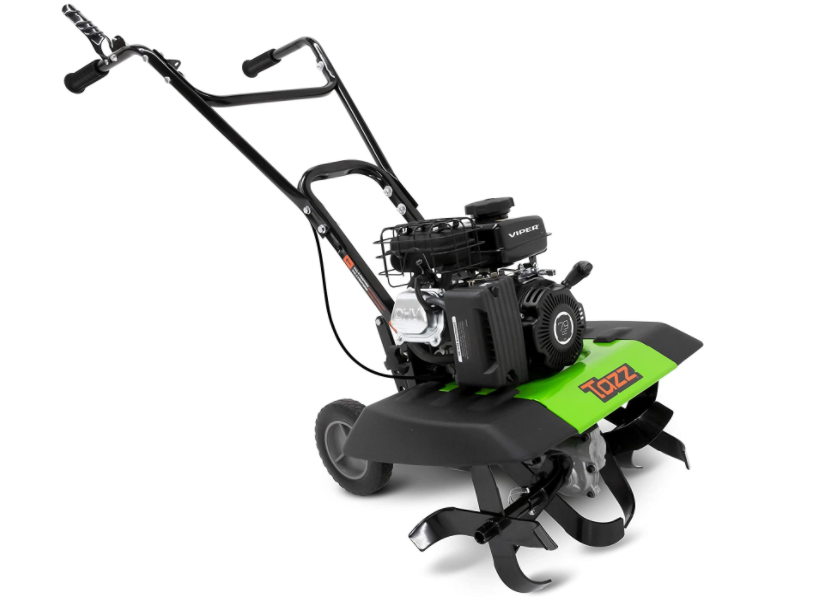 Tazz 35310 2-in-1 front tine cultivator is for you if your farm's soil surface is tough and you expect your cultivator to break through it. It has a powerful 4-cycle, 79cc gas-powered Viper engine that easily handles your challenging job. It is one of the heaviest cultivators on the list, but this helps it to do what it does best: till deeper soils.
Key features
4-cycle, 79cc gas-powered engine
Tilling depth of 11 inches
Adjustable cultivating path widths
Height-adjustable handlebars
Wide 21-inch tilling path
Easily removable steel tines
Three years warranty
Pros
Powerful enough to till harder surface
Push-button start for easy use
Adjustable tilling depth
Versatile
Cons
Heavy
Loud
High maintenance
Expensive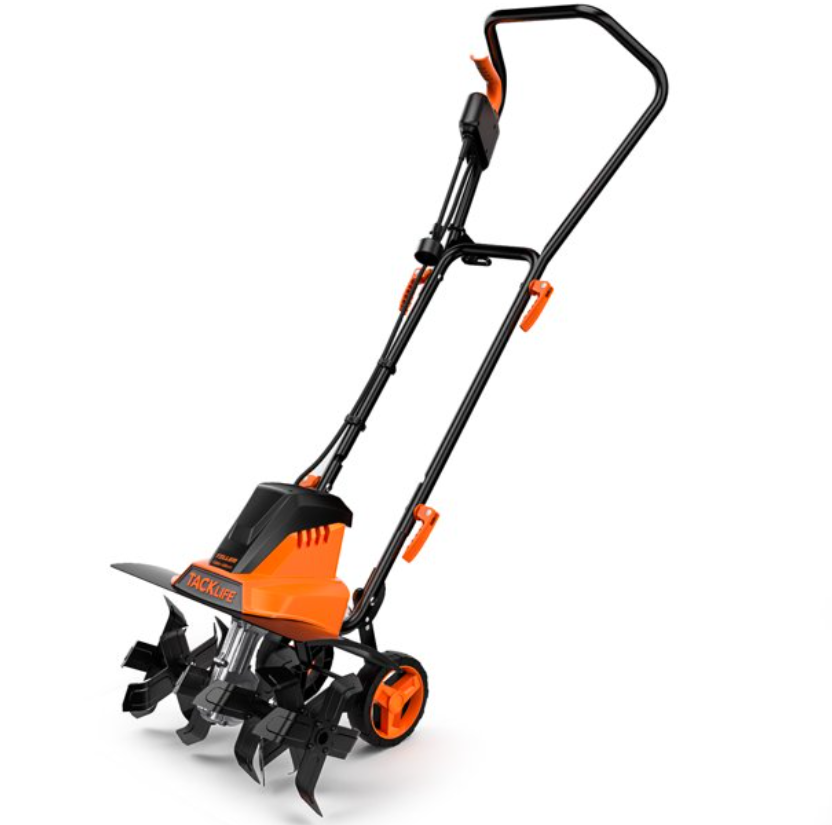 It's a cost-effective electric cultivator that's dependable, sturdy, and lightweight. It may work in a range of sizes from 18 to 12.5 inches. It has a foldable design that makes storage and traveling a breeze. One flaw with this device is that it does not have a reverse option, so you will have to pull it out by hand if it becomes stuck.
Key features
5 amp motor
Manganese steel tines
22 pounds
4 or 6 tine configuration
Safety buttons
Brake switch to prevent an accident
Capable of generating up to 380 RPMs
Pros
Lightweight
Durable
Foldable design
Versatile
Cons
FAQs
Question: What difference do you find between a tiller and a cultivator?
Answer: A cultivator is a small, lightweight machine used mostly to mix loose soil and handle smaller tasks such as weeding, fertilizer mixing, garden maintenance, and aeration. On the other hand, a tiller is a huge, heavy-duty machine used to break up hard ground in the early stages of construction. They can turn over vast volumes of dirt to build the garden space.
Question: Can you use a cultivator as a tiller?
Answer: You can use a cultivator as a tiller if you have a large, heavy, and powerful cultivator and your soil is not hard and heavy. However, two distinct tillers and cultivators are required because the tiller is used for early groundbreaking, which the cultivator cannot do.
Question: What is the purpose of a cultivator?
Answer: A cultivator's primary function is to stir up the soil and loosely mix previously tilled dirt or soil around a crop as it matures. It can initially break up the hard surface. However, it is not employed for this; instead, a tiller is used for primary tillage.
Final Word
Even for large-built folks, using a spade and shovel to loosen and mix up the soil is a demanding task. In today's modern-day, with the advancement of technology, it is critical to reap the benefits of these advancements. By this point, you should have a good sense of what type of cultivator is best for you.
To summarize, if you have a garden or farm near your home or an electric supply, you should consider purchasing an electric cultivator. It benefits both you and the environment. It is lightweight, simple to use, low-maintenance, and long-lasting.
However, if you have a large farm with hard and deeper soil, this may not be the best option for you. You can get a Sun Joe electric cultivator, but the cultivators described above are equally as good. You can make your decision based on price and preference.
If you have hard, deeper soil and need to spend several hours on the farm loosening it up, you can get a gas-powered cultivator. It is best suited if there are no local electric sources and you want a deeper till. You can even use a gas cultivator for primary cultivation and, in some situations, replace the tiller.
You should not, however, rely on cultivators for your first tasks. If you have decided to go with gas cultivators, you can get the Mantis 7940 4-cycle gas-powered cultivator or any other cultivator listed above. I hope, by this point, you've decided on at least the sort of cultivator you want and that this post has helped you make the appropriate decision.