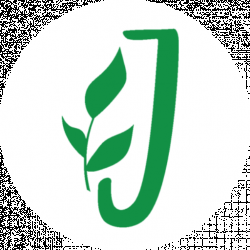 Latest posts by Jardin HQ Team
(see all)
A stump killer is something that you apply on those woody remnants that get left behind when you cut down a tree. These products contain chemicals that accelerate the decomposition of the tree stump, making it easier to remove.
Stump removers come in both granule and liquid forms. The best stump killers you can buy right now are:
VPG Fertilome 32295 32Oz Brush Stump Killer
Bonide 274 728639280241 Vine & Stump Killer
BioAdvanced 704701A Brush Killer Plus, Poison Ivy Killer, and Stump Remover
Dow AgroSciences RTU548 Tordon RTU Herbicide QT Size
Spectracide HG-66420 Stump Remover
Dibbs Farms Tree Stump Remover Granules
Which one is perfect for your stump removal needs? What are the things you need to know about stump killers and removal? Don't get stumped. We got the answers right here!
Why Should You Remove a Tree Stump, Anyway?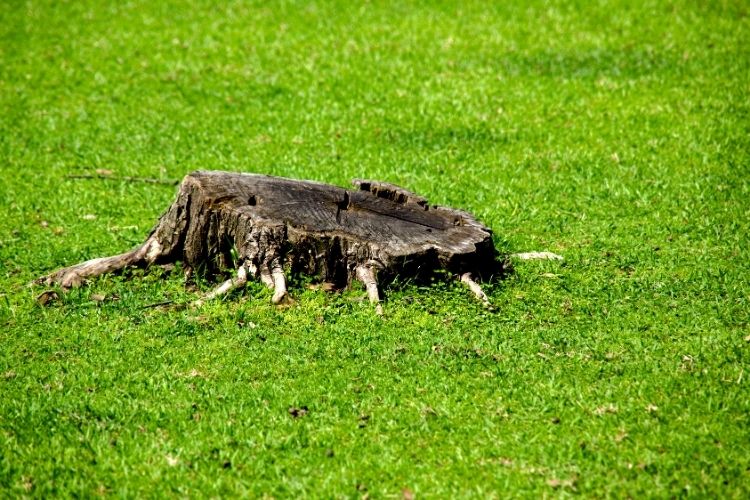 There are several reasons why you should remove a tree stump on your property. For one, it is a decaying piece of wood that can invite harmful insects and other species into your yard. These tree stumps can become the homes of beetles, carpenter ants, termites, and other harmful pests and insects that can ruin your plants.
The bad news is that once a tree stump gets infected, these insects can quickly spread to healthy trees and shrubs inside your property. More than that, the wood that you have in your house is in similar danger as well.
Aside from insects, stumps are also a breeding ground for fungi, which is harmful to kids and pets.
Other Reasons Why You Should Remove That Stump
Tree stumps when left where they ease can be a hazard. Running kids might trip over them or their tree roots.
What's more, a tree stump may regrow roots. Apart from the tree regrowing from a stump, those roots can also mess up your sidewalks and other footpaths that are above it. This can cause your paths to be uneven and present another tripping hazard.
If these roots encounter broken sewage lines or a leaky water line, then it might cause them to burst. Lastly, if you see yourself selling your home in the future, an unsightly tree stump might be an eyesore. Removing it, you can replace it with a lovely plant or extend your lawn to cover the area, making it look better than before.
What Chemicals Should You Be Looking For?
A good tree stump killer will have one or two active ingredients responsible for killing the leftover wood so that it doesn't regrow. What are the best chemicals for killing stumps?
It depends on what you're trying to get rid of and the time of the year. For instance, for small trees in the spring or early summer, look for a stump killer that has:
2,4-Dichlorophenoxyacetic acid
Dicamba
Picloram
Triclopyr
If you're looking for a stump killer in the latter part of summer or early autumn, you should buy one with glysophate. Products with imazapyr are great for midsummer.
These products are excellent for getting rid of small trees. You just spray these on the leaves and give it time to work instead of spending time cutting them. These chemicals will kill the tree and the roots, making them easier to remove.
For bigger trees, you will need a herbicide that has
2,4-D
Dichlorprop
Picloram
Triclopyr
Make cuts to the bark and then apply these root killers to them. You can also drill downward holes into the bark and pour these chemicals into it.
The chemicals will be carried throughout the medium and large trees, killing it and its roots.
Direct Contact with Roots
Some products are poured on the soil surface. When the rains come or when you water, chemicals such as tebuthiuron, hexazinone, and bromacil, work their way down to the roots of the tree. The roots are then killed.
For those who have problems with tree roots getting to their sewer lines, you should get a product with dichlobenil as the active ingredient. However, this chemical is considered hazardous, so it's best to leave this job to professionals.
Best Stump Remover: The Top Products You Can Buy Right Now
If you are looking for the best stump remover for your garden, you might want to consider these products:
VPG Fertilome 32295 32Oz Brush Stump Killer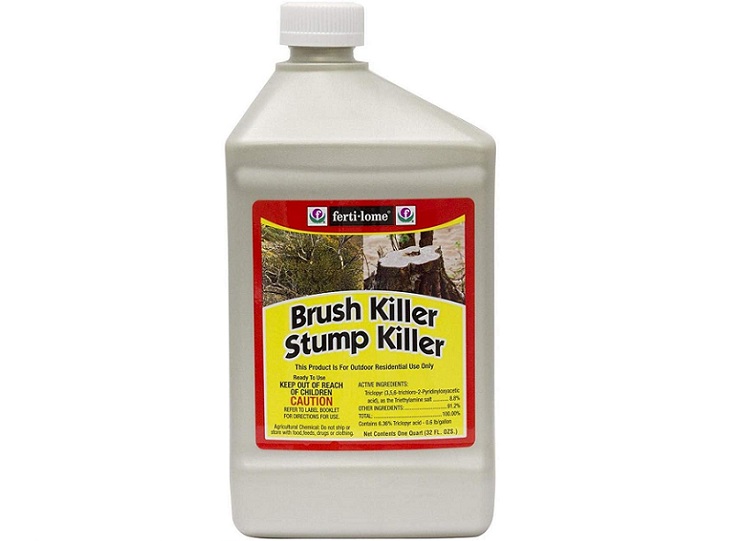 This product lets you kill those pesky vines, poison ivy, and stumps. It has triclopyr acid as its active ingredient.
Some customers rave about VPG Fertilome 32295 32Oz Brush Stump Killer, saying that this is the only one that has worked against invasive vines and trees. Plus, it's great for those with a lot of tree stumps to remove.
Others, however, report that it may take a couple of applications for this product to work. What's more, this is a 32-ounce (one liter) bottle, so if you only have very few stumps to get rid of, you will have to pay for the whole bottle and not use some of it.
Pros
Works as advertised, often after only one application
Cons
This product comes in a big bottle suitable for those who have to deal with a lot of tree stumps or vines.
Bonide 274 728639280241 Vine & Stump Killer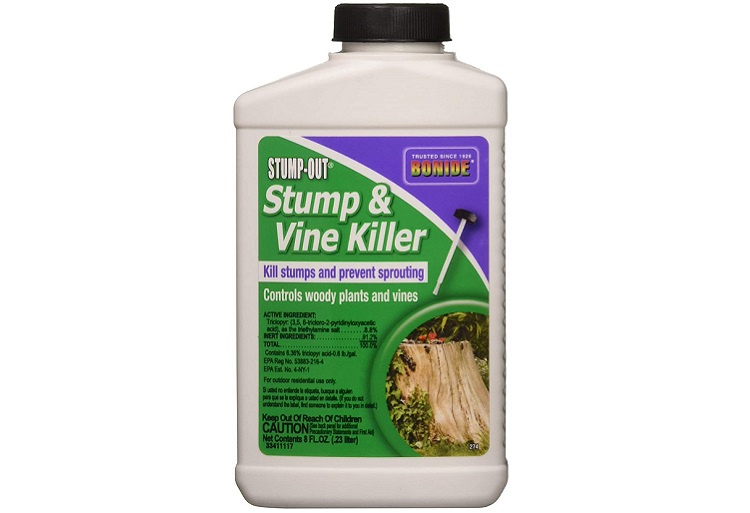 This vine and stump killer will do its job without harming other plants. It helps to kill stumps to prevent them from growing back.
You can also use it for woody plants and broadleaf weeds. You can kill stumps and vines when the cut is fresh and just by painting this product over the cut. Triclopyr is the active ingredient for this product.
However, you should know that some users have reported that this didn't work for them, while others complained that the bottle they received leaked.
For some, it involves a lot of work and a lot of applications to see results. For instance, some users suggest drilling holes into the tree stump before applying this product.
Pros
Odorless, unlike pesticides and other herbicide
Cons
It may not kill all types of weeds, so you should ask if you have a particular one in mind.
It requires repeated applications and may not deliver instant results.
BioAdvanced 704701A Brush Killer Plus, Poison Ivy Killer, and Stump Remover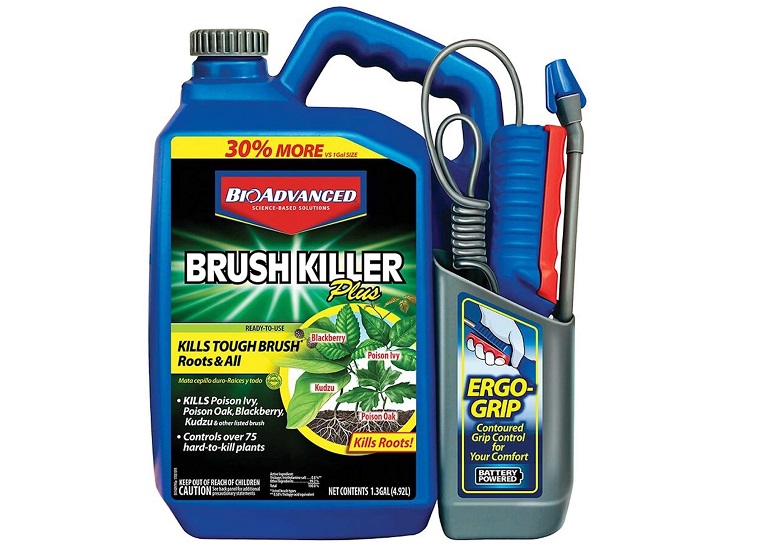 The BioAdvanced 704701A Brush Killer Plus, Poison Ivy Killer, and Stump Remover can kill the most invasive weeds, plants, brush and remove tree stumps. The powerful formula can kill poison oak, bramble, kudzu, and blackberry, along with more than six dozen other plants and weeds. The active ingredient is triclopyr.
It kills the roots so that these weeds can never grow back. What's more, this product has a battery-powered sprayer that makes it easier to apply. However, using the sprayer is not recommended for removing tree stumps, as you will need to drill tiny holes and brush the products directly into the holes.
That means that if you're buying this to use from removing stumps, then you can probably find another product that uses the same active ingredient for a lower price and smaller size.
The good thing is that the manufacturers also offer several other sizes, each with its own applicator, including an applicator, sprayer, and spray bottle.
Pros
Not just a stump remover, but it can also kill more than 70 unwanted plants.
Works as advertised
Cons
The battery-powered spray is for vines and weeds, not for stump removal.
It might take a while, up to six weeks, before you can see the results.
Can be expensive
More effective as a brush and weed killer than a stump remover
Dow AgroSciences RTU548 Tordon RTU Herbicide QT Size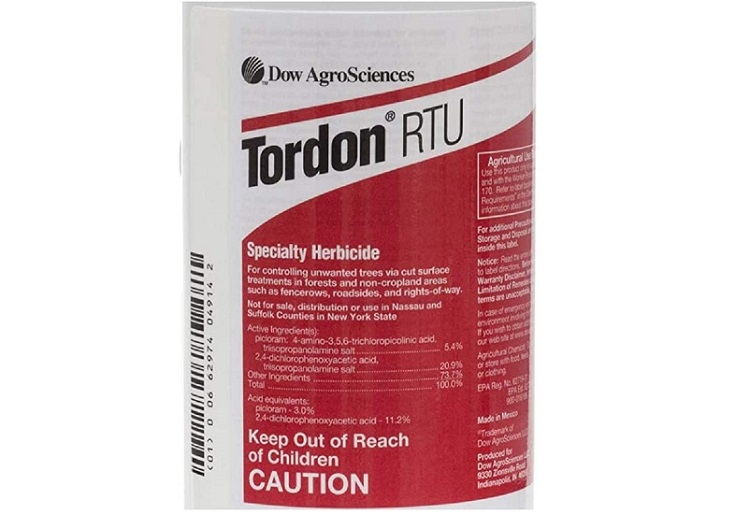 The Dow AgroSciences RTU548 Tordon RTU Herbicide QT Size kills cut stumps and unwanted trees. You can use this in non-crop areas such as paths, roadsides, or fences. It can seep into the tree's root system so that no new growth will sprout.
Application is easy, as well. This herbicide has a blue dye to make it easy to know where you have already applied and which part of the stump has already been treated.
You also don't have to mix or measure this product. You only need to pour the liquid inside the squirt bottle that's also provided in the package.
Pros
Works better on tree stumps for even the most stubborn ones
Cons
The product will also kill any tree that's close to the one you're treating.
Spectracide HG-66420 Stump Remover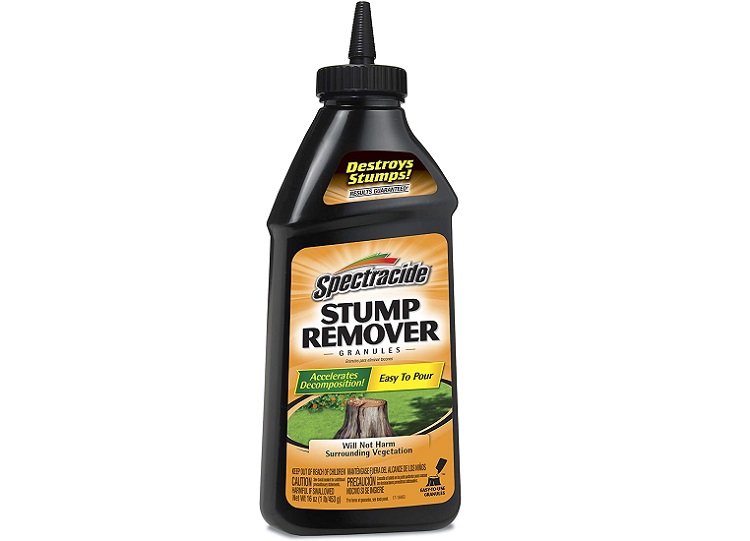 The Spectracide HG-66420 Stump Remover proves that a good stump remover doesn't have to be ridiculously expensive. A 16-ounce (0.5 liters) bottle of this product costs less than $5.
This stump remover can hasten the remaining stump's decomposition, making it porous and easy to remove or burn. You can put the granules inside the drilled holes.
Pros
It comes with a money-back guarantee.
Affordable stump removal solution
Will not kill the surrounding plants.
Dibbs Farms Tree Stump Remover Granules
Another product in granule form, the Dibbs Farms Tree Stump Remover Granules, will hasten the rotting of tree stumps without harming the plants next to it.
This product is very easy to use. You just need to drill several holes that are an inch (2.5 centimeters) wide and 12 inches (30.5 centimeters) deep at the top of the stump. You will also need to drill similar holes at the side of the stump.
Pour about four ounces (113.4 grams) of granules into each hole and then fill with hot water. You only need to add water for a few days until the granules dissolve completely.
Pros
Easy to use
Ideal for tree stumps that have useful plants near it
Cons
Some people remarked that the product didn't work even when they followed the instructions.
FAQs
Question: How long do you have to wait for a tree stump to rot completely?
Answer: The answer to this question would largely depend on the type of tree that you had and your yard's conditions. Some tree stumps can last for more than 10 years if you just leave them alone.
Without using a stump killer, you can expect a tree stump to produce suckers. The new growth is expected because the stump's root system is still alive. You can let the new suckers grow to about a foot (30.5 centimeters) high before you cut them to help deplete the nutrients and resources that the stump is getting.
Or you can just buy one of the recommended stump removers above to speed up the process.
Question: How do you use stump removers?
Answer: To use a stump remover, you can apply a liquid product over the freshly cut stump. This method usually works for smaller trees that have been cut.
For bigger stumps, you will need to drill holes into the stump, pour the product into the holes, and put in some hot water.
This video will show you just how to do that.
Question: How do you remove a tree stump?
Answer: Once the tree stump is decayed out, you can easily take it apart even when you don't have heavy machinery and tools.
Some people suggest just burning the stump. If you've cut holes into the stump to put the stump remover in, you're going to be able to use those holes and pour gasoline into it. Then light the thing on fire.
Make sure that you observe all the necessary precautions when doing this. Burning a tree stump can take hours, so there is a good chance that you're going to have to leave it unattended.
Clear away anything that can catch fire and spread. If you're burning a stump in your lawn, surround it with firebricks and other fire-resistant material that has very low conductivity. If you don't have them, you can use rocks to help surround the stump you're burning.
Question: Can you upcycle tree stumps?
Answer: Some people would rather keep the tree stump for a variety of reasons. If you have just cut an oak tree or a western red cedar, these stumps can resist decay and may be upcycled or preserved.
Some ideas on how to upcycle tree stumps:
• A planter for smaller plants like succulents and cacti.
• A small table that you can decorate, such as mosaic tiles and other materials.
• You can turn it into a birdbath using an old saucer.

However, rather than leaving them in the ground, it's better if you just cut the stump and then treat it. First, wipe the stump clean and give it a layer or two of wood stain. Then using epoxy, fill in cracks so that nothing can get into these.

Apply wood stabilizer and sealant spray to help preserve the wood.
Buy the Best Stump Remover Today!
Tree stumps might be challenging to get rid of, but with these products, a little patience, and the right application, you can easily let them rot faster than they will without treatment.
If you don't want unsightly stumps to be a tripping hazard or a home for pests, choose from this list of products and say goodbye to that stubborn stump.