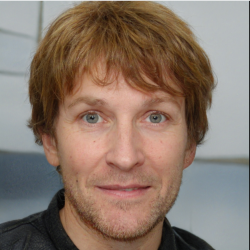 Latest posts by John Hughes
(see all)
Gardening is a great hobby. According to a gardening insights survey carried out by Axiom, many people work in their gardens to add beauty to their lives. If you are one of those people, one thing that can improve your gardening experience is a pair of high-quality, durable garden scissors!
Garden scissors (also known as shears) are a must-have tool for any gardener. It does not matter whether you are just starting or have been gardening for years. There is nothing worse than getting stuck with dull shears that cannot cut through even the softest stems and vines.
With so many brands on the market today, which one should you buy? We have compiled a list of top-rated garden scissors for your convenience. But before we get to the list, here are a few important things to note.
What Are Garden Scissors And What Do They Do?
Garden scissors are a type of shears used in gardening. They have wide blades making them easy to use as they work well on thick or thin plants. Garden scissors come in different styles, which have either sharp points at the end for pruning or flat tips for cutting branches off trees.
The most common uses of garden scissors are trimming bushes and flowers and removing dead leaves from perennials using their pointed ends.
Types of Garden Scissors
Garden scissors come in different types, shapes, and sizes. Choosing the right pair will depend on your task. Below are some of the main types.
Hedge Shears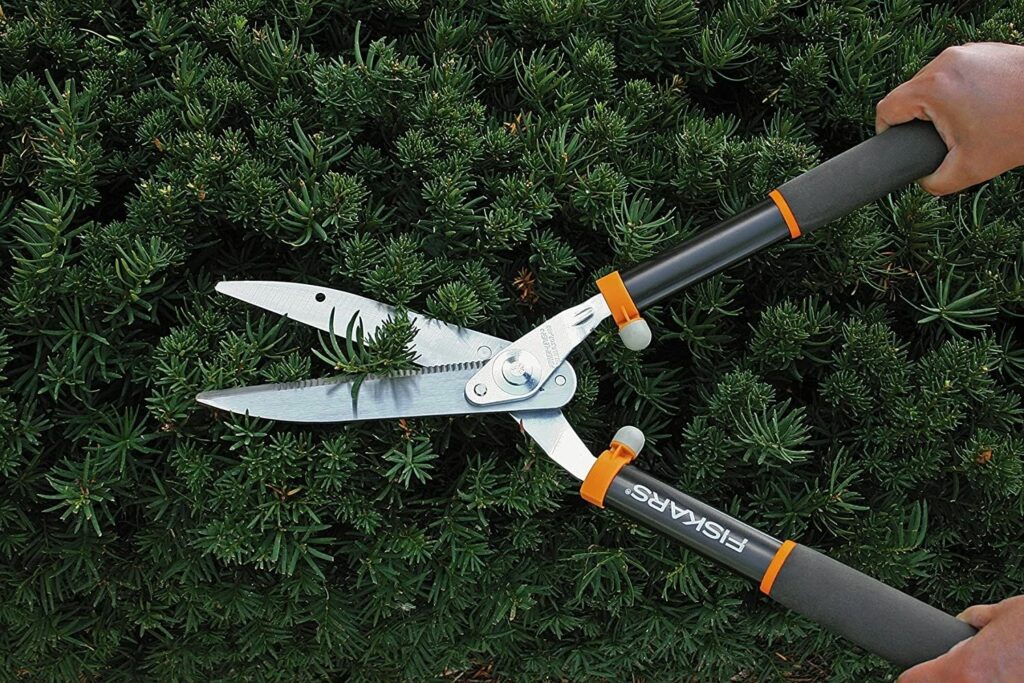 This is a type of scissors used to cut back bushes and hedges. It has an adjustable width, allowing you to control the length that it cuts. They are suitable for cutting branches with small diameters or light shrubs.
Hedge shears are an essential tool for the gardener. Once only found in specialized hardware stores, now you can find them at most home improvement and garden supply shops. Hedge shears have been in service since ancient times for agricultural purposes. Such as trimming down apple trees or clearing out overgrown fields of wheat stubble.
However, these days, hedge trimmers are used more often than any other type of scissors for pruning. This is because they offer versatility when it comes to thickness.
Pruning Shears
These shears have long blades and sharp points on one side and blunt ends on the other. Pruning shears can be angled in different directions depending on where you want them to cut. They can also come as bypass pruners with more rounded edges than pointed ones, making their use safer if there are children around who could get injured from contact with the blade edge.
Lopping Shears
Lopping shears are gardening scissors used for many different tasks – from cutting through tough branches and vines to making precise cuts. These types of garden scissors are also known as pruning shears or secateurs. They have blades that move back and forth in an up-and-down motion that easily cut through the material.
The blade on these types of garden scissors has a sharp edge. So make sure to keep them away from children who might find them intriguing!
Anvil Shears
The blades of anvil shears are angled to allow for the blade to attach at a steep angle. This type of design is practical in that it will enable you to cut cleanly with no frayed edges.
The drawback is that they are often heavier than other types of scissors. So this might be something you want to consider if weight limits are a concern to you. Anvil shears come as both right-handed and left-handed models.
Pole Pruners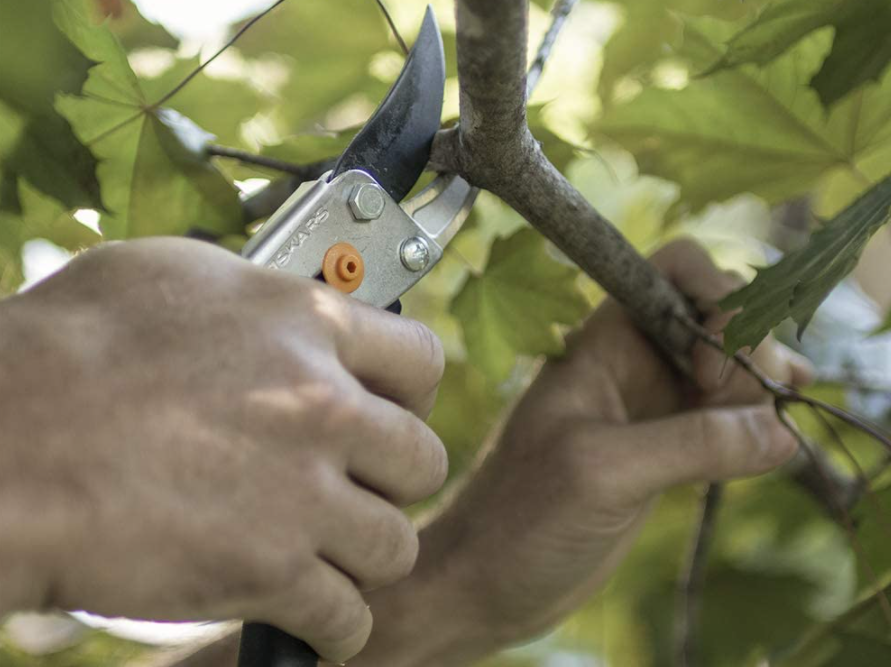 Pole pruners are perfect for cutting branches and stems of trees that are higher up. They work by opening the blades perpendicular to the handle.
Pole pruning works well for those who want to trim back their shrubs around their house but not near where they stand. You could use a pole pruner if you wanted a clean look all around your home without any tree limbs touching your roofline.
Parrot Beak Shears
Razor-sharp parrot beak shears are for cutting through thick or thorny branches. The blade is shaped like a hooked, claw-like appendage and has serrated edges for cutting rigid material.
This type of garden scissors may also have the added feature of unscrewing to attach it securely to your belt loop when not in use. When using these shears, always wear gloves because otherwise, you risk injury from the razor blades on either side of the 'parrot beak.'
Serrated blades make these handy tools perfect for trimming dead foliage around trees and shrubs without destroying leaves or buds underneath them.
Buying a Pair of Garden Scissors – What to Consider
Even if you have never used a pair of scissors before, it is crucial to invest in high-quality garden shears. When choosing an all-purpose set that will hopefully last for years to come, there are several things to consider.
What Types Exist?
There are three main categories that these tools come in; Bypass, anvil and ratchet. What sets them apart is the operating style.
Bypass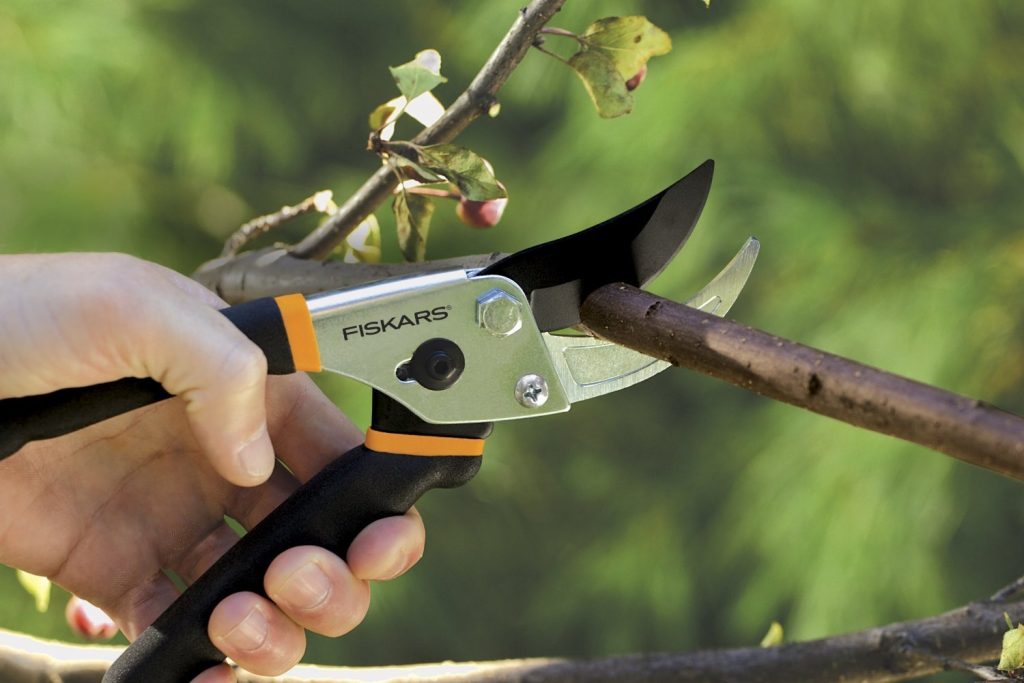 The blades of bypass-type scissors are curved and shaped like an upside-down "U." When cutting, the blades separate, so they don't catch on each other. These garden shears have a large blade made from stainless steel, which helps to keep them sharp.
The handles on these scissors are metallic or plastic, with the latter being more common due to their durability. It's important to note that not all bypass scissor models will allow for left-handed users as well. For instance, if you need your right hand free, there might be some limitations on which model you can use.
Anvil
Anvil shears have blades that cut branches or stems by pressing down on them. The blades are curved, with the top of the blade being narrower than the bottom. The curvature cuts in a straight line, and they work best on delicate materials such as flowers or leaves.
Curved blades also allow for more precise cutting while reducing strain on your hand from having to apply pressure at an angle. They're great tools for gardening because you don't have to worry about accidentally damaging fragile plants when trimming them around the edges.
Ratchet
Ratchet scissors are a must when you're working with flowers or small shrubs. The blades make it easier to cut without having to worry about keeping your hands close together as you would with traditional scissors. Ratchet shears also have more leverage, which allows the user to get through thicker branches and stems than they could be using regular scissors.
Cost
It would help to consider the cost when buying a new pair of garden shears. The price is usually an indication of how well they will cut through tough materials, which can be beneficial if you have thick or thorny plants in your yard that need trimming.
A more expensive model may even help with easier cutting by reducing hand strain.  And offering additional features like built-in sharpening blades or ergonomic grips for added comfort while using them. On average, depending on where you purchase them from, a good quality pair of garden scissors cost from $20-$60. But some models are available from as low as $12.
Convenience
There are various types of scissors available for garden use. But if you're looking for a tool that is easy to handle and comfortable in hand, there are only really two options: anvil or bypass.  A basic understanding of how each type works will help you decide which one suits your needs best.
Anvil shears have blades on both sides, unlike bypass ones which come down from just one side. This makes them easier to operate because it doesn't require much wrist action.
If you need power during operation, though, these might not be the right choice as the blade won't go through more challenging material like branches and weeds quickly. Anvils work better when cutting into flower foliage since it's easier to cut through without creating much resistance.
How to Care for and Maintain Your Garden Scissors
Clean After use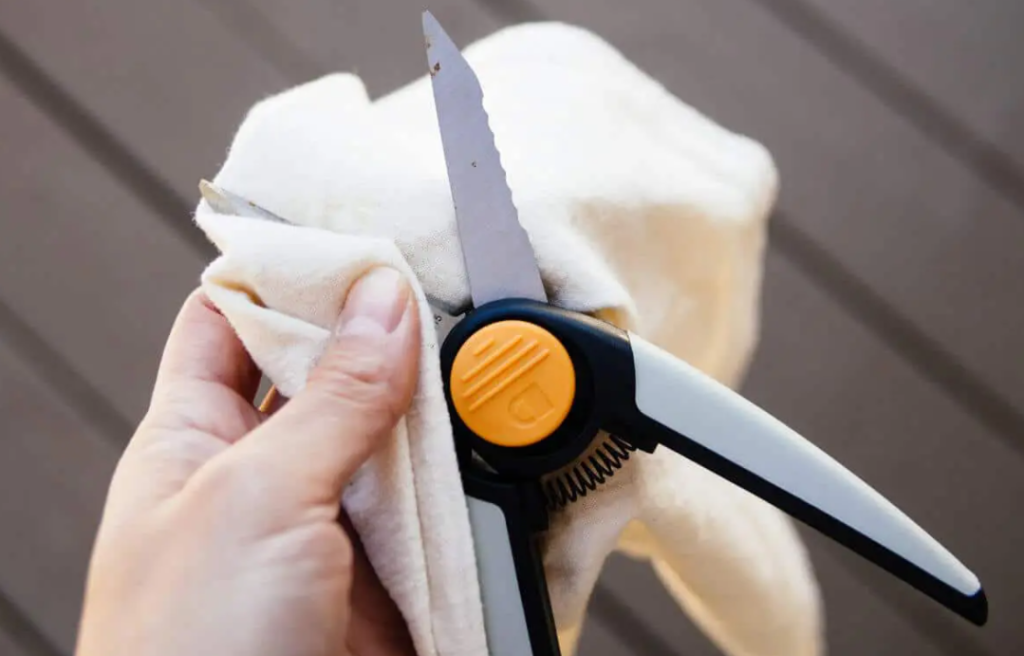 While it may not seem like a big deal, cleaning your garden scissors after use is essential. Dirt and soil on the blades can cause rusting. This will make cutting harder, which means you have to put more pressure on them. Applying force may lead to bruises or cuts on your hands and fingers when using the scissors.
Oiling the Movable parts
It's crucial to maintain your gardening tools by keeping them oiled up, so they don't rust or jam when in use. A little bit of olive oil is all it takes to keep your tools nice and shiny!
If you're having trouble opening the blades after cleaning them, try using a light machine oil like WD-40, which will make working the blades easier while also preventing corrosion from occurring. If there are any parts on your tool that move (such as springs), apply a few drops of oil to prevent rusting, which may cause the scissors to stop working.
Sharpening
Sharpening the blades of your garden scissors ensures they not only remain sharp but work better. As time goes on, however, it may become difficult to get them back as close to their original shape. Instead, rust can build up along the edge that makes cutting more difficult or even dangerous to use.
Other than sharpening, here are some tips for how to maintain blades to keep them working well:
Remove any dirt or grime with soap and water before drying thoroughly
Wipe down the blade after use with an oiled cloth. This prevents the blades from rusting.
Store in a Dry Place
The most important thing to do with your garden scissors is to store them in a dry place. If you live in an area that gets a lot of rain, it can be difficult for the blades and handles of your gardening tools to remain completely dry. In this case, clean and wipe them dry after use and store them inside until they're needed. This will keep away any moisture from creeping into their seams or joints and rust the metal parts.
Smoothening the Handles
The handles of your garden scissors will often need smoothening with sandpaper or wood filler. After smoothening, you may apply a little oil or wood furnish before storing them away.
Top Five Brands of Garden Scissors
All of the scissors we chosen in this guide were chosen based on positive customer reviews, affordability, and ease of use.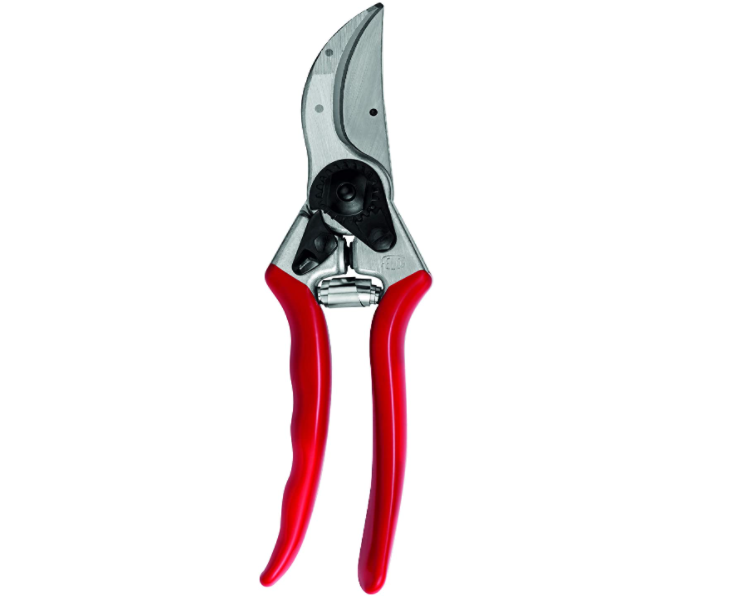 The Felco F2 has durable steel blades that can cut through thick branches with minimal effort. The cutting blades and the anvil are fastened with a bolt and nut allowing you to adjust them according to your desired cutting width.
Its handles are lightweight and rubber cushioned, giving you a firm grip while working with it. Although with a limited lifetime warranty, the Felco F2 is an ideal pruner for simple gardening tasks.
Pros
Covered by a one year warranty from the date of purchase
Adjustable blades that are easy to sharpen
Replacement parts are readily available
Cons
Some people may consider it a bit expensive
Blades may open too wide for someone's liking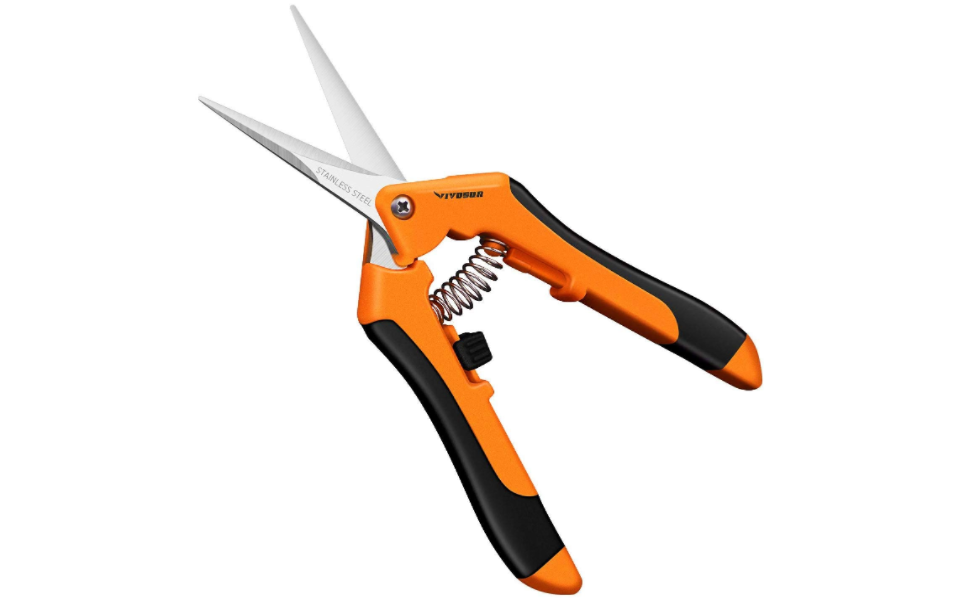 These hand pruners are 6.5 inches long and relatively light. Their 2.1-inch blades are controlled by a strong spring, making it easier to open and close fast while working. It comes with comfortable grip handles that enable you to use it for long periods without straining your hand. A secure and easy to operate lock makes sure that you minimize the risk of injury by keeping the blades locked when not in use.
Pros
Quite affordable
It comes with ultra-sharp blades designed to make precise cuts
Cons
Blades get dull fast – you have to keep sharpening them
Spring tends to pop out
Unreliable locking mechanism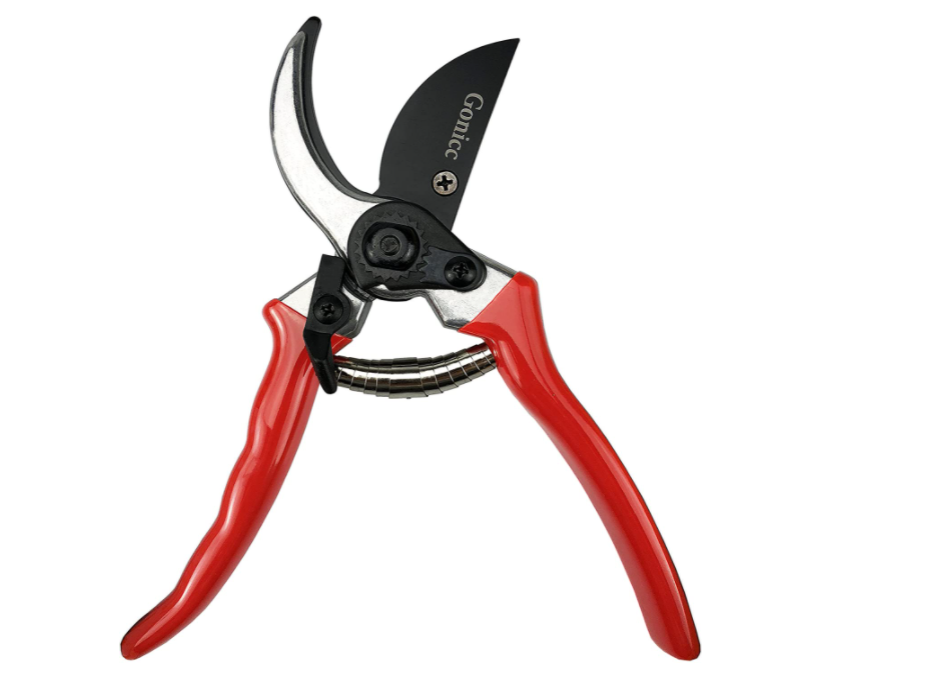 Are you looking for something lightweight and compact for trimming, deadheading, shaping trees, roses, flower gardens, and the like? This is the right tool for you. High carbon steel is the material used to make the blade using ultra-fine polishing technology. The handles are strong, comfortable, and lightweight, reducing the chances of slipping while working with the pruners.
Pros
Designed to make clean cuts without causing injuries to your plants
Well-designed handles for safety and comfort
Cons
Unreliable locking mechanism
The rubber coating on the handles doesn't last long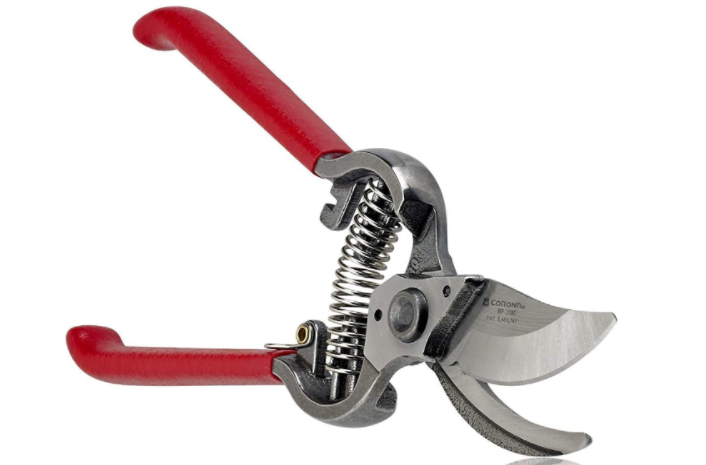 If you are looking for quality and affordability, this is the right tool for you. It comes with a blade that can be re-sharpened or replaced, making the device serve you longer. There is a sap groove that removes debris, giving you a clean cut.
Pros
Easy to find the replacement parts
You can choose from the three different sizes available
Cons
It doesn't make the perfect clean cut
Blades are prone to rust which often requires replacements

The Fiskars steel shears are perfect for cutting light branches and stems. Its blades, made of hardened steel, keep them sharp even after challenging work. The low friction coating helps the blades cut through stems and other materials effortlessly.
Pros
You enjoy a lifetime warranty upon purchase.
Handle made with non-slip grip material
Cons
Handles opening mechanism may jam often.
FAQs
Question: Apart from scissors, which tools can I use for pruning?
Answer: You can use secateurs, loppers, saws, and long-reach pruners.
Question: What's the difference between shears and scissors?
Answer: Shears have unequal finger holes with larger blades while scissors have equal finger holes and smaller blades.
Question: Can I use regular scissors to prune my plants?
Answer: Regular scissors won't do the work. Use garden scissors or shears instead.
Conclusion
As seen above, there are different garden scissors for each particular task. You don't have to stress about choosing the best gardening scissors. Out of all of the blades on this list, we highly recommend the Felco F2. This is because they're durable, lightweight, and easy to use!
To make an informed decision, consider your preferences, budget, and the kind of work you will be doing. If you need fast and clean cuts, consider going for scissors with sharp blades. All these options are available to help you spruce up your garden and keep it tidy at all times.