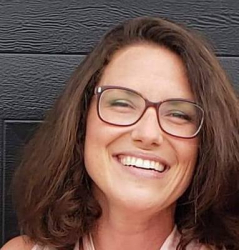 Latest posts by Sarah Caldwell
(see all)
The state of Florida has mostly tropical and subtropical weather conditions with very mild winters and hot, humid summers. Most of Florida is also coastal, which is something you should consider when thinking about what to plant. Zones 8-11 are present in Florida with Zone 8 presenting at the northern border and Zone 11 at the southern tip.
Because Florida is so warm year-round, many plants that are annuals in other zones will be fun perennials here. While you have to worry less about freezing temperatures the farther south you go, you still want to be aware of a plant's heat and sun tolerance.
Florida is also a very wet state, so gardeners need to think about a plant's tolerance to water and plan irrigation carefully. There are a variety of plants that are well suited for lowlands and swampy areas.
North and Central Florida
North and Central Florida has a good amount of rain, lots of sun, and a long growing season. That means you can plant just about anything you want. Even in the Panhandle, where you'll find a bit of Zone 8a, the winters are typically mild.
From the Panhandle and into Central Florida, the climate is subtropical. There are hot, wet summers, and cool winters. The rainy season is from May to October, and while the rains are typically brief, they're heavy. Panhandle zones include Zone 8a, 8b, and 9a while Central Florida is Zone 9a and 9b. You'll find Destin, Lake City, and Tallahassee in Zone 8. Daytona Beach, Gainesville, Ocala, Orlando, and Pensacola are all in Zone 9.
It's possible to experience freezing temperatures and even snow in some of these regions, and last frost dates should be monitored when considering plant hardiness. While the last frost in Central Florida can be as early as February, you may experience frost into March and April in the Panhandle and northern Florida.
The Soil
The official soil of the state of Florida is called Myakka. It's a sandy soil that works great for beaches, but is less than ideal for gardening. There's no organic material in it and it doesn't hold moisture very well. Gardeners will want to improve their soil with compost or build raised beds with potting soil.
Growing Tips
In January and February, you can plant annuals that love cooler weather, but be sure to monitor for cold snaps and cover delicate plants if you get frost. You can also plant cold crops like broccoli, lettuce, and carrots now as well as fertilizing your citrus trees.
You can plant bulbs at the beginning of the year as well, but make sure you mulch heavily to protect them from frost and cold weather.
By March, you should be able to plant warm-weather vegetables like tomatoes, squash, and peppers as well as bulbs that bloom in the summer. In April, plant warm weather annuals and tropical flowers. You can move your household plants outdoors for the season as well.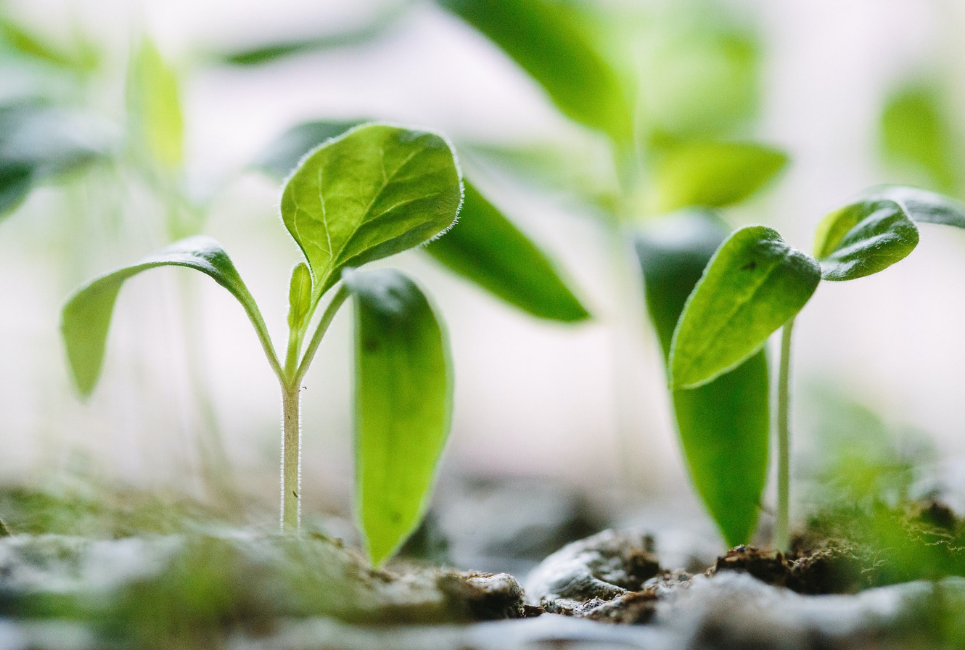 In May, keep an eye out for pests and plant your herb garden. Including several varieties of mint will keep pests at bay. Rosemary grows particularly well in North Florida.
Throughout the summer, supplement your soil's moisture with irrigation, continue to weed your beds, and start your pumpkin seeds for the fall. You can also add more color throughout the summer months with heat-loving annuals and vegetables.
In September, add fall annuals, plant strawberries, and add plants that will attract butterflies. Reduce watering as the wet season is about to start. In October, bring household plants back inside and check them for pests.
Southern Florida
Southern Florida is made of mostly Zone 10 and Zone 11, which means it's a tropical environment with hot summers and very mild winters. The average low in southern Florida is around 40 degrees Fahrenheit. It does freeze occasionally in Zone 10, but rarely in Zone 11.
It's important in this area of the state to select your plants carefully. While Florida is a wet state, it's also very hot and can be extremely windy in the winter. Your plants will need to be able to tolerate all of these conditions in order to thrive.
Be aware of low areas that gather water when planting and keep in mind that you can plant drought tolerant plants, but they should be in elevated dry spots, exposed areas, and along unshaded western or southern walls.
Evergreens are a great way to protect your home and other plants from wind. They create a barrier against the cold wind that damages other plants. Choose trees that are known for being sturdy, even in high wind, since Florida is known for hurricanes.
Plants play a large part in cooling or heating your home when placed strategically. Deciduous shade trees around the south, east, and west will give you shade in the summer and warm the house in the winter.
Native Florida Flowers
You don't have to plant things that are native to Florida, but there is a huge variety of native Florida plants that you may want to choose from.
Beach Sunflower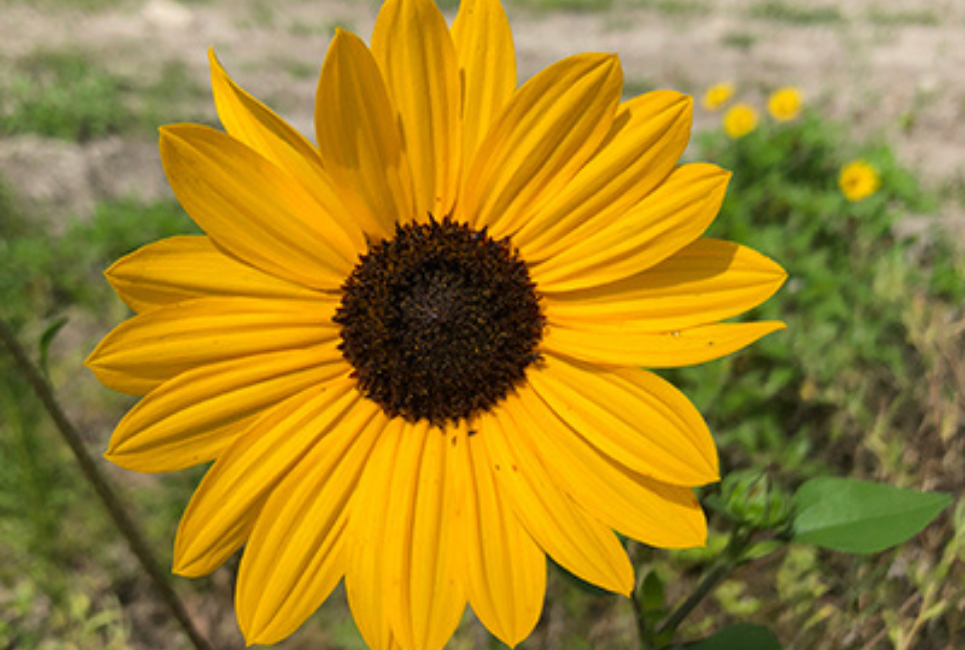 Due to its sandy soils and proximity to the ocean, beach sunflower is an excellent choice. It loves high levels of salt and sand, and it's a drought tolerant flower that produces bright yellow blooms and attracts butterflies.
Black-eyed Susan
Another sunflower-like bloom that is tolerant to drought and salt is the wild black-eyed Susan. It can be vibrant yellow, red, or orange and will survive during the heat of the summer after other flowers are already gone.
Blazing Star
There are more than 13 blazing star species that are native to Florida, so it's a great option for most gardens. It's also called colic root or gayfeather and it's a tough and hardy flower that will survive even the worst gardeners. Blazing star flowers have vibrant colors and are shaped like bottlebrushes. They bloom in the fall and attract bees and butterflies for pollination.
Blazing star thrives in Zone 8a-10b, loves full sun and well-draining soil, will grow up to 5 feet tall, and comes back every year. Water them regularly during the growing season and make sure they get enough circulation to avoid mold, leaf spots, and other problems.
Carolina Jessamine
This yellow trumpet flower is also called yellow jessamine and grows as a vine. If you have a trellis, pergola, arbor, or another climbing fence, these are a great choice for your landscape. They release a sweet fragrance, so they work well in seating areas, but be careful not to let pets or children eat them because they can be fatal.
They love the full sun of zones 7a-9b, need rich soil, and will grow up to 20 feet when climbing. Be sure to water them regularly during the growing season.
Columbine
This wildflower has many different colors, but native Florida species grow best in the Panhandle and are red and yellow in color. They attract hummingbirds, so they're a great choice for those who love wildlife.
It will do well in sandy soils, making it perfect for Florida landscapes. It loves full sun and will grow up to 4 feet in the right conditions. Water it regularly, but make sure the soil is well-drained so it doesn't stay wet.
Coral Bean
Coral bean grows well all over the state, but it will grow differently depending on where you are. In the north and central parts of the state, it will grow like a flower, but in the southern parts of Florida, it's a shrub or a small tree. It forms a bright red tubular bloom in the spring and in the fall, the seed pods burst to display shiny seeds. Be careful not to eat them because they are poisonous.
This flower will do well in full sun or partial shade and loves sandy, well-drained soils. It can grow from 5-15 feet depending on where you are and how you care for it. If it grows into an ornamental tree, prune it and remove any dead branches.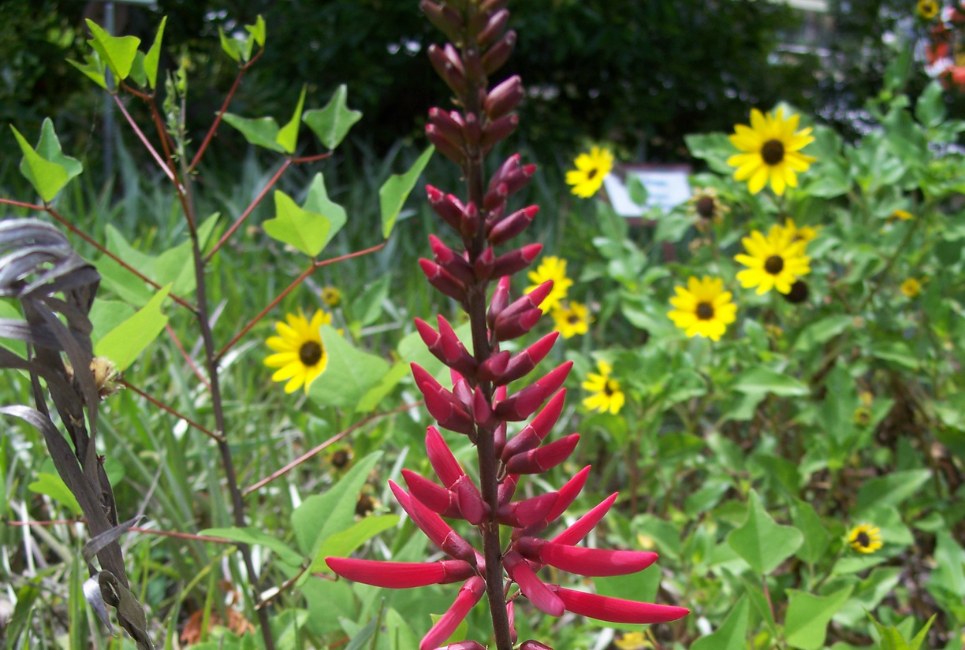 Coral Honeysuckle
This gorgeous trumpet-shaped flower grows on a vine that will climb pergolas, walls, trellises, fences, and other structures. It will give you a bright red pop of color in the spring and summer and attract butterflies, songbirds, and hummingbirds.
It grows well in zones 4a-9b, so it's better suited to the central and northern parts of the state. It can grow in full sun and partial shade and needs well-draining soil. It will grow up to 20 feet as it climbs, but continue to prune it if you don't want it to be too long.
Elliot's Aster
This bright and open flower grows in clusters. They're small lavender blooms with yellow centers. They attract pollinators like butterflies and bees. This wildflower gives you a pop of color in the fall and winter. If you prune them right, they can even form a hedge.
These grow well throughout Florida in zones 8a-11b. They love full sun and moist soil and will grow up to 5 feet with regular pruning.
Passion Flower
There are five native passionflower species in Florida. The showy purple variety is the most popular and produces blooms with fringe surrounding the lavender petals with an eye-catching pattern in the middle.
This flower grows on a vine so it will climb structures and bloom in the summer and early fall. It does well in full sun or partial shade and loves moist, well-drained soil. It will climb up to 30 feet and only needs to be watered twice per week during dry seasons.
Powderpuff Mimosa
If you're looking for ground cover, these soft pink flowers look like powder puffs and bloom from the spring to the fall. It spreads quickly and is a great option for the impatient gardener. It likes full sun or partial shade and moist, sandy soils. It will grow up to 4 inches and needs to be pruned regularly to keep it contained.
Railroad Vine
For oceanside properties, this ground cover is perfect because it loves the salt spray and it grows extremely rapidly. You will often notice a foot of growth in a single day. It's also called a beach morning glory because it produces white and pink trumpet shapes that resemble morning glories.
This flower will bloom throughout the year and needs full sun in zones 9a-11b. You can place it in any well-draining soil and it will grow up to 6 inches. Prune it regularly to keep it contained.
Swamp Mallow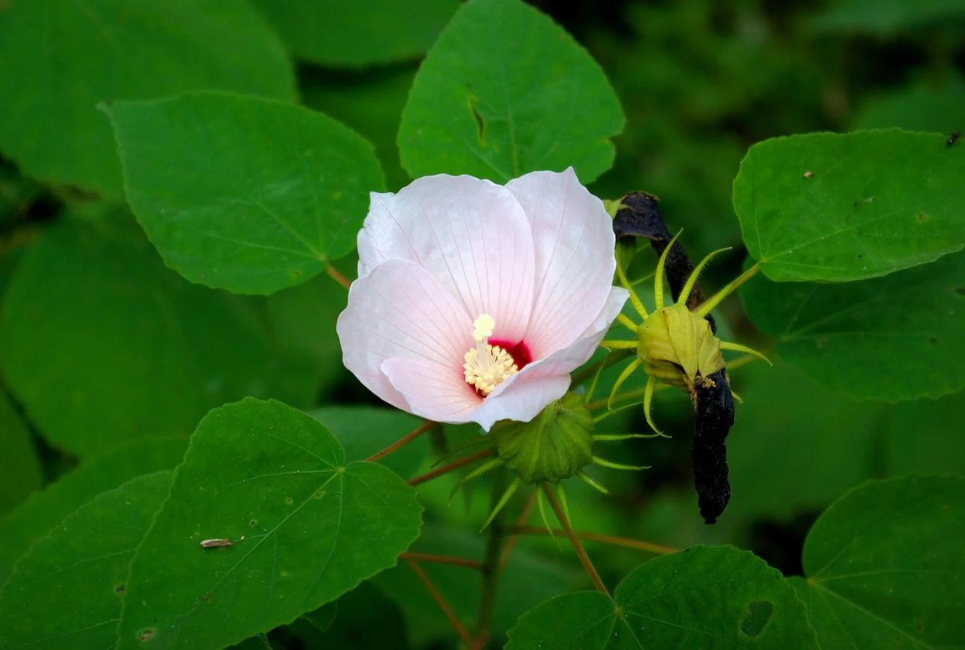 This tropical flower is a species of hibiscus that blooms into bright red and orange flowers in the late summer and goes dormant in the winter. It grows well in zones 8a-10b, needs full sun or partial shade, and likes wet soil. It will grow up to 8 feet, but should be checked regularly to remove pests.
Tickseed
Also called coreopsis, this flower is the official state wildflower, and belongs in every garden. It thrives in zones 4a-10b so will do well throughout most of the state. It produces a vibrant yellow flower that blooms in spring and summer and will reseed itself almost every year.
It likes full sun and partial shade with sandy and even rocky soils. Carefully choose your varieties because some are annuals and some are perennials. Water them regularly during dry periods and encourage new growth by cutting off dead flowers.
Violets
Many of these classic, popular flowers are native to Florida. The blue-violet is the most common, but there are also bog white, sand, and Walter's violets. Every variety will grow in a different part of the state and produce yellow, purple, white, or blue blooms.
They need partial shade or full shade and clay or sandy soils. Some are perennials and some are annuals, but they all grow up to 12 inches and are typically maintenance-free.
Native Florida Shrubs
For taller and more dense landscaping, you can consider shrubs. They offer privacy, protection, and coverage as well as height. They can contribute to a multi-dimensional landscape with plenty of color and shape.
Azaleas
This flowering shrub is one of the showiest you'll find. It blooms in the spring with tons of white, pink, and red flowers. It's native to northern and central Florida, and grows well in zones 5a-9b. It loves partial shade and well draining soil.
Most varieties of Azaleas (also called Rhododendron) are evergreen, but some are deciduous. They grow anywhere from 3-10 feet and need to be pruned after every flowering season.
Beautyberry
This fun shrub has pale lavender and pink flowers that bloom in the spring and summer. These blooms produce clusters of bright purple berries and attract birds. They add color to any shrub border.
This shrub needs full sun or partial shade but can do well in sandy soils. It grows up to 8 feet and needs to be pruned before the flowering season to avoid overreach of branches.
Buttonsage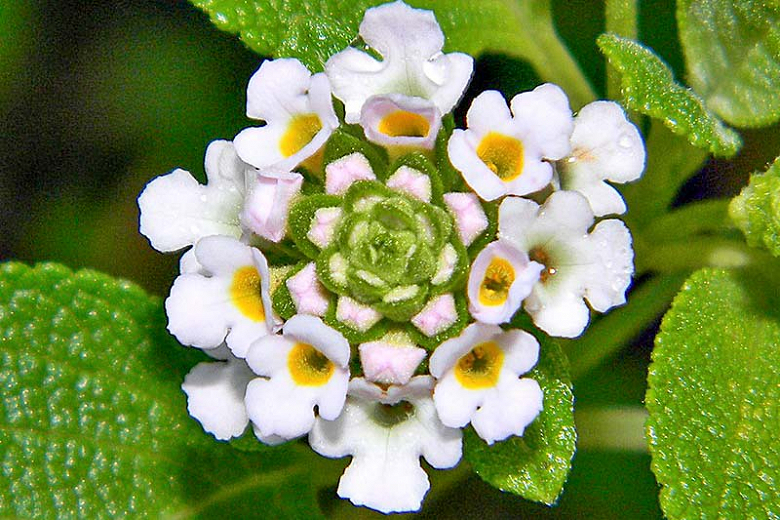 This shrub is perfect for creating a hurricane-resistant hedge. It offers windscreen, privacy, and ground cover. The tiny leaves have small white flowers with purple fruits all year long. It likes full sun and partial shade with dry soil.
This evergreen can grow up to 5 feet and needs to be pruned regularly if you want it to be dense. It can also be pruned to remain closer to the ground and serve as a ground cover.
Coontie
If you're aiming for a tropical look in your garden, this shrub has feathery leaves that look like palm fronds. It's actually a small cycad, so it's strong, salt-tolerant, and very cold hardy. It works well in the northern part of the state and on the coast.
This plant grows well in zones 8a-11b. It adapts to full sun, partial shade, or full shade and needs well-draining soil of any kind. It's an evergreen that will remain beautiful all year and grows to about 3 feet.
Fakahatchee Grass
This grass grows in clumps of 4-6 feet tall and will do well through droughts or flooding. However, it can die if you experience a longer period of freezing temperatures. It likes the full sun or partial shade of zones 8a-11b, so it will thrive throughout the state.
It creates good borders in landscape beds and needs well-drained soil with occasional pruning.
Firebush
The fun name of this shrub is descriptive of its personality. It produces bright orange tubular flowers that bloom in early spring. It attracts hummingbirds, songbirds, and butterflies. It's drought-tolerant, heat-tolerant, and resistant to disease and pests.
In southern Florida, this perennial grows up to 15 feet and spring blooms will last until winter. In North and Central Florida, it may only reach 8 feet and blooms won't last quite as long. It likes full sun or partial shade and well-drained soil. Water it regularly and prune it to keep your desired shape and height.
Jamaica Caper
This unique caper has oval leaves with a glossy surface. It shows off purple flowers with long, showy stamens. You can plant these in rows to create a hedge or trim off the lower branches to make a small tree.
It grows best in the southern part of the state with zones 10a-11b and does well with sandy, lime rock, or well-draining loam soil. It can reach up to 18 feet and needs to be pruned to maintain its shape.
Southern Shield Fern
The southern shield fern, or southernwood fern, produces triangular fronds typical of any fern. They grow in the spring and turn a beautiful bronze in the fall. They clump and spread easily, so they make a good ground cover, and they're very deer-resistant.
These do well in full sun, partial shade, or full shade and thrive in zones 7a-10b. They need moist, well-drained soil and will grow up to 4 feet. You can keep them contained with regular pruning.
Wild Coffee
For something interesting and different, you can grow this shrub that comes from the coffee family. Unfortunately, the bright red fruit doesn't have any caffeine. However, the shiny dark leaves have clusters of white flowers that bloom in the spring and summer and produce fruit in late summer and fall.
The plant will grow best with partial shade or full shade in zones 10b-11b and can tolerate most soil. It's an evergreen that will grow up to 10 feet, but needs to be protected from frost in the winter.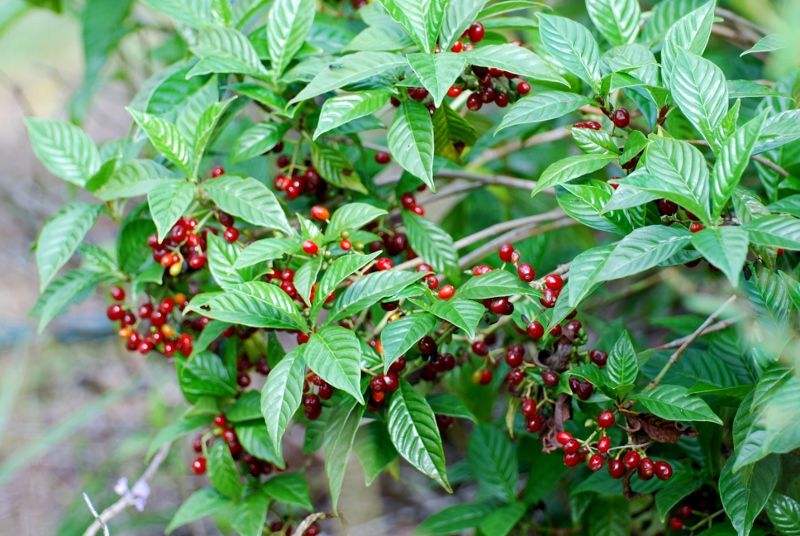 Yucca
There are several yucca varieties native to Florida including mound lily varieties, Adam's needle, and Spanish bayonet. The blade-like leaves are green or variegated and have clusters of upright white flowers that bloom in the summer or early fall.
They grow in zones 5a-10b depending on the species and need full sun with well-draining soil. Yucca is an evergreen and some species can grow up to 30 feet. Prune the stalks after they flower every year and cut away dead leaves.
Native Florida Trees
Most landscapes need trees for shade and privacy, and there are plenty of native trees to choose from.
Buttonwood
The most unique thing about the buttonwood tree is its multi-trunked appearance. It looks like a shrub when it's young, but will grow into a large tree with a very visually appealing trunk. One tree alone can make a statement, while a row of them will form a great privacy hedge.
This tree grows in zones 10b-11b with full sun and wet or well-drained soil. It's an evergreen that will reach up to 45 feet, but needs regular maintenance if used as a hedge. Once the tree is established, it will require no maintenance.
Chickasaw Plum
This tree grows small white flowers that develop into plums that are safe for both animals and humans to eat. After it develops plums, it will grow new leaves. It's used as a specimen tree in zones 5a-9b and grows in full sun or partial shade.
It prefers sandy soil but can grow in clay. It usually grows between 6 and 12 feet, but can reach 25 feet. It needs to be watered regularly when it's dry and fallen fruits and flowers should be cleaned.
Eastern Redbud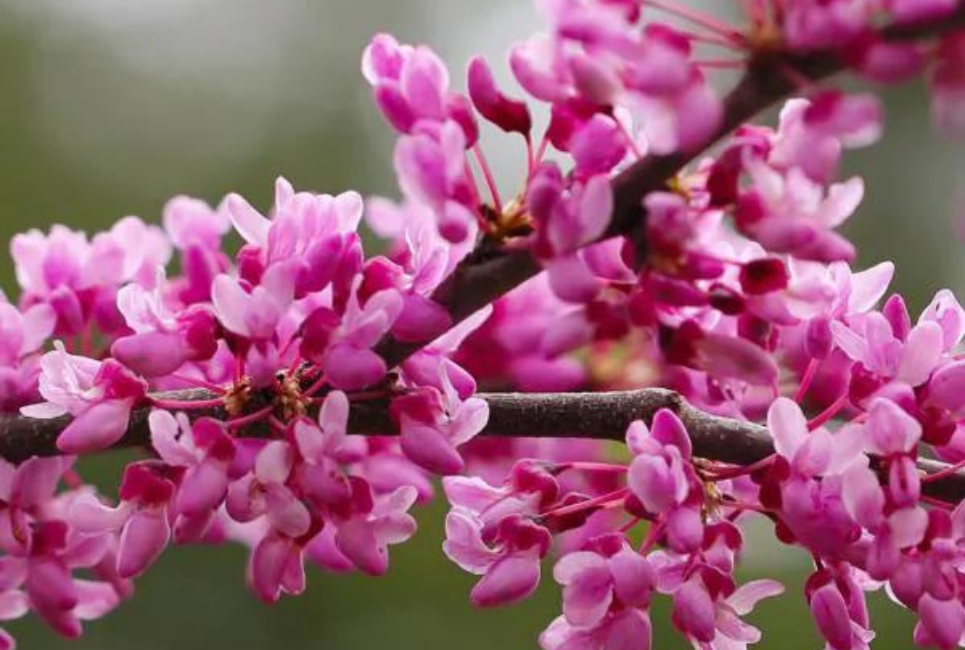 While this specimen tree shows off very beautiful bright pink flowers in late winter, it is usually short lived and may die after a few years. However, it grows rapidly and often reaches 30 feet. Other than regular pruning, not much maintenance is needed.
It grows in zones 4b-9a and needs full sun or partial shade with well-drained or occasionally flooded soil.
Florida Maple
Even Florida residents can enjoy the change of the seasons with this native variety. It's smaller than a northern sugar maple and grows better in Florida because it's more tolerant of heat. Its tall and wide stature provides great shade and the leaves turn yellow and orange in the fall.
It grows in full sun or partial shade and can tolerate wet clay or sandy soil. It typically reaches 30 feet, but can be as tall as 60 feet. It needs to be watered regularly when it's dry and leaves should be cleaned up in the fall.
Gumbo-Limbo Tree
This tree is native to southern Florida and the Keys. It's incredibly wind-tolerant and can survive hurricanes. The copper bark peels for an interesting texture and has earned a "tourist tree" nickname because it looks like a peeling sunburn.
This tree grows in zones 10b-11b and loves full sun or partial shade. It needs sandy or well-drained clay soil and can reach up to 60 feet, but may be smaller in a well-maintained landscape. Lower branches should be removed when they droop.
Pine Tree
There are several native species of pine tree in Florida, including a longleaf pine, sand pine, loblolly pine, and a slash pine. You can use the shedded pine needles as a natural mulch, but they can be very difficult to clean up if placed near a home.
They grow in full sun and partial shade in zones 7a-11b, depending on the species. They can be planted in any soil type for year round green and may grow to be more than 100 feet tall.
Red Buckeye
This small tree is great for landscapes that don't have room for large trees, but isn't the best option for children or pets, because the seed pods are poisonous. It produces tubular red flowers that attract hummingbirds.
It grows in a very small portion of northern Florida and is rated for zones 4a-8b. It enjoys full sun or partial shade and only grows to about 20 feet.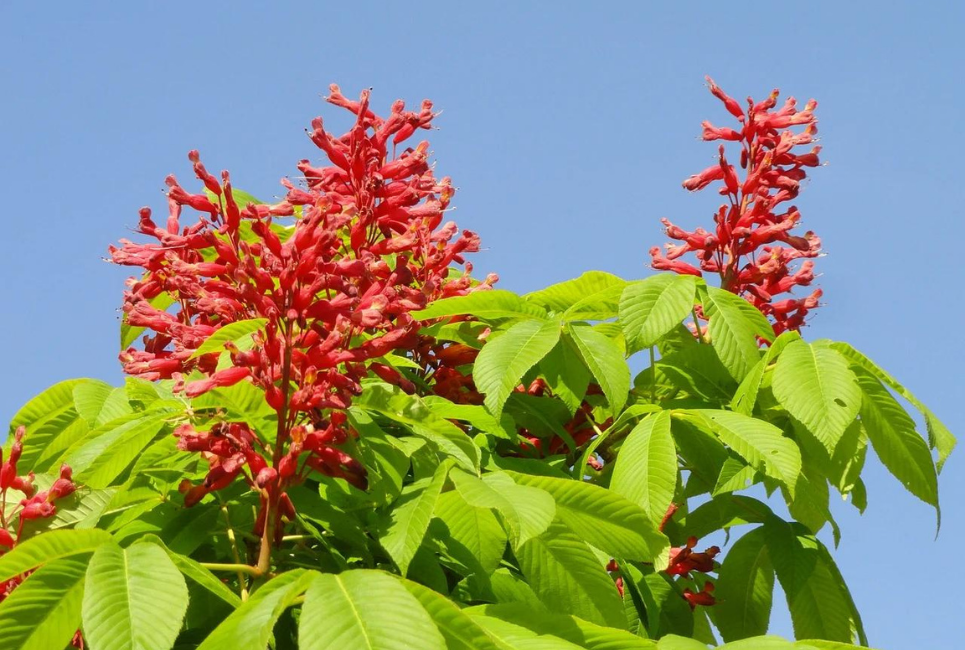 Sabal Palm
The classic palm tree or cabbage palm is Florida's state tree. It provides excellent shade near swimming pools and adds a lot of tropical flair. It grows throughout the state in zones 8a-11b and loves full sun.
This evergreen can reach 50 feet and should be maintained by removing browned leaves from the bottom of the plume. It also needs to be protected from lethal bronzing disease.
Saw Palmetto
This adorable palm is actually a large hedge and produces clumps of fan-shaped leaves that offer great privacy and ground cover. It works well on the coast, loves dry soil, and can reach up to 10 feet.
Southern Live Oak
This monster is a perfect shade tree but will be enormous, so it needs plenty of room. The sprawling branches can spread up to 100 feet wide and may live for hundreds of years. These work well in zones 8a-10b and like full sun or partial shade with well-drained soil.
This tree is evergreen and needs regular pruning while it's small. Once it has reached maturity, it needs virtually no maintenance and makes an eye-catching statement. It's also a great climbing tree for children.
Southern Magnolia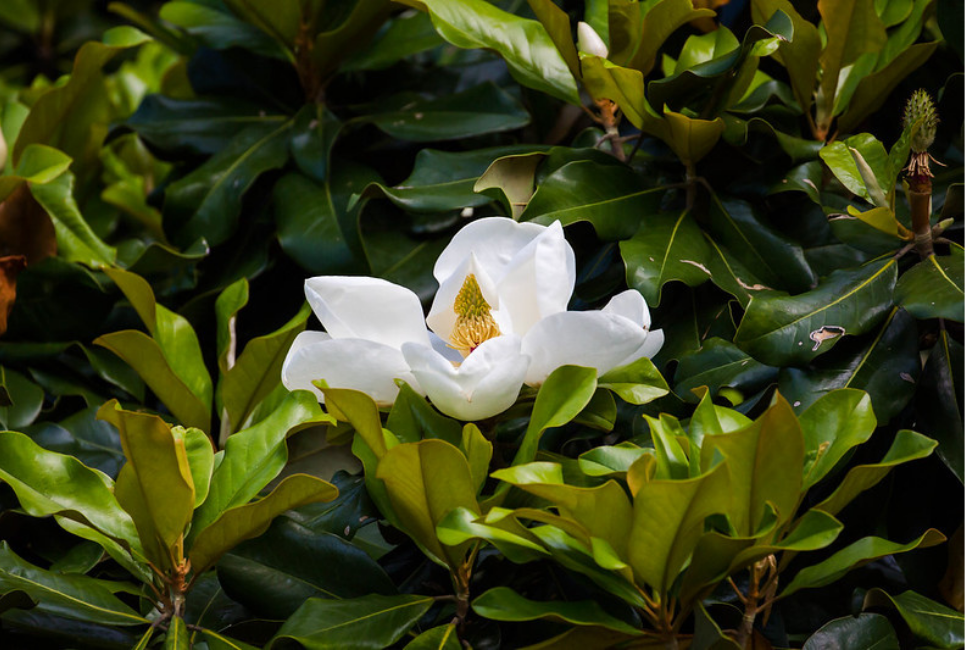 This southern staple produces quaint foliage and large white flowers. It will bloom through the spring and summer and make great specimen trees or shade trees. However, you can also use a row of them to create a privacy hedge.
This tree grows in zones 6a-10b with full sun, partial shade, or full shade, but needs well-drained soil that remains moist. It's an evergreen that can grow up to 90 feet but needs fertilization in the first three growing seasons.
FAQs
Question: Where is Zone 9 in the U.S.?
Answer: Warmer zones like 9, 10, and 11 exist in the United States, but only in the southern parts of the country and on coastal margins. Florida contains these zones, but even higher zones like 12 and 13 can be found in Hawaii and Puerto Rico.
Question: What is my Growing Zone in Florida?
Answer: Florida contains Zones 8a-11a. The Panhandle is mostly Zone 8, Central Florida contains Zones 9 and 10, and southern Florida contains Zones 10 and 11.
Question: What is the Difference Between Zone 10a and 10b?
Answer: Zones are separated into subzones by minimum average temperature variants of 5 degrees. So while Zone 10 has a minimum annual temperature of 30-40 degrees, Zone 10a ranges from 30-35 degrees and Zone 10b ranges from 35-40 degrees.
It provides a bit more specificity to your growing zone and is meant to be a guideline for planting. All zones are separated into two subzones and broken down further by minimum annual temperature.
Question: Can you Plant Outside your Hardiness Zone?
Answer: Hardiness zones are meant to be guidelines, so you can plant vegetation that's rated for a different zone, as long as you can take the precautions needed to protect them when it gets too hot or too cold.
Less hardy plants should be wrapped or covered before the freeze date, while less heat-tolerant plants should be provided with ample water and shade to protect them from excess sun and heat.
Florida Growing Zones: Final Thoughts
Florida is a tropical and subtropical state with mostly warm temperatures and mild winters. There are a variety of native species that do well here, but you can also choose other plants for your landscape as long as they're rated for your zone.
Plants in northern Florida should be hardier than in the south, while southern Florida's plants should be more tolerant of heat. Plants that thrive in sandy soil are great choices, and hurricane-tolerant varieties are more likely to survive in the strong winds.
You can plant tropical varieties, colorful flowers, and plenty of other plants in your Florida landscape for a ton of variation and beauty.