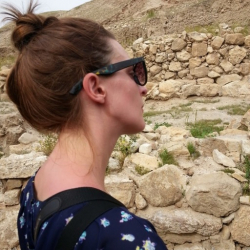 Latest posts by Shaleena Quinlan
(see all)
Rarely do I ever grow tomatoes without a support structure. I think in all my years of gardening, there may have been one or two indeterminate tomato plants that I let grow without support. But that is something I don't think I will try again. I just think a cage, or at least a stake, is invaluable to tomato plants.
If you have been wondering whether or not you should bother with cages for your tomato plants, let me encourage you to get some. Here are four reasons why I think tomato cages are invaluable:
A cage allows the tomato plant to vine vertically, thus saving useful garden space
A cage lifts the tomato plant off the ground, thus reducing the risk of water or soil-borne diseases

A cage provides protection from small animals that would like to munch away at the growing fruits

A cage is more accommodating to gardeners when they need to prune or harvest the tomato plant
Hopefully, these reasons have convinced you of the benefits of using a tomato cage. If they have, then let's look at some of the best on the market. Specifically, I want to explore Home Depot tomato cages.
Bottom Line Upfront
Gardeners are busy people who don't want to spend their time reading articles all day; we just have too much fun playing in the dirt. Since I know how busy you are, I want to share some of my conclusions up front. I hope you read the entire article on a rainy day, but the following will do for now.
I have examined and tried a lot of Home Depot tomato cages, but none of them quite compare to the Glamos Wire Tomato Cages. I prefer square-shaped cages, and this one is built to last. 
My Top Picks at a Glance
Because of their outstanding qualities, these are the five Home Depot tomato cages I recommend:
Tips for Selecting a Tomato Cage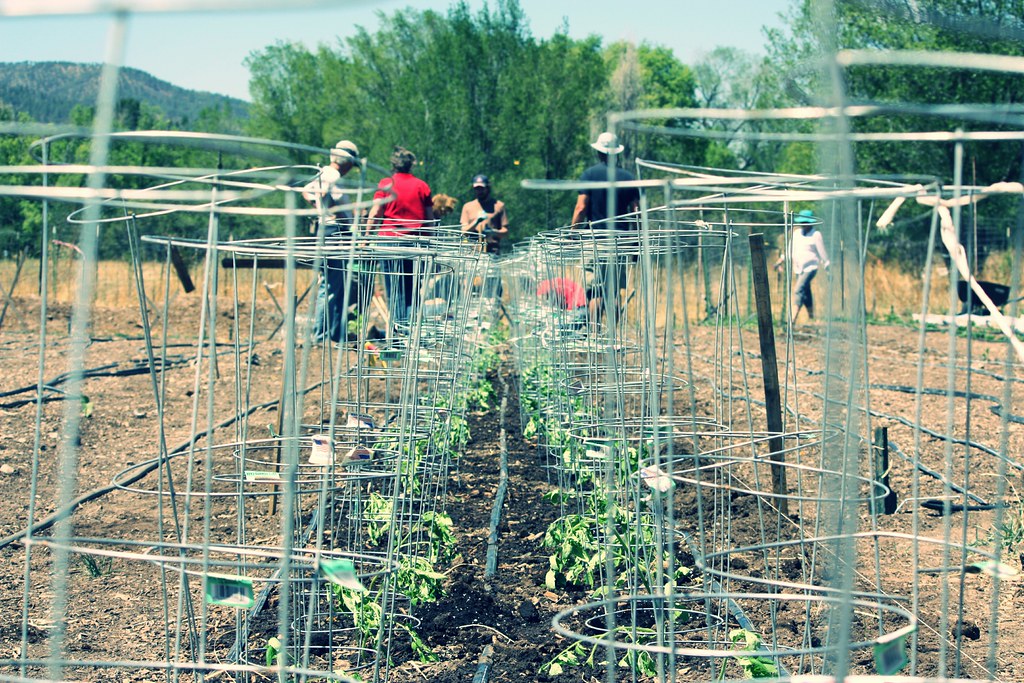 Before you head over to your local Home Depot or log on to their website, you should take a moment to learn how to select a tomato cage. This decision is actually more important than you might think. If you get the wrong tomato cage, you could end up hurting or killing your tomato plants. Let's avoid that.
The first thing you should find out is if your tomato plants are determinate or indeterminate. If they are indeterminate, you don't need a cage; you need a trellis. Don't worry, I have one of those to recommend as well.

The second thing you should find out is how tall your determined tomato plants will grow. Whichever cage you select should be as tall or taller than your tomato plants. When you use your math skills, you will need to take into consideration that 8" of the tomato cage will be stuck in the ground.

The third thing you should consider is weight. Tomato plants will get heavy as they grow and produce fruit, so don't get a cage that is built of flimsy materials.

The fourth and final thing you should consider is shape. Physics proves that some shapes are sturdier than others.  When it comes to your tomato plants, be sure to choose a shape that can withstand unpredictable spring and summer weather. I recommend square cages, but spherical and triangular cages work well too.
Selection Criteria
To be included in my list of recommendations, a tomato cage must meet the following criteria:
The cage must be made from a sturdy material

The cage must be a certain shape (no cone-shaped cages for me)

The cage must have at least a 4-star rating
Product Recommendations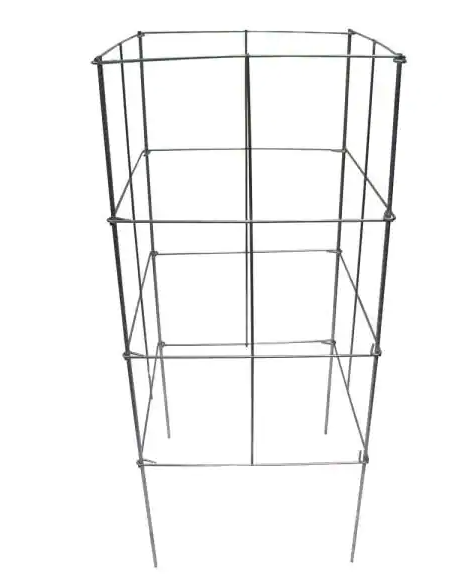 Specs:
42" tall

18" wide

Constructed from galvanized steel

Square shaped

Silver colored

Returnable within 90 days of purchase

Collapsible for easy storage
Why I Recommend this Product:
Just scan the specifications of these cages, and you'll understand why this product is my pick for best overall. I like these cages because they are built in a sturdy shape with galvanized steel. They can hold up the weight of many tomatoes and withstand the unpredictable weather of the Midwest. I also like that the cages collapse, so they are easy to stow away for the winter.
Pros:
Built with galvanized steel

Built with a square shape

Built for easy set-up and storage

Includes five cages per pack

The product can be delivered to the store or home
Cons:
Slightly expensive option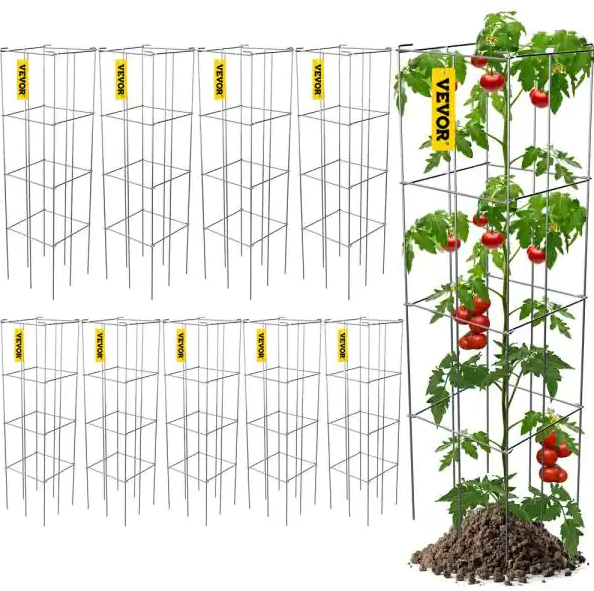 Specs:
46" tall

11" wide

Designed to be set in a variety of shapes and sizes

Built with steel wire

Built to fold flat
Why I Recommend this Product:
I view this product as a highly versatile and functional garden tool. Because it can be manipulated into a variety of shapes and sizes, I feel that I can use it for any of my tomato plants. Plus, the package comes with ten individual cages, so there is plenty of wire to go around.
Pros:
Includes ten cages per pack

Built with a flexible and foldable design

Built to assemble into a variety of shapes

Built for easy set-up and storage

Built to hold 22 lbs.

Reasonably priced
Cons:
The metal frame is not extremely sturdy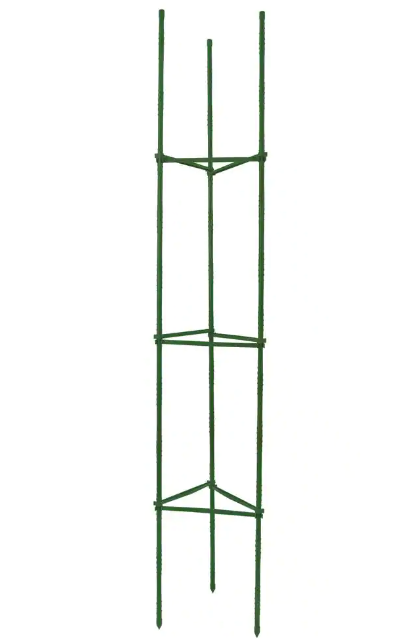 Specs:
60" tall

12" wide

9 adjustable arms

Plastic-coated metal frame
Why I Recommend this Product:
I can get behind this product because it makes growing vining tomatoes a lot easier. Yes, it will support bush-like determinate tomatoes, but also some indeterminate tomatoes as well. The color is another feature that I really love about this product. My personal opinion is that a green support structure doesn't look as out-of-place as some silvery metal frame.
Pros:
Built to handle tall tomato plants (up to 5 feet)

Built into a sturdy triangular shape

The metal frame is plastic coated to resist rusting

Designed with adjustable arms that can be moved around as the plant grows

Designed to fold flat for easy storage
Cons:
Requires some assemblage

The wireframe is not extremely sturdy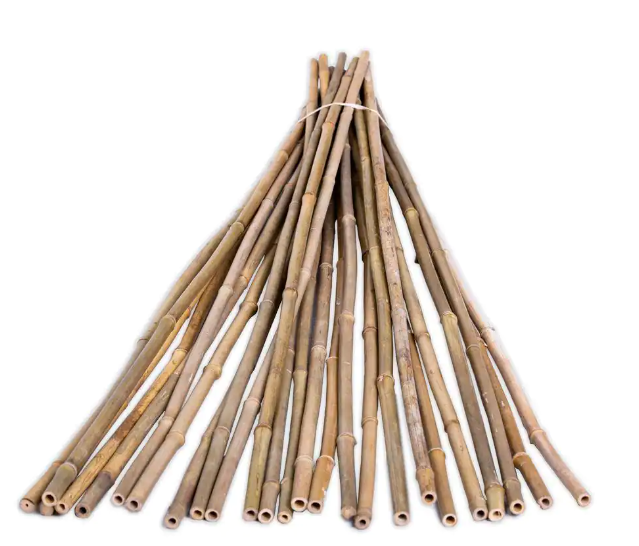 Specs:
72" tall

25 poles per pack

Versatile size and shape
Why I Recommend this Product:
What's not to love about a bamboo pole? They are so versatile that they can be used to create almost anything you want in your backyard. Go beyond building a teepee-style tomato cage and use these poles as a decorative edging, an outdoor coffee table, or a unique garden bench. I don't think you can go wrong with a bamboo pole.  So, I say, get a few to keep around – just in case.
Pros:
Can be used to create a wide variety of garden or yard paraphernalia

Versatile in size and shape

Durable material

A natural material that blends well into a garden setting
Cons:
Bamboo deteriorates after time

Must be assembled

Does not include design plans

Does not include items to bind the poles together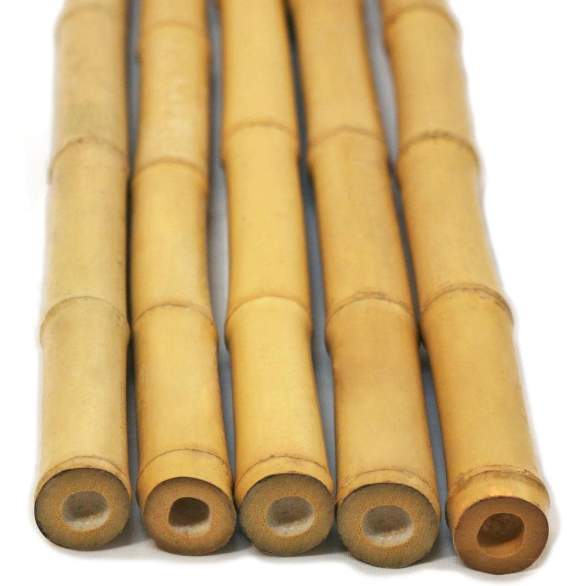 Specs:
42" tall

Includes five trellises per pack

Folds flat

Sets up easily

Built of galvanized steel
Why I Recommend this Product:
This is the product that I use for my indeterminate tomato plants. Since this type of tomato is unpredictable in size, but still in need of vining support, this trellis is the best option. 
I love that it is multifaceted. This trellis can be used to support tomato plants (my primary reason for using them), and they can be used to brighten up my lawn with decorative features. Just imagine a trellis along the top of your garden fence and how many beautiful vining flowers you could grow there.
Pros:
Built from galvanized steel

Designed for all types of vining plants

Designed for easy installation

Designed to fold flat for easy storage

Can be used for a wide variety of garden features
Cons:
Design and assembly are required 
FAQs
Question: How Do I Set Up a Tomato Cage?
Answer: Setting up a tomato cage is not complicated, but the process is important. If you don't do it right, not only do the tomatoes miss out on the benefit of being caged, but they might actually be injured. I want you to have the best success with all your tomatoes, so let's talk about properly caging them.
Step 1: Decide if your tomato plants need a cage. Indeterminate tomato plants usually do not need a cage but rather a trellis.
Step 2: Determine what size of cage your tomato plants require. Select a cage that is wide and tall enough to fully support your plants. You don't want the plant to grow taller than the top of the cage, or the vines may bend and break off. You also want the cage to be wide enough to hold the plant without squishing it.
Step 3: Set the cage feet/posts securely and deeply into the soil. I recommend you get those feet 8 to 10 inches into the soil, so you don't have issues with wind or weight tipping over the cage.
Step 4: Tie the tomato vines to the wires, but not too tightly. You want the vines to be securely attached to the cage wires, but you don't want to damage them. I say that it is better to let the vines hang a little loose rather than risk injuring them with a tight knot.
Question: Can I Use a Tomato Cage to Support Other Types of Plants?
Answer: Yes, absolutely.  f you are growing any type of plant that vines, you can set a tomato cage next to it for support. Beans, peas, and cucumbers are three veggies that I like to grow using my extra tomato cages.  Someday, I plan to try them with my squash and zucchini too.
Question: When Should a Tomato Cage be Set Up?
Answer: The best time to set up a tomato cage is while the plant is small or just after you transplant your tomatoes into their garden home. If you wait until the tomato plants are big and their root system is well developed to set up a tomato cage, you risk damaging their root system when the cage's feet are pushed into the soil.
In Conclusion
This really has been a fun article to write, and I hope you have enjoyed reading it. But, mostly, I hope the information in it will help you grow some amazing tomatoes this year. I'm certainly excited to use the Home Depot's tomato cages, especially the Glamos Wire Tomato Cages, and to check out all their other gardening equipment. Happy gardening!
If tomatoes are your thing, and you want to get them right, browse these helpful articles from Jardin HQ's savvy garden writers:
Research Citations