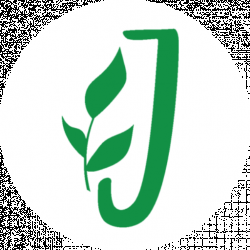 Latest posts by Jardin HQ Team
(see all)
Greenery can liven up any space, especially indoors. While many people choose to be modest about their indoor planters, others would rather incorporate quirky designs and other accessories to add something special to the space.
Head planters come in many different varieties, and before we get ahead (see what I did there?) of ourselves, let's clarify what we mean by head planters.
The head of a plant is the flower, or the part that contains the seed. But we're not talking about that today. No. We're talking about head planters. Planters in the shape of a head. Pots that feature faces.
Anything that you can adorn with flowers or ferns to make it look like it's growing hair or something else funky is super fun and exciting.
These types of planters come in all shapes and sizes, so there's no limit to the things you can do or the places you can put them. They're fun, but they can also be elegant.
Quirky
These unique designs are sprightly and can be great conversation starters. Mix and match or pick a favorite. By putting different plants in the same pot, you achieve a different look every time.

This guy with his large nose and his eyes closed is peaceful enough to add a bit of relaxation to any room. It's perfect for a library or guest bedroom, but you could also put him in the kitchen to hold herbs or a succulent.
He's only 6 inches tall, so he's best suited for small plants, herbs, or cacti. There's also no drainage hole in the bottom, so make sure you plant something that is not prone to root rot or that you will water sparingly.
He's made of cement, so the planter is sturdy and charming, for a sprinkle of cheer and warmth in any space. His rosy cheeks and soft angles are soothing and will welcome any small plant. It's one of my favorite quirky choices because it's fun, but not too odd.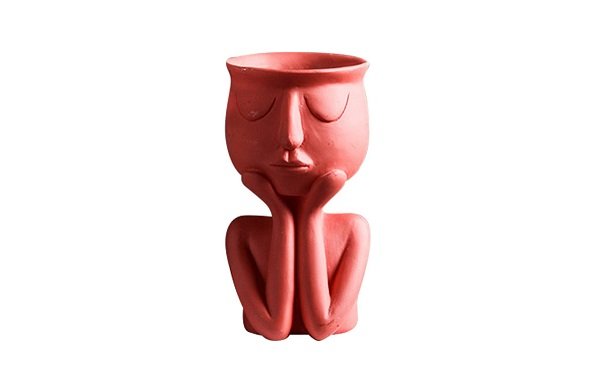 This contemplative character comes in red, yellow, black, or white. I love the thoughtful expression on his face. Its resin composition is made in the Greco-Roman style with a faux distressed finish for a bit of an antique effect.
The vintage look with the abstract nature of the design make it warm but edgy. It's 5.9 inches tall and perfect for small, indoor plants, but you could also place it outdoors. Combine several colors for a more multi-dimensional display.
There is a drain hole in the bottom to help with ventilation and to prevent root rot. The soft angles and smooth features make this planter a great addition to any room.

This planter with personality has a glossy finish so you can literally make it water you want. The built-in nose and ears will hold your glasses, so set it beside your bed or in your bathroom to hold your glasses when you go to bed.
It will keep them safe, and it will look hysterical. Better yet, you'll never lose your glasses again. It makes a great gift, and you can also put one in the guest bedroom so when your mom comes to visit, she'll get a good laugh.
The drainage hole in the bottom will give your favorite houseplant ventilation. The best part about this planter is that the glossy finish works like a dry erase board. You can draw all over it and then wipe it off. Now your face planter will change with your mood, or be a toy for the kids. Write reminders on it, give it eyebrows and a mustache, or draw in some speech bubbles.

I know, it's not a face or a head, but sometimes you have to spice things up. Let's face it (I did it again), this butt planter is hilarious. Don't you think it would make a nice companion to your head planters? Everyone needs a matching set.
Or perhaps you should think of this planter as an ode to the female body. It's a lovely ceramic piece that's neutral and versatile, so it goes well in most spaces. The speckled pink glaze is actually quite lovely, and it's hand painted, so it may have a few flaws, just like us.
It has a drainage hole, so this urban boho piece can hold any type of plant, and it's quite chic. In fact, if you'd rather not use it as a planter, it makes a great desk organizer for office supplies or a makeup brush organizer in the bathroom.
In all honesty, for generations, artists have been drawn to the naked body for many reasons, and this vase is a great way to pay homage to the history of art in a tasteful way. In fact, there's also a taller version that contains more of the torso, and a top version.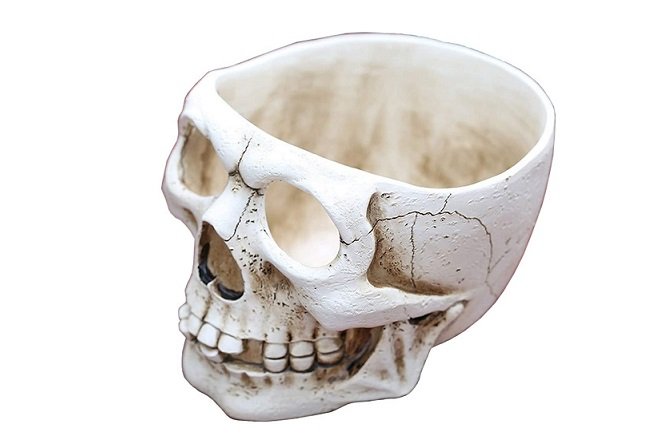 A skull is just a head without skin, right? So I couldn't pass up the opportunity to include this one. Whether you're into the look of skulls, you like to study death and the human condition, or Halloween and Dia de los Muertos are two of your favorite holidays, this is a cool item.
It's made of strong resin so it can withstand a lot of wear and tear, and it's environmentally friendly, so it can live either inside or outside. The drainage hole will help promote healthy plant growth, no matter what you put in it. Skulls are some of my favorite planters because I think you can plant some truly hilarious things in them. Every plant gives life to its face and changes its facial expression in a unique way.
Ornamental grasses that stand straight up will give your skull a look of surprise while elegant, flowering choices will make him look sultry and inviting. It's a versatile pot that could be used as a fun serving dish for Halloween candy or a seasonal decor item if you don't want to leave it out all year long.
The wonderful thing about skulls is that there are so many wonderful and gorgeous designs available. Small black skulls are great for succulents, skulls without a chin look eerie, and flowered or painted skulls can be truly beautiful and celebratory.
Elegant
Some head planters are more lovely than you can imagine. They don't have to be weird, gross, or unusual. They can bring drama and elegance to any space in a way that you never thought was possible before.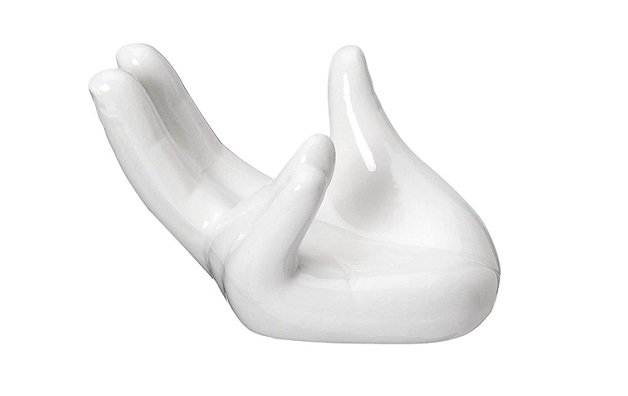 Okay, so this technically isn't a face either, but (come on, these are just too easy) sometimes you have to mix it up. It's a ceramic air plant holder in the shape of a hand. It creates an atmosphere of mystery, elegance, and relaxation.
It's a really cool modern decoration for your home or office that incorporates a simple design to add warmth and beauty to any space. Air plants are also very low maintenance, which makes it great for anyone who might forget to water it.
In fact, air plants don't have roots, so they don't need soil or frequent watering at all. They simply absorb moisture from the environment around them. This makes them the perfect low (or no) maintenance plant around.
The modern and simple design of this hand adds an interesting accent to nearly any bookshelf, bedside table, kitchen, living room, office, or any other space where you need a hint of elegance and relaxation.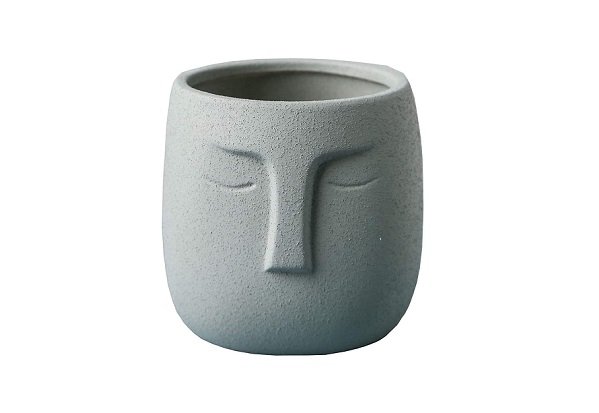 Simple, understated elegance is all you need sometimes. This face planter has soft lines that blend gently into the background of the pot, making them nearly invisible at times. It's the perfect solution for someone who's not completely sold on the head planter idea.
The drain hole makes this planter perfect for indoor or outdoor plants of any kind. It's a ceramic pot that's temperature tolerant, and the nordic style is artistic but concise.
The simplicity of the pot itself opens it up to many more plant options than a busier head planter would. Because the design of the pot is muted, you can plant more ornate or colorful flowers in it without detracting from the elegance of the planter.
It's a great option for those who would rather spend their design points on the plants they use rather than the pots they put them in. While this particular planter may only be 5.5 inches tall, it's very wide, so it's the perfect pot for plants like orchids or irises, whose roots tend to spread out farther rather than dig down deeper.
It also comes with a saucer, which is useful for storing extra water and can help keep your surfaces like tables and floors clean. It's also great for watering your plants from underneath the soil or for people who have a tendency to over water.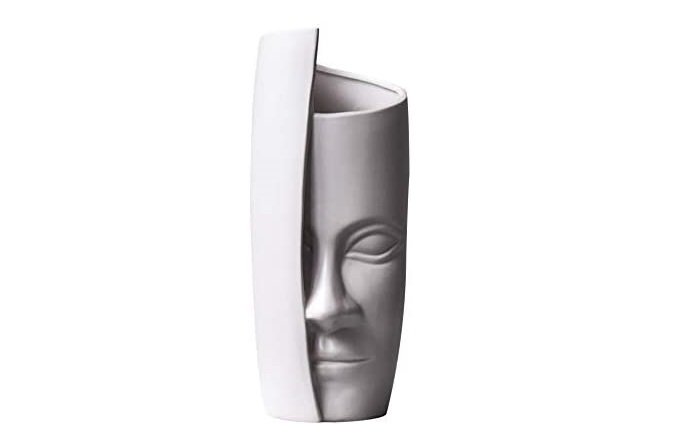 This charming planter is 10 inches tall, so it can handle deep roots or long stems, and it adds height and dimension to your indoor or outdoor potted plant display. It also features modern visual interest with a matte finish that hides half of the face.
The contemporary design is perfect for any modern home. It can be a great focal point for your entryway, beside your fireplace, in the corner of the bathroom, or in any bedroom. Throw a seasonal display in it and use it as your tabletop centerpiece in the dining room.
It's made of a wood-fired ceramic, so it's sturdy and temperature tolerant. While the bright white color gives you a fresh look with a lot of contrast, the dark grey option offers some of the latest style and will still look great with any floral arrangement.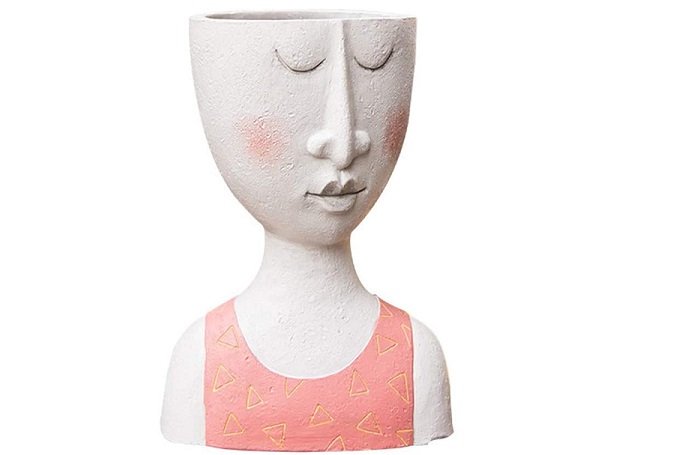 This resin flower pot is a beautiful woman with full lips, rosy cheeks, closed eyes, and a blush tank. She's made in the art deco style with plenty of artistic features. She has excellent, carved, handmade detail. She's durable and lightweight, so you can put her inside or outside and dress her up with your favorite plant choices. She'll look beautiful with any flora or fauna accents.
She is 10 inches tall, but her companion pieces include a variety of different characters in all different sizes and colors. There's a 31-inch head planter with a yellow top, a 27-inch head planter with a dark pink top, both of which have large noses and open eyes.
There's also a 7-inch head planter with a full face, closed eyes, and a dark blue top or a 3-inch head planter with bright eyes and a bright blue top. Several other varieties are also available, so you can build your collection.
Cute
Sometimes the best head planters aren't people at all. You can't go wrong with animals and other fun shapes that are just so darn cute. These options will give you something to admire and love every time you catch a peek.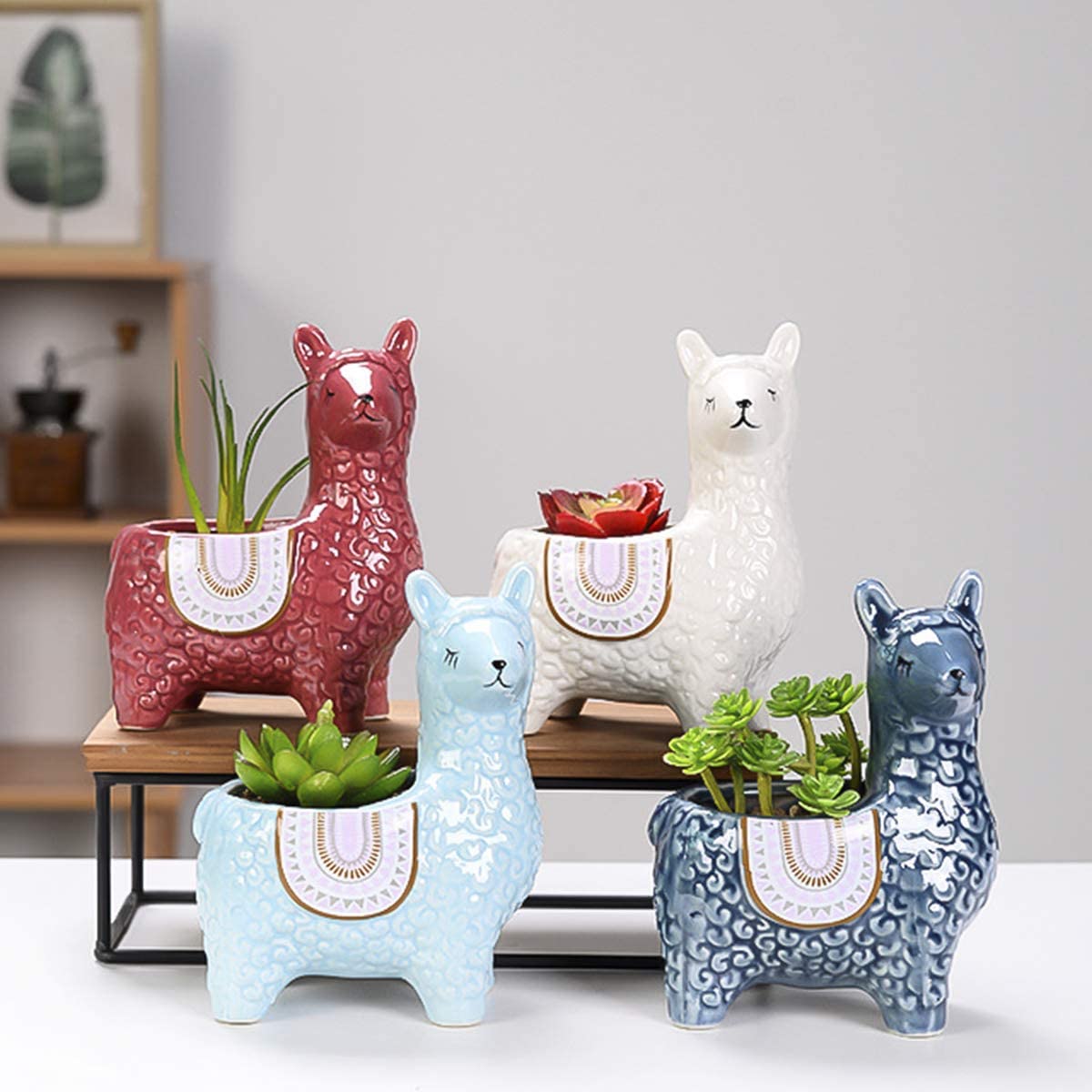 Who doesn't love llamas? The correct answer is 'no one.' You can't help but smile when you look at these adorable llama planters. Choose a set of 4 with faces that look forward or turn to the side.
The variety of bright colors are cheery with a bit of Bohemian flair. They're small, so they'll fit any space, and they're perfect for herbs or succulents. They'll add whimsy and a sunny disposition to any room in your home.
Ceramic and durable, these planters come with a drainage hole for better ventilation. Bring the adventure inside with these delicate but sturdy hand painted creatures.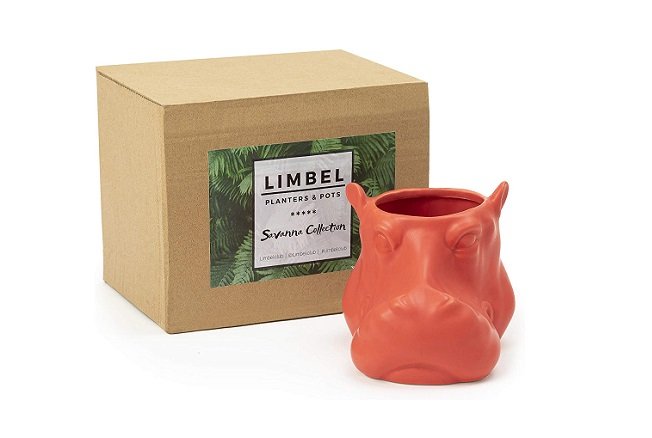 Welcome a happy hippo head for a bit of the wild Savanna in your home. Build your African safari, perfect for succulents and other house plants. Kids and guests will love it. It has a drainage hole for proper ventilation and the unique red color will brighten up any room.
It's the perfect addition to any area where you are showcasing relics from your travels. It adds natural flair with a touch of the wildlife you love. By bringing plants and animals together, you get the organic, native flavor of the outdoors you love inside.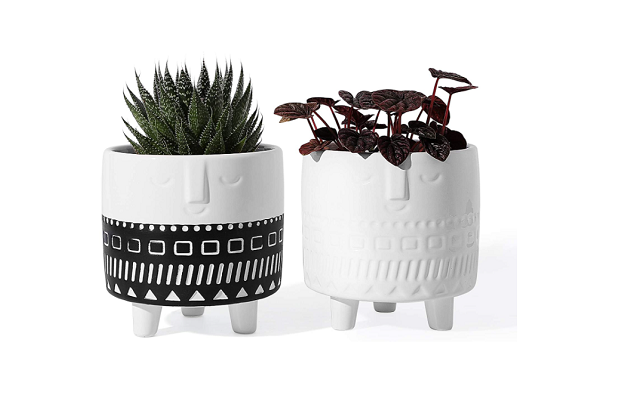 These adorable smiles will brighten up any room, any day. This is another truly unique design because these planters are finished in a high-temperature fired dolomite that gives them a silky matte surface.
Do you know what that means? If you don't, I'm going to tell you. It means you can draw on them with markers. Customize your geometric shapes and faces or let your kids decorate them with stickers. When you're done, it just wipes and peels off.
This set of black and white head planters is such a cute and modern idea for adults and kids alike. The drain hole with a removable drain plug makes it easy for you to make sure your plants have the water they need and the legs with non-skid pads will protect your surfaces and make sure your planters don't slide.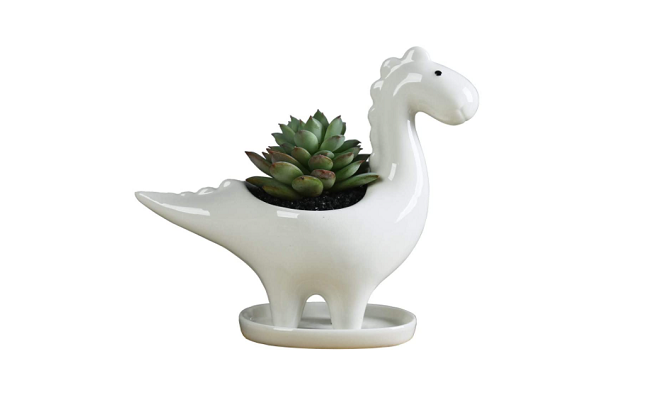 If you're a boy mom, these dinosaur planters are the perfect addition to a toy room, the living room, or the kitchen. They come in two different shapes and a variety of colors, with drain holes in the legs.
These ceramic pots feature a shiny finish and come with a tray to prevent the water from leaking onto your table or floor. They're small and lightweight, so they're easy to move around wherever you need a bit of fun. They're baked at high temperatures for durability, so mix, match, and move to your heart's content.
These wise creatures come in a set of six and add a bit of natural color to any room. Their small size is perfect for any succulent or herb you want to keep around. Baked at high temperatures, they're high-quality and durable.
Add a bit of life with these cute characters in all colors, or choose a set of 6 identical ivory owls for a more uniform look. They sit nicely on a windowsill, on a bookshelf, or anywhere else you need a solemn, dignified presence. If you love owls, there are plenty of other owl designs to suit your fancy.
Faceless
Just because a pot has a head, doesn't mean it has to have a face. These abstract, faceless designs are quite charming. They offer a creative twist on the traditional head planter idea and give you more options for your favorite floral arrangements.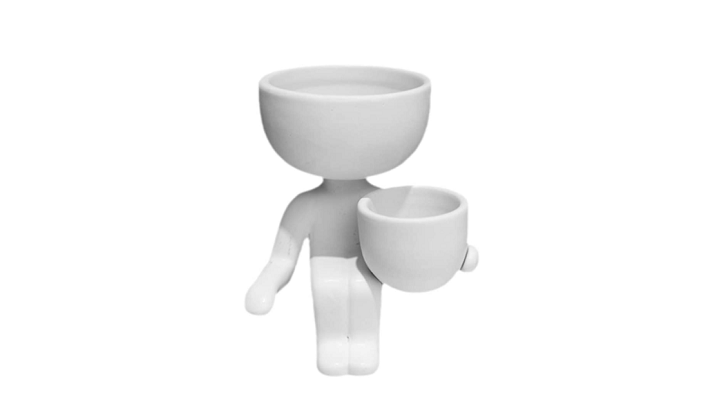 This cute, faceless fellow sits on a shelf and holds a plant in his head and in his hand. He's a creative handmade design that comes in black or white and holds your favorite flowers, succulents, or herbs.
What I love about this one is that it's simple and elegant, but also versatile. You can put more than one type of plant in it, meaning you get more variety than with a single head planter. You can grow multiple herbs in your kitchen at the same time.
You can also plant something gorgeous in the top and use the secondary planter for utensils in the kitchen or pens and pencils in the office, making it serve two purposes in one, beautifying your space and making it useful at the same time.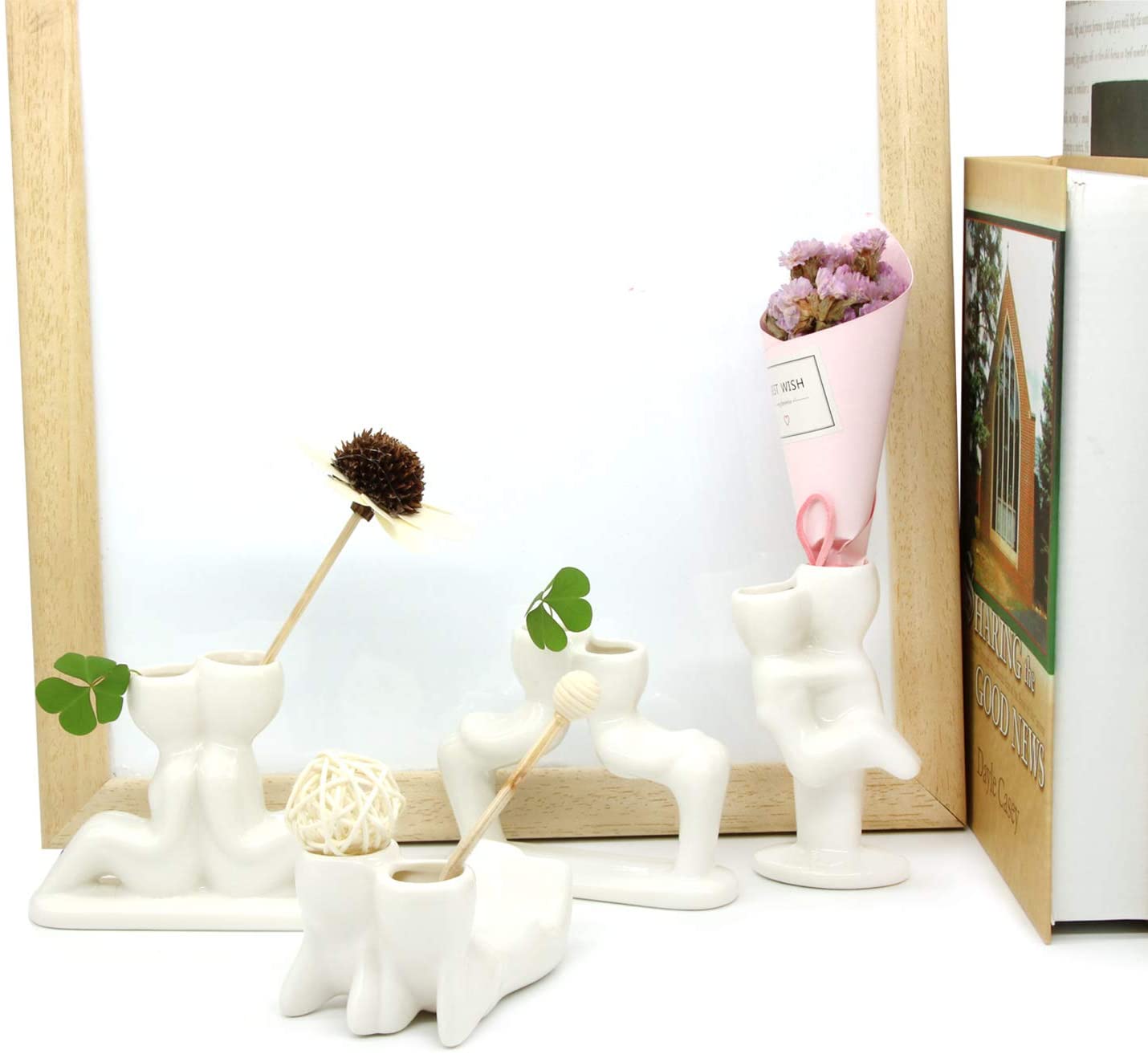 This 4-pack of sweet lovers doesn't need faces to express their deep and meaningful emotion. Enjoy the double entendre as these planters are sets of lovers, designed for you, a lover of air plants. They're small enough to fit in the palm of your hand and they don't feature air holes, so they're designed for use with air plants. They're ceramic and durable, but lightweight and oh-so-cute.
They're the perfect modern addition to your relaxing, zen garden and will sit anywhere. They're super low maintenance that you'll hardly remember they're there at all, except when you need to take a glimpse at these elegant and rejuvenating designs.
Hanging heads
If you enjoy hanging your plants on the wall or from the ceiling, there are several hanging head planter varieties that may interest you. They're fun and festive, and give you a versatile option for displaying your plants in unusual ways.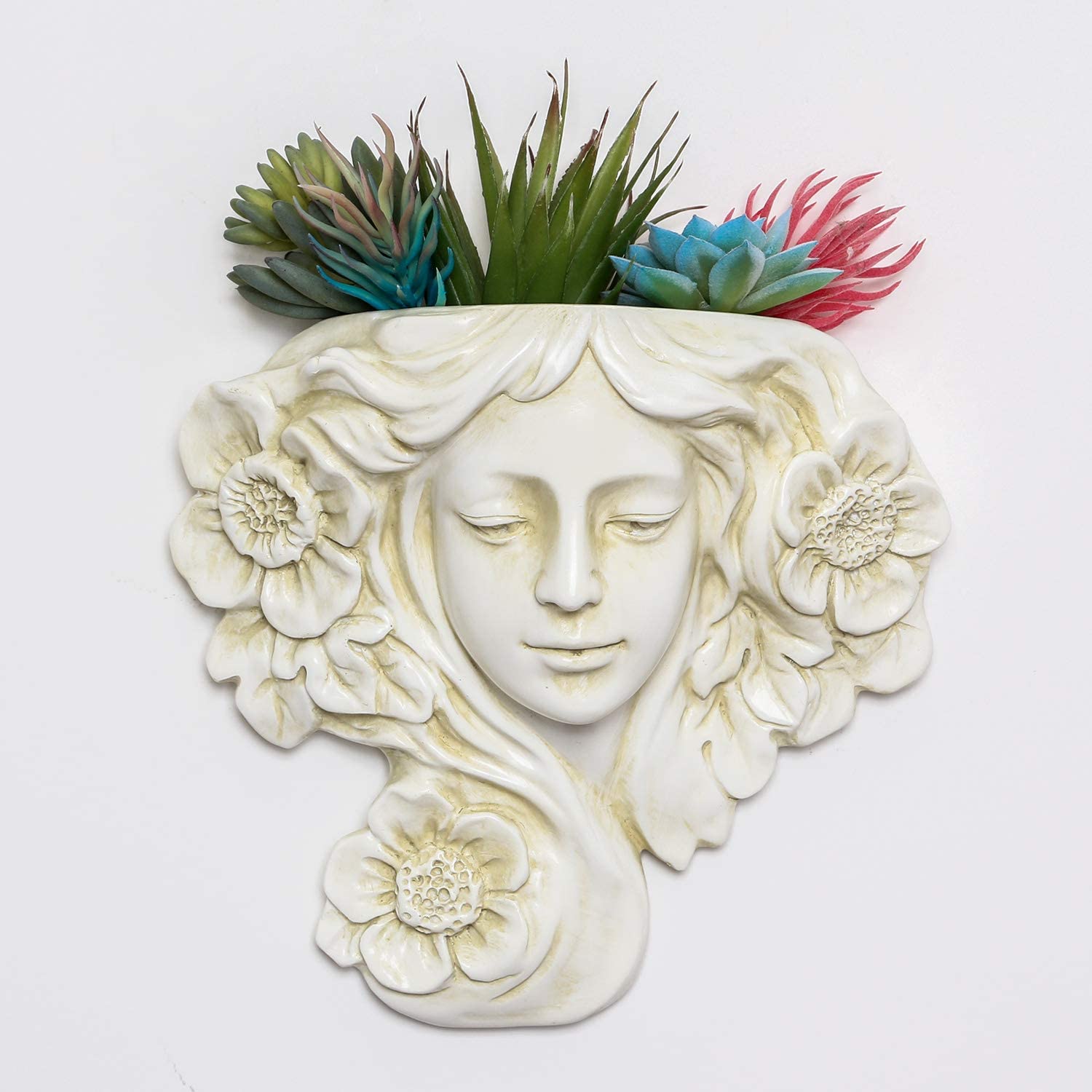 This lovely angel will keep a watchful eye from above with her gorgeous shape and adoring gaze. Handcrafted of resin and 8 inches tall, this planter will look great in any room of the house or in the flower garden. There is no drainage hole, but it also prevents soil from spilling down the wall or the outside of your house. It adds the perfect Greco Roman or art deco touch to any room and it's easy to hang.
It's built for air plants, faux sedums, cacti, succulents, and other plants that need minimal to no watering. The vintage gray stone coloring instantly upgrades your decor and offers beautiful, retro styling.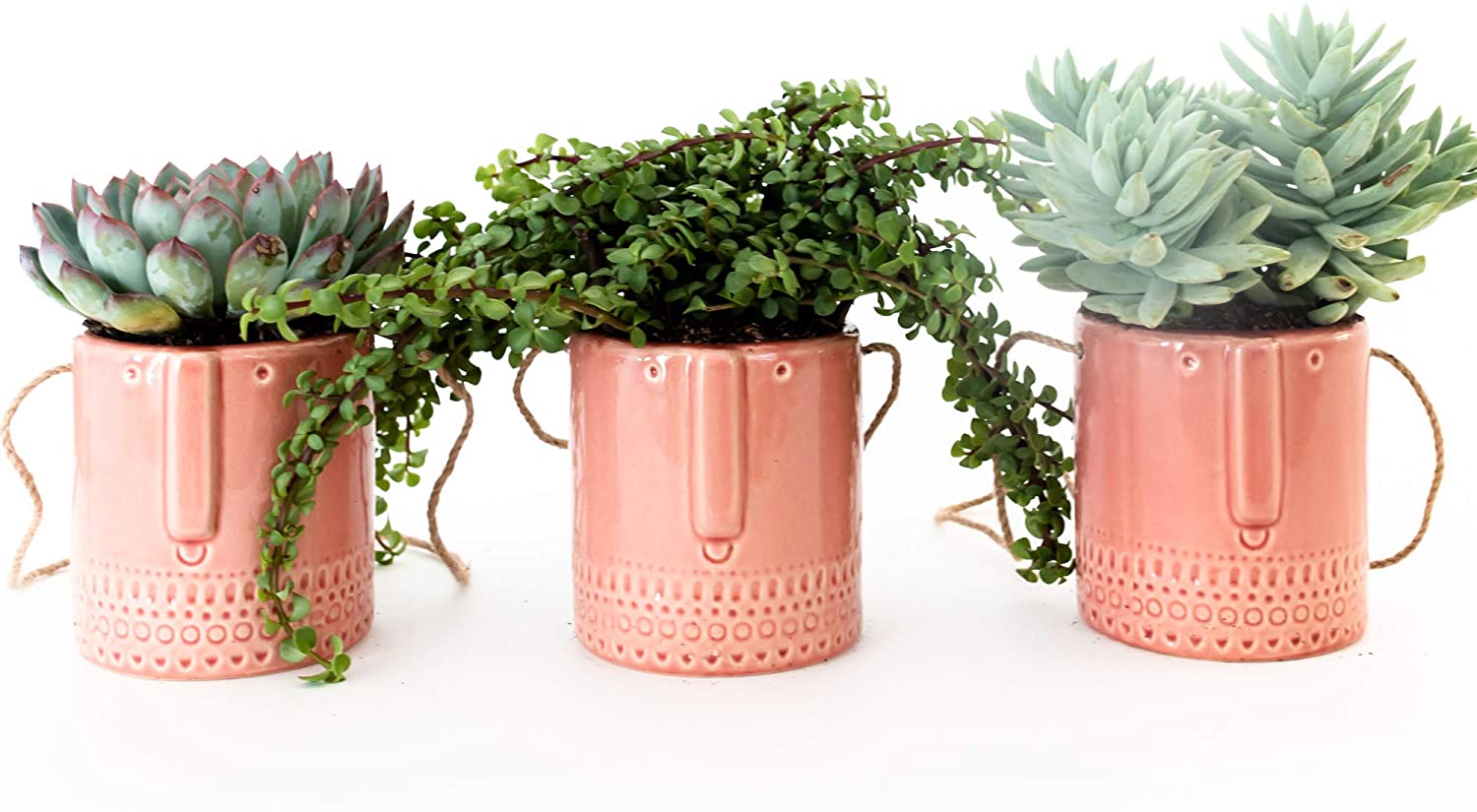 Bring home some Scandinavian, boho, or even shabby chic flair with this hanging head planter. It won't clutter up your shelf, but it still offers the unique space you need to decorate with your favorite plants.
The color and design of this planter is what makes it so versatile, and I love it for this very reason. It blends in nicely with almost any decor and can even be that knock-out statement piece you need.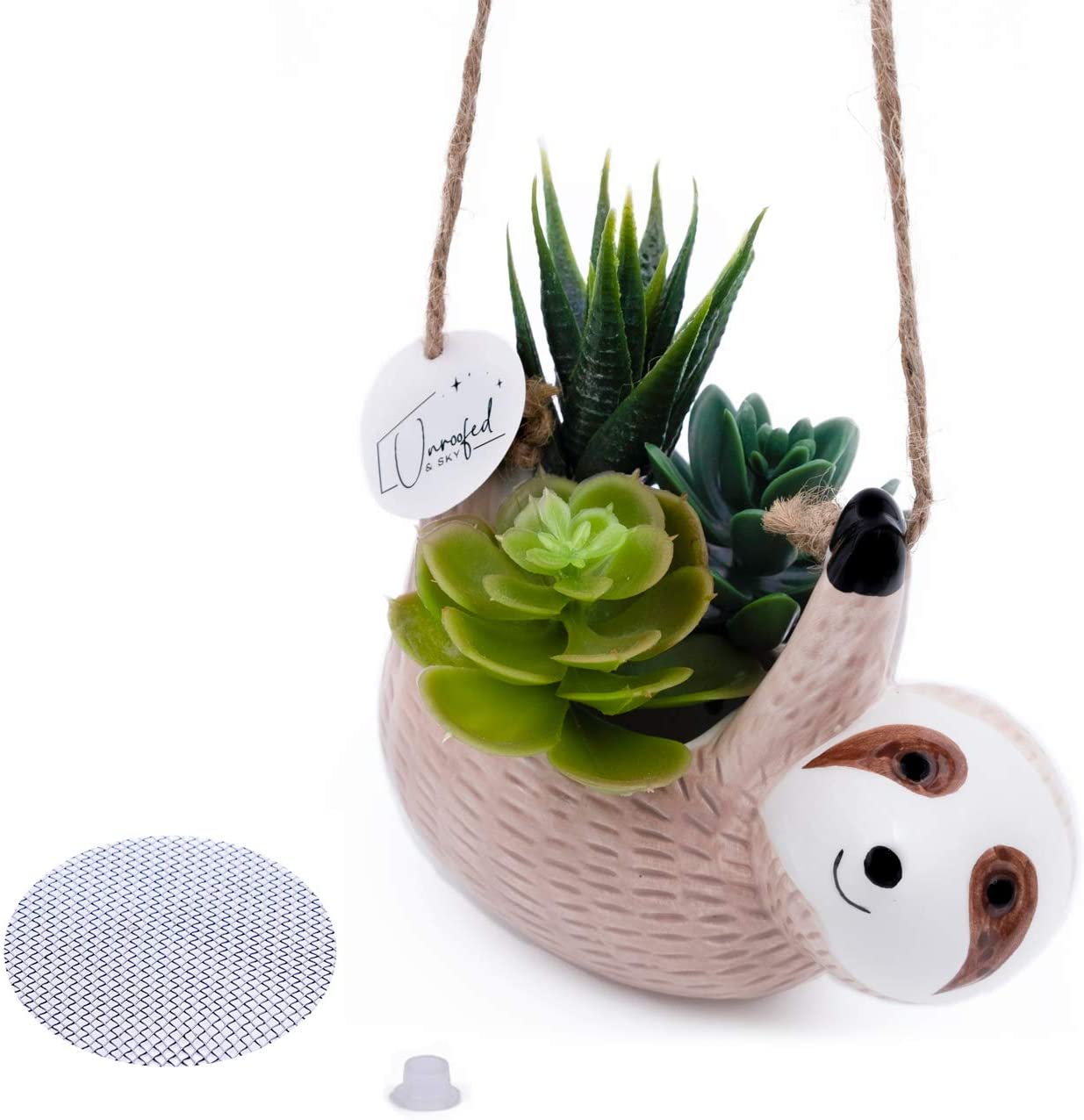 I had to throw this cute little dude in here, because he'll bring a smile to anyone's face. He's joyful and unassuming, and he holds your favorite plant without complaining in the slightest. He has a sweet face and an even sweeter disposition.
His drain hole keeps all of your plants healthy and his delightful mood will cheer you up in mere seconds.
Characters
If you have a favorite literary character, maybe you'd prefer to show your style with a head planter in the shape of their likeness. Display these head planters to show off your knowledge of books, movies, or history to all who visit.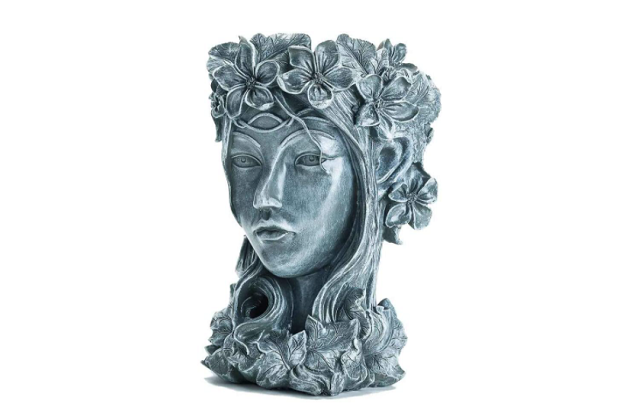 Any head planter can be Medusa with the right hairstyle, but I like this one in particular. Her glaring look embodies the Medusa personality more than any other.
This beauty is made of resin and the large size means she's durable and ideally suited for outdoor use. It's just as well, because you wouldn't want to be caught looking at her in the eye.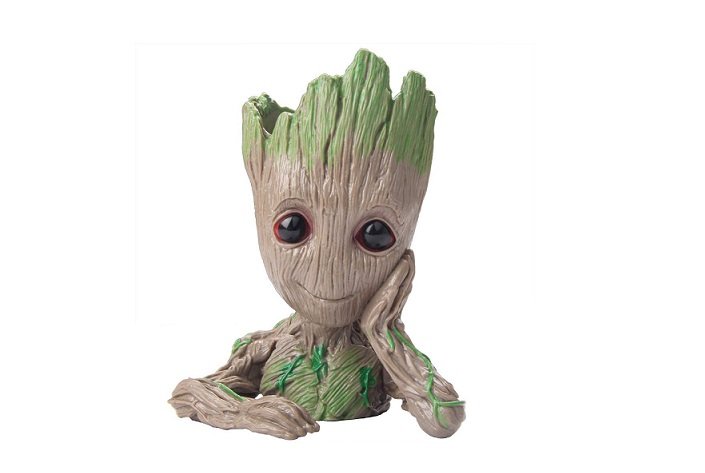 For all of you Guardians of the Galaxy fans, this Groot head planter couldn't be more enjoyable. Groot's face on a planter makes more sense than perhaps any other. He is, after all, a plant himself.
Groot will be right at home with plants coming out of his head, and if you simply can't get enough, choose a set of 4 Groot planters all in different poses.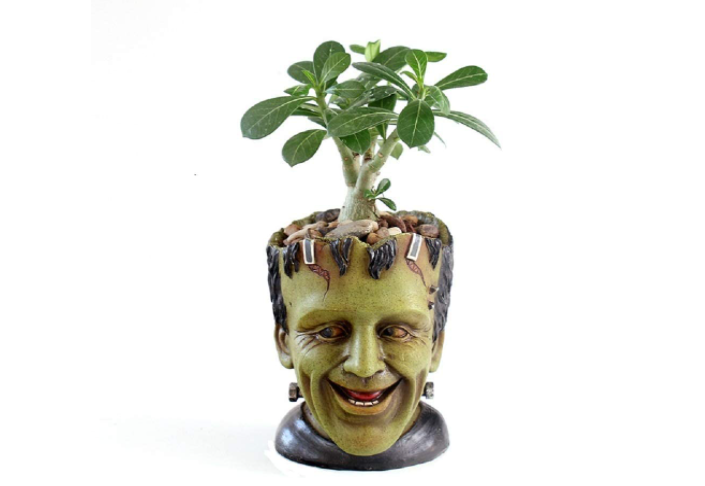 Have we taken it too far? Perhaps. But Mary Shelley would be proud. This monster face planter resembles our modern take on Frankenstein's monster. It would make a fantastic Halloween decoration, or perhaps something for your everyday decor if you're creepy like that.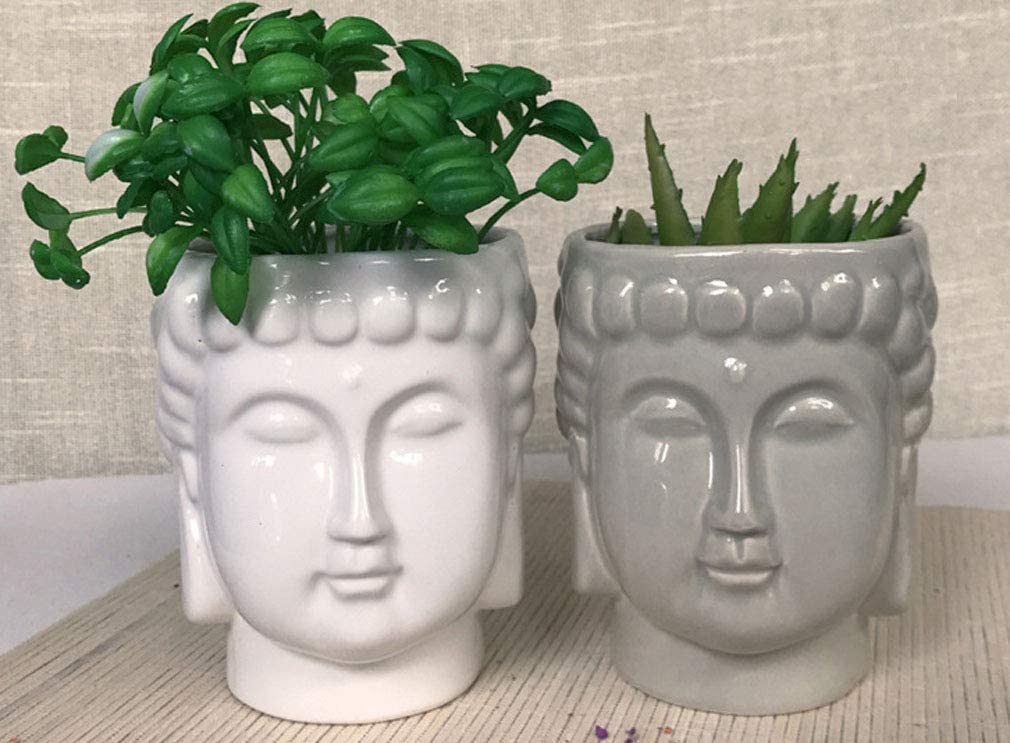 Find peace every day with a Buddha face planter. For the spiritual, it will be a wonderful reminder of your beliefs. For the superstitious, it will bring you comfort and good luck. It comes in white or gray.
Greek/Roman woman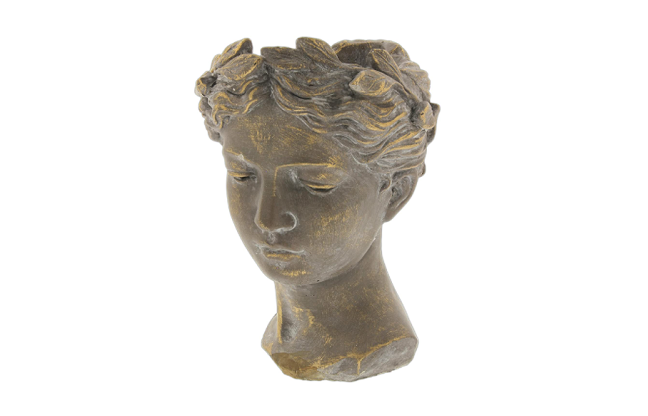 You can't go wrong with a classic bust finished in faux bronze. This is a beautiful planter that looks like an ancient Greek or Roman woman. It will add a lovely touch to your tabletop, especially with the right greenery.
FAQs
Question: Can you put sand in the bottom of a planter?
Answer: No, it's not recommended that you put sand in the bottom of a planter, because sand absorbs and retains moisture, which means your soli won't drain well. The roots of your plant will sit in soggy soil and could rot. It's better to fill your entire pot with a potting mix to avoid damage to your plants.
Question: What should you use to fill the bottom of a large planter?
Answer: To fill the bottom of a large planter when you don't want or need to waste that much good potting soil you can fill the bottom of your planter with plastic water bottles. This is a great way to recycle your plastic bottles, because they take up room in the bottom, requiring less potting soil, but still giving your plants room to grow and breathe.

You can also use packing peanuts, because they're great at creating drainage and they're made to last rather than deteriorate. Wood chips are also an excellent, environmentally friendly choice.
Question: Should you put rocks in the bottom of a planter?
Answer: It's not necessary to put rocks in the bottom of a planter, but one rock to cover the drainage hole can be useful. It serves the purpose of covering the hole so you don't have soil leaching out of the bottom, but it still allows water to drain freely through the pot.
However, putting rocks at the bottom of your pots will not improve air circulation or aid in drainage, so don't believe this myth.
Question: What can you plant in a head planter?
Answer: Generally, the best plants for head planters are those that look like hair. For one, it's funny. Picking ornamental grasses, string of pearls, air plants, or succulents are incredibly popular choices.
However, you can also choose flowering varieties. Anything that creeps or climbs would be an interesting and smart choice for an outdoor head planter while herbs and spices can make great useful options for a head planter in the kitchen.
Final Thoughts
Head planters are very versatile. They can be elegant, quirky, cute, or fun. Finding the right head planter for your favorite plants depends on your style, but there are plenty of options to choose from, so don't give up.
These suggestions are just the beginning, but hopefully they gave you some ideas to get started.