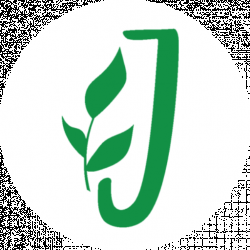 Latest posts by Jardin HQ Team
(see all)
Many garden enthusiasts find spading forks as part of the essential garden tools they want to use in their gardens. And if you are reading through this guide, you've probably spent time looking for the best spading fork options. Indeed, there are many of them. They are also similar to the traditional garden pitchforks. However, you can plow deeper holes with long-handled spading forks.
Many spading forks have three or four narrow lines with piercing tips. Therefore, they can dig through the toughest soil. Besides, they make it easy to cut through the copious clay because of these curvatures. Ultimately, it can significantly differ when choosing the best spading fork, especially regarding the intensive gardening task.
Spading forks serve various purposes, and here are three main types:
Hand forks are appropriate for loosening dirt's small patches around seedlings and small plants. These garden forks are also suitable for digging up weeds, and they typically have three tines.
Digging forks are perfect for loosening compacted soil and suitable for digging into the soil. These garden forks have no curvature and have between four and six tines.
Standard garden forks are designed to move mulch, compost, or dirt as required and root around the soil. These garden forks have between four and eight tines, and you will find it easier to scoop dirt as you work through it with their slight curves.
If you are looking to make your gardening tasks pretty productive, this piece will review some of the best spading fork options available.
Our Top Picks
Our team has taken the time to carefully go through all the benefits offered by the best spading forks. This piece will also reveal recommendations on top-performing and reliable spading forks. The following list features a blend of products that meet price points and different purposes in various sizes and shapes.
Flexrake CLA324 Hand Garden Fork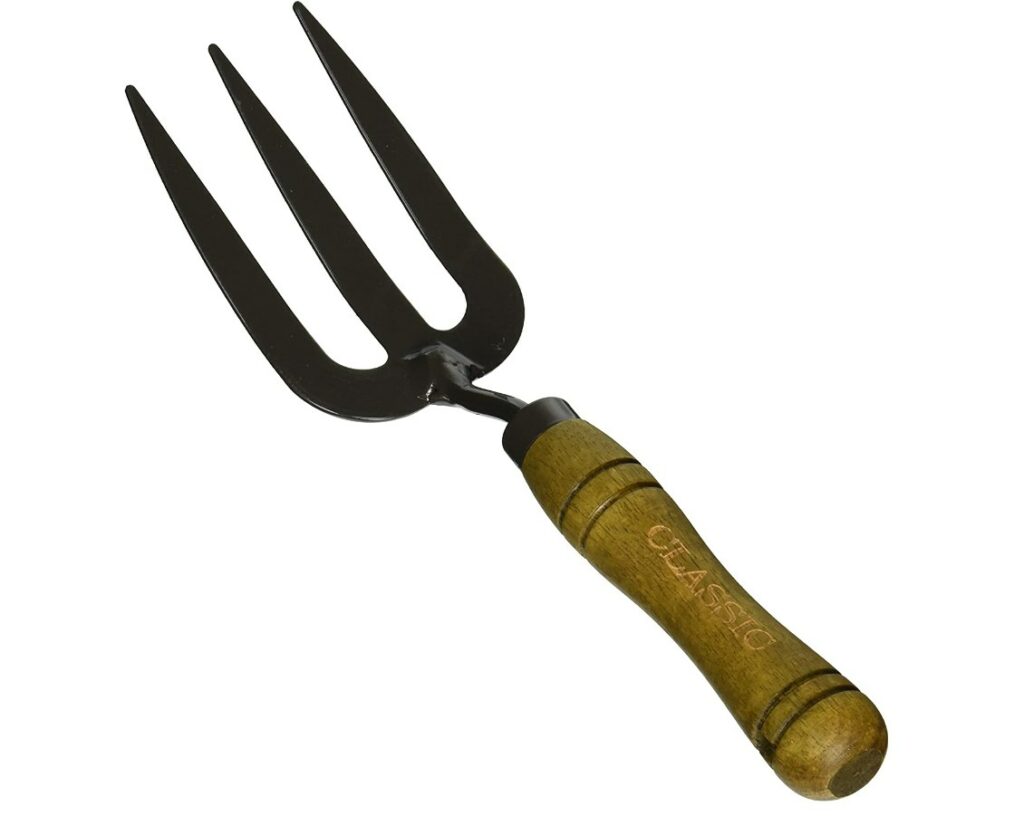 Let's start the list using a bit of nostalgic stance with Flexrake CLA324 Hand Fork. If you want a reminiscence of the early gardening culture in the US and its traditions, you will find this tool perfect. In addition, you will find this 205 g or 7.2 ounces heavy fork ideal for your small garden even though you are used to long handled-garden forks.
You can use this striking-looked spading fork at a competitive price and use it for years without much effort. Besides, the manufacturer made it look a bit antique and more natural.
As a durable tool, it has 12.6-inches long three sturdy carbon steel tines. Generally, this cute unit is enough for you to quickly finish nearly every small or medium-scale gardening job. Many garden enthusiasts have claimed that they love its hand-tuned, long, and 13-inches oak handle. The tool's steel blades and oak handle won't bend as you use it in your garden.
Pros
Quite inexpensive
Tines won't bend since it is made of heavy-grade carbon steel
The beautiful oak handle is sturdy, durable, and hand-turned
This model has a quality craftsmanship
Cons
Not suitable for heavy-duty work
The metal part of the tool above the tines can bend
It can be ineffective with wrong angled tines
The oak handle's decorative grooves have no concrete purpose and can collect moist soil
True Temper Forged Spading Fork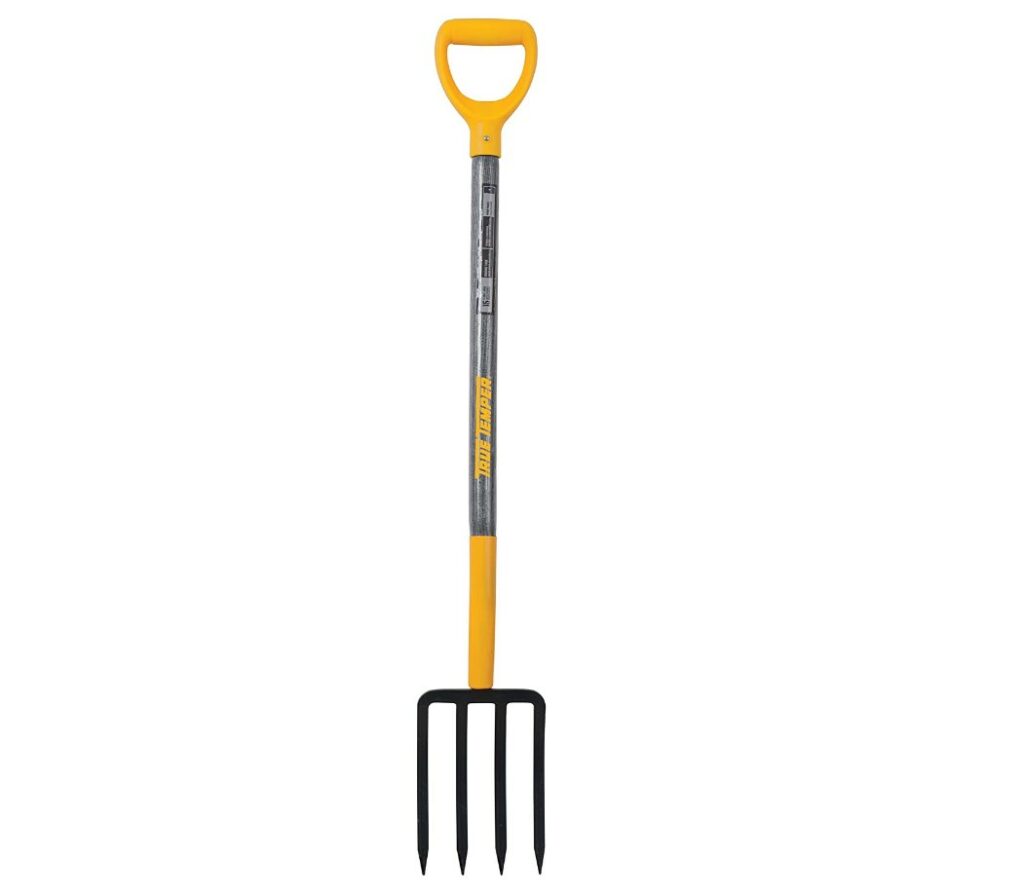 True Temper Spading Digging Fork is an exceptional American model as a forged fork with four tines, four diamond-piercing tines made of steel, and a forged fork-head. The garden tool weighs around 3.9 pounds, about 1.8 kg, and is 1.17 m or 46.2-inches long.
The tool's additional leverage includes a poly D-Grip that will give you better control and extra strength when digging. You will see this bright shade of yellow part at the end of the fork's hardwood handle. Get your hard gardening much easier as you will find the tool highly comfortable in your hand.
It has a 76 cm long hardwood handle with a durable and strong forged head that will make it pretty useful for your gardening needs for years. Besides, it is made of negligible flexible material that will enable you to control the tool better.
Get ready to penetrate almost any soil without much effort with the tool's broad, sharp, and long tines. Essentially, this model is the best option for working on the hard ground due to its four-diamond steel tines.
Pros
Excellent poly D-Grip offers better control and additional leverage
Durable and strong hardwood handle
Soil penetration is much more effortless with its four steel tines
Fantastic forged spading fork-head
Cons
Extensive use may result in the separation of the head from the shaft
Small and flat tines
Tines can bend when used for hard work
AMES Forged Steel Spading Fork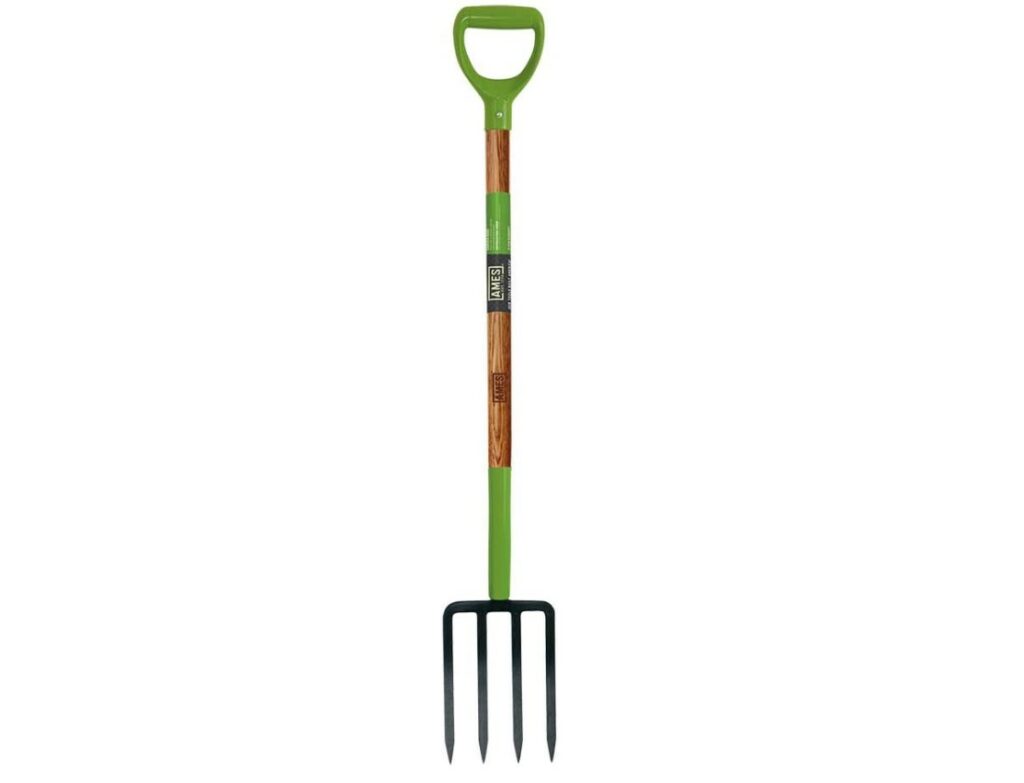 If you want one of the best spading fork options perfect for almost all the works in your garden, you will like Ames Forged Steel Spading Fork's four tines and dimensions. This essential garden tool weighs about 3.3 pounds and is 45.5-inches long. It has a hardwood handle that enables you to work with comfort with any hard gardening job, and it also absorbs most of the shocks. If you have a raised beds garden, you will find this tool ideal.
The tool has four extremely piercing tines with a forged steel head that is robust and durable; you can dig the soil easily with this tool. Stop using too much energy and discover how fast it can loosen the compact soil when you purchase this model.
Don't be concerned since it may surprise you when you notice its bright overall appearance. Generally, it is not prone to staining. In addition, cleaning and maintaining the fork is a fast and easy process.
Pros
It has a 15-year warranty
It is not an expensive tool
It has a durable hardwood handle that makes gardening activities much stress-free
It is one of the most lightweight models to use
Cons
Not sturdy enough to turn compact dirt and hard soil
They use one fastener to connect the D-handle to the wooden shaft, and it is made of loose and flimsy plastic
Truper 30293 30-Inch 4 Tined Spading Fork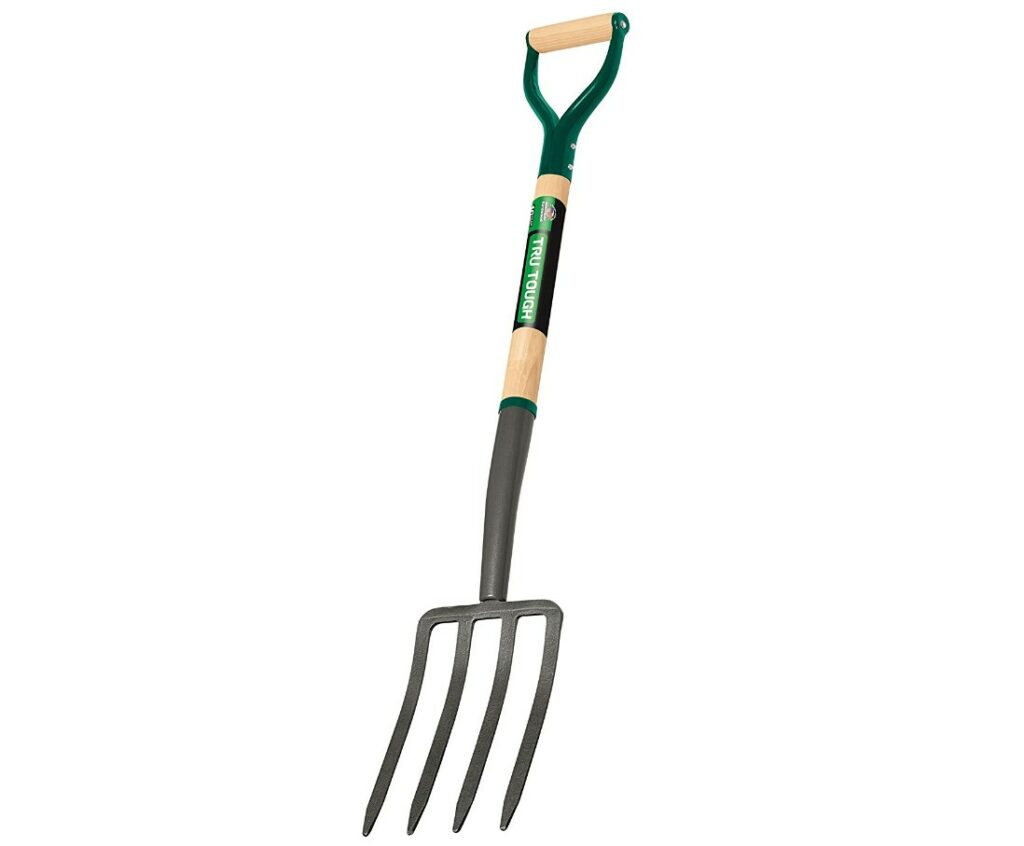 The Truper 30293 30-Inch 4 Tined Spading Fork is durable with its North American 30-inches long ash wood. In addition, many users know this tool for its exceptional proficiency in absorbing shock.
The tool has 40 inches in length, from the tines' tip to the grip. It is not heavy and can make room for effortless and comfortable garden work. You will also find this robust garden tool quite easy to use with its D-Grip handle. Now you can take control and necessary balance the shape of the fork when working in your garden. Dig through compacted dirt, hay, and use the practical tool to turn the compost or soil.
The four tines and the head of the fork are gray steel. Its head has extra protection with its perfect coat, and you are ensured of the tool's durability. Besides, you can clean much quicker with it. It only needs a regular silicone spray pray coat and rinses it with a hose.
Pros
Free-replacement 10-year warranty
It has a durable ash handle
The tool has high-sharp tips and four tines that are relatively helpful
It has a practical and comfortable D-Grip handle
Cons
There are problems with quality control
The fork may not be ideal for serious garden use
Tine may break over time since they are a bit brittle
Radius Garden 203 PRO Garden Stainless Steel Digging Fork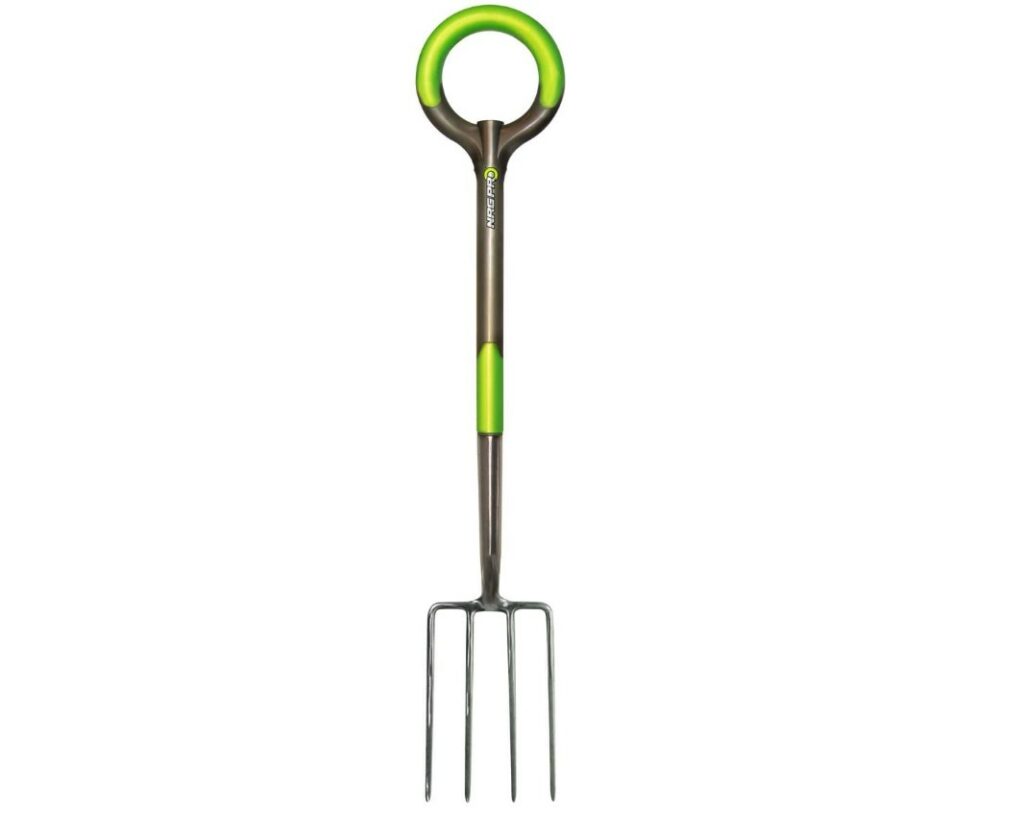 Every gardener will find Radium Garden 203 PRO Garden Stainless Steel Digging Fork fantastic with its revolutionary O-shaped, ergonomic, unique handle. The tool's shape can significantly help to reduce stress on your wrists and hands. The handle is also comfortable to deal with hard gardening work since it is made of non-slip material. In addition, it is also handy for both hands.
You can use this tool to penetrate nearly any soil type, move debris and mulch, and turn sod with its four square-shaped, highly sharp tines and stainless-steel head. This professional-quality tool weighs about 4.8 pounds, and it is 42.9-inches long from the tines' end to the grip. Its shaft is made of resin-encased steel, and it is almost impossible to bend or break it.
Pros
Full lifetime warranty
It makes gardening work pretty comfortable with its O-shaped, slip-resistant handle
Solid steel shaft provides excellent strength
Durable and strong stainless steel head with four sharp diamond-shaped tines
Cons
It requires time to get a grip of its handle's weird shape
The tines are a bit brittle and may break off
Unsatisfactory manufacturer's customer service
Fiskars Ergo D-Handle Steel Garden Fork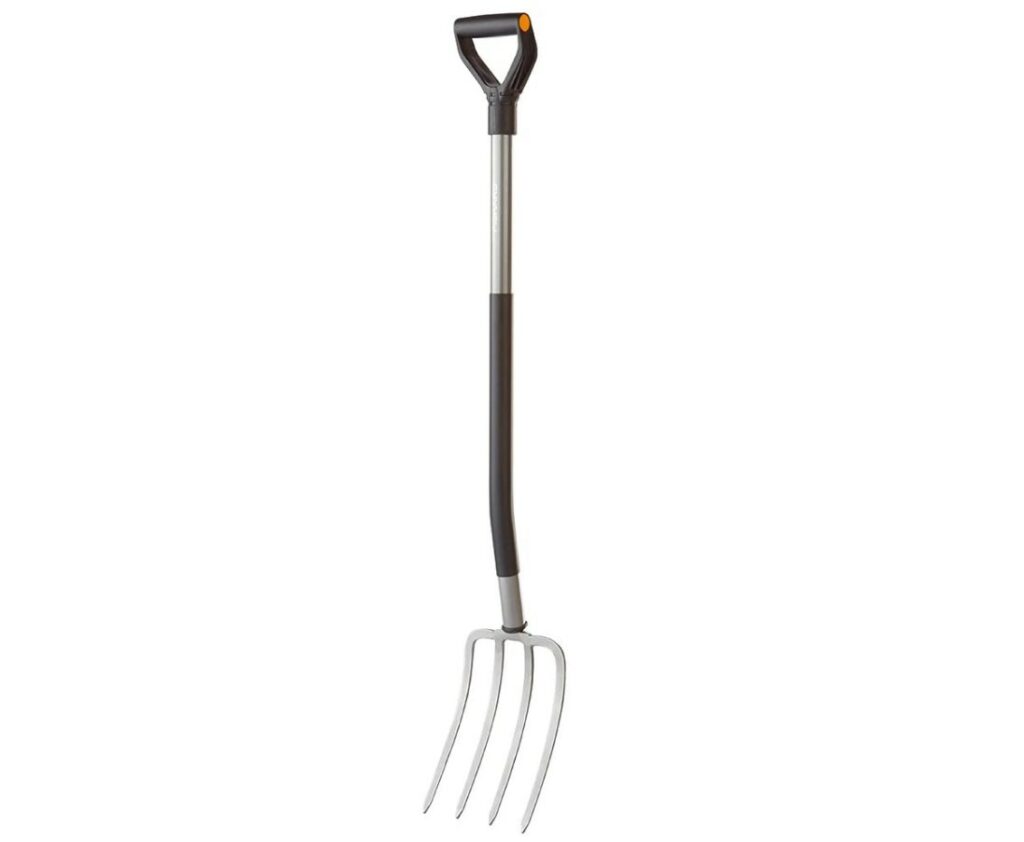 Fiskars Ergo D-handle Steel Garden Fork can keep your wrist in a comfortable, neutral position with its angled D-handle. Besides, every shape of hands can get a fit for the tool's teardrop-shaped shaft. With this, the tool makes it comfortable and effortless to work with it. You can also be sure that getting this tool is as good as having a high-quality and durable product as the shaft is made of heavy-duty steel and tines are made of welded steel. A big plus for it is the low price and full lifetime warranty.
If you have hard or sandy soil in part you are living; this tool is indeed a perfect choice for you. It is also useful for adding peat moss into your beds, lifting hay, lifting garden waste, spreading mulch, or blending compost.
The tool has a longer handle than most of the other garden spading forks on the market with its 47-inches length handle, and you will find it a desirable option even if you are a tall person. It is not like those made of fiberglass, which will not make its steel handle flex. The tool can loosen and penetrate dense or hard soil with its sharp, long boron-steel tines. You will get a practical and reliable unit to make your hard garden work easy when you buy this multi-functional tool.
Pros
Full lifetime warranty
It is amazingly inexpensive
Stronger than many other similar options
Made of welded steel
Cons
Many users think the tines are not sharp enough.
AMES True Temper 2812200 4-Tine Spading Fork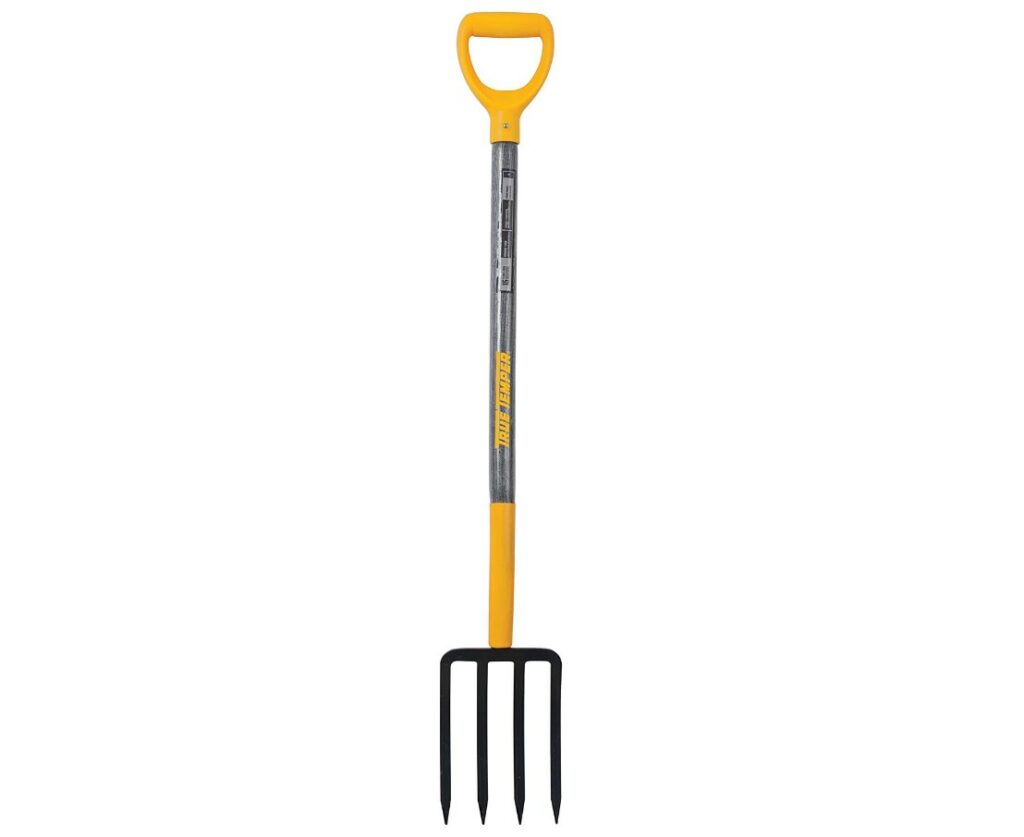 One of the best spading forks AMES offers garden enthusiasts is the AMES True Temper 2812200 4-Tine Spading Fork. Therefore, you can rely on it for a long time. Furthermore, the company has a long history of know-how about producing and creating dependable and quality tools. As such, this model will not disappoint you.
As a versatile tool, you won't face any issues using it. Depending on your needs, you can use it for different purposes. AMES designed this spading fork for a wide range of activities around your garden, such as aerating, digging, or turning soil. In addition, the fork can break up soil and clay to give you excellent results. The tool will not give you any problem regarding its durability, given its forged head.
Pros
Sturdy construction for a long run investment
Convenient and comfortable to handle
Unique D-Grip section for additional control
Hardwood handle for an extremely durable and strong alternation
Diamond-pointed tines that can deal with tough soil
Cons
You may want to change the tough plastic handle
It might be a bit small for specific gardening activities
Choosing the Best Spading Fork Options
Many people will not want to spend so much money when buying hand tools like spading forks. However, you need to be smart in this situation. You wouldn't want to waste your money by purchasing a cheap garden tool that would break after using it a few times. An effective solution is to buy a high-quality spading fork that will last for a long time.
Our team puts together some features to consider when buying the best spading fork options for a reliable gardening experience.
Construction
Spading forks have different ways of assembling them. When it comes to the old spading forms, they made them through metal collar heating and inserting the sleeves and handle together. Next is to plunge the tool into the water, where the metal will seal and shrink with the handle.
With this, you may want to choose the fork with riveted head since those with handles designed in this manner may work loose. In addition, a perfect tool is one with bolted head. These days, it is possible to buy a spading steel fork designed as the only piece.
Handle Shape
You can choose a spading fork with a D or T shape handle since there are a few alternatives. There are also options to buy a straight or round one. Everything depends on your taste and how it will not get in the way of your garden fork quality. Ultimately, note that T-shaped handles can break quickly. If you also buy a cheap spading fork with a poor-quality plastic handle, they can break under heavy use.
Handle
You will need to reduce the amount of effort when working, and choosing a long-handle fork is not an option. Typically, a standard, 30-inches long handle fork is pretty enough. In addition, the best options are fiberglass, hardwood, or steel handles regarding the material.
You must be prepared to work with a heavy fork when you choose a steel or wood handle. Steel can also rust, and while an ideal option could be fiberglass because they are lightweight, it can break much easier.
Tine Shape
Choose your tine shape based on the goal of getting your new spading fork. Remember that round points are not good for turning or digging the ground. As such, buy a flat-faced tines spading fork with. With that, you can turn over soil or compost effortlessly for efficient aeration.
However, go for a tool with moderate tips if the purpose is to harvest root crops. Another important consideration is to get a four-tined spading fork. Extra tines may not be useful since they are typically thinner and used only for harvesting.
The Head and Tines
Some of the critical parts of your garden fork are the tines and head. It would help if you chose a spading fork with forged steel head and tines. Generally, the material will not break or bend under heavy usage.
With that, your fork can last a lifetime if not overworked. However, you can use cheap forms made of aluminum alloy for light-duty work. Don't forget that they are not recommended for most gardening work because they can bend pretty easily.
Frequently Asked Questions about the Best Spading Fork Options
Question: What is the use of spading fork in gardening?
Answer: When it comes to digging up plants to move elsewhere, pot-up, or divide, the best tool you can use is a spading fork. The essential purpose of having a spading fork in your garden is to lift the root crown of heavy, large plants from the bottom of a deep hole.
Question:
How do you clean a spading fork?
Answer: The first thing to do is remove all soil and other debris with water and soap when you want to clean your spading fork. You can then use a putty knife or a stiff wire brush to remove most rust and stubborn caked-in soil. Then, remove any remaining rust with coarse steel wool. Ultimately, use a dry cloth to give your tool a thorough wiping.
Question: How do you use a fork tool?
Answer: You can use a fork tool to aerate lawns or soil, remove weeds, and loosen hardened soil. It is also used to open the earth and lift weeds and plants. The fork is also useful for dividing specific clumps of perennials by pulling the plant apart and slipping in two forks
Final Thoughts
Our team favors Radius Garden 203 PRO Garden Stainless Steel Digging Fork since it is a versatile spading fork for your gardening projects. One of the best qualities of this tool is that users can use it to dig up bulbs or root vegetables throughout the year. In addition, the tool also works well in turning compost and aerate the soil around shrubs and perennials.
This versatile tool will also help you keep your garden in top shape. Since it is durable, you won't have to buy another spading fork anytime soon. It is a heavy-duty tool designed to last for a long time, thanks to its stainless steel blade. In addition, they designed the tool with users in hand. Therefore, you won't have trouble handling it with ease and for extended periods.
If you want a spading fork with a resin-encased steel shaft and strong tines made of stainless steel, this heavy-duty spading fork is a dependable tool for your gardening works.