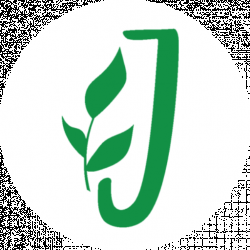 Latest posts by Jardin HQ Team
(see all)
So you're in the market for a new gardening tool bag. I get it — maybe you switch them with the season, maybe you're just starting out, or maybe it's just time for an upgrade. I've been there myself, but I always get stuck on finding the best garden tool bag.
I knew that there would be fellow gardeners out there in need of answers, so I let the rain take care of my garden this morning while I sat down and set to work on finding the best garden tool bag out there.
Why Do I Need a Gardening Bag?
You might be wondering why you even need a gardening tool bag in the first place. Well, you'll want to invest in a tool bag for a few reasons, the biggest being that you'll be able to take your tools anywhere!
Lugging around a bunch of trowels and cultivators everywhere is nothing but a drag. But a nice gardening tool bag will not only make transportation easier, but it will keep your tools organized. You can also carry around your seed packets, gardening gloves, and almost anything gardening-related. Plus, what's cuter than having a garden tool bag that matches your gloves or your hat?
It also helps encourage you to get out in the garden more — I always find that when I have to lug everything outside by hand with a lot of back and forth, it makes gardening feel more like a chore. When you've got a bag, you can just grab it and get going!
Things to Keep in Mind While Shopping Around
Some things to keep in mind while you shop around for the best garden tool bag for you is to make sure it will work for you and your garden. Do you carry more tools or seeds? That will determine whether you want more or fewer pockets. Does it rain a lot where you garden? If so, you'll want to look for something water-resistant.
Ask yourself little questions like that before you invest — you'll thank yourself later. A few things I always look for in a garden tool bag have:
Lots of pockets
Comfortable straps
Durable fabric
Some sort of water-resistance
Easy to clean fabric
I also try and keep things within my budget — I'm always looking for good deals on bags that won't break the bank.
How I Reviewed
I took to the internet and read all sorts of reviews and ratings, considered bags that I've had in the past, and even went straight to the manufacturers to get every detail about them to bring you a list of the best bags the gardening world has to offer.
My Top Picks
And now it's time to really get this party started! Here are my top picks for the best garden tool bags. I just hope you're not tempted to get them all like I was!
WORKPRO Garden tool bag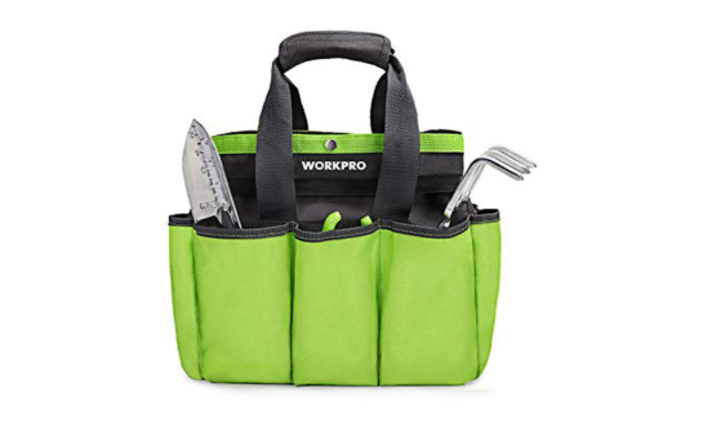 First up on my list is the Workpro gardening tool bag — this bag is made of durable, high-quality material with a reinforced bottom. It has a large capacity and external pockets for even more storage! And as a bonus, it has an anti-slip strap that's also soft and comfy.
This bag stands up on its own, and its pockets are tall and big enough to fit a wide variety of tools. The pockets are also nice and deep to keep tools right in place.
If you're looking for something big with lots of space that can fit all your tools and fertilizers, this just might be the bag for you. This is the best garden tool bag for using and abusing — and for the price, it's a steal. Talk about bang for your buck!
Scuddles Gardening Tools Set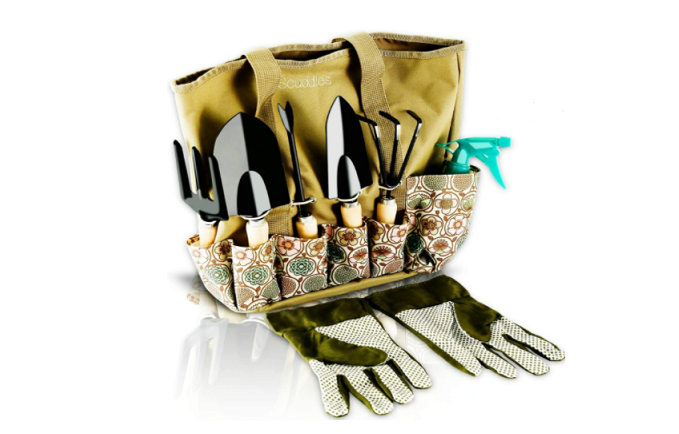 Next up is this garden tool bag from Scuddles — over 2,000 gardeners agree that this is one of the best garden tool bags on the market. Not only does it come with its own set of tools, but it also comes in a few different colors!
But it doesn't come with just tools — you also get a pair of gardening gloves to go along with the cute design. This sturdy little bag is made to help you stay organized — it helps you get the job done right.
This bag is great for beginners — if you're just now getting into the gardening spirit or you're introducing somebody else to the hobby, this bag is just the gift you've been searching for!
TACKLIFE 6 Piece Stainless Steel Heavy Duty Garden Tools Set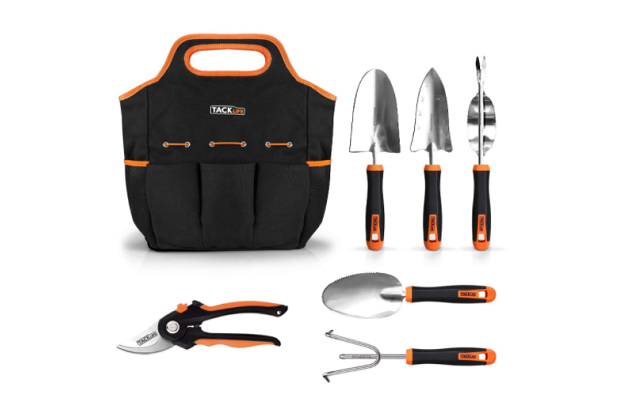 Another very impressive bag that I actually use on the regular is this absolutely lovely bag.
It comes with stainless steel tools that have lasted for years — mine have lasted through many growing seasons and gotten me through some big gardening projects. The bag itself is even more durable — it's tough, light, and comes with little side pockets.
The only criticism I have is that the side pockets aren't the best for carrying the tools — they just fall out for me. I use the pockets for seeds, and occasionally bunches of picked flowers. And even after I've put all my tools in the pockets and main compartment, I've got a ton of room to spare.
All in all, this is a great bag that's amazing for getting out in the garden and storing your tools away. I recommend this to anyone who will listen!
California Picnic 9 piece Garden tool set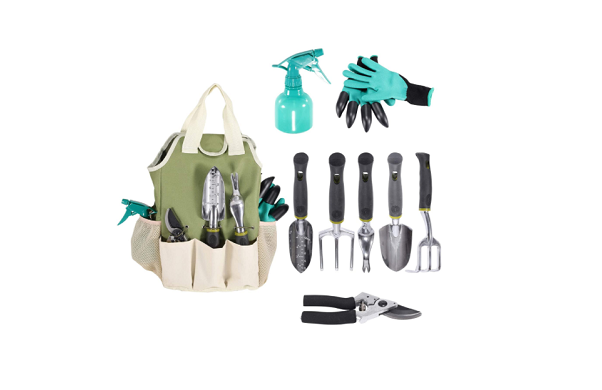 This garden tool bag is certainly one of the best you'll find — this pocket-stocked bag is made of some heavy-duty fabric to make sure it lasts. And if there's any sort of snag — don't sweat it. This bag comes with a 12-month warranty.
The pockets on the outer section of the bag have elastic to keep your tools snug in place whenever you tote your tote, and has enough space to even store an extra set of gardening gloves. Plus, the outer pockets on this bag have little bungee cords to keep your tools exactly where you need them.
This is a great bag for beginners. So if you're fairly new to gardening, this can really help set you on the right track by keeping you organized.
Housolution Gardening Tote Bag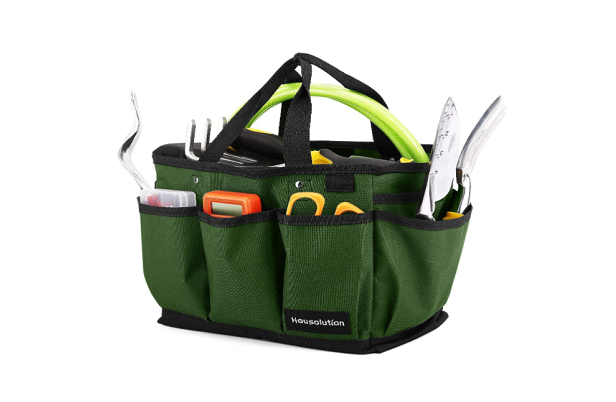 The Housolution gardening tote bag is a water-resistant, durable organizer with pockets. It's made with polyester fabric lining and comes in two sizes. And don't even get me started on the colors — if you're anything like me, you'll go nuts over a gardening bag that matches your outfit.
This is a larger tote, no matter which size you get, with lots of pockets. It's a nice, practical bag that helps you get your tools from point A to point B without a snag.
The only downside here is that the bottom dips down when you lift it up, and a few customers ended up placing a piece of plywood or paneling in the bottom to keep the bag from dipping down. Other than that, this bag is really top-notch!
Bucket Boss Gatemouth Tool Tote
The next bag I've got in store is a tool tote in brown from Bucket Boss on Amazon made of polyester. It's got 8 external pockets, 12 interior loops, is extremely durable and has a steel handle with a foam rubber grip. If you're on the lookout for a bag meant to last, this is just what you've been searching for.
It even has a heavy-duty binding and 11 liters of storage space. It's made of water-resistant polyester, and rigid foam in the walls to make sure it's sturdy.
The only downside — if you can even call it that — is that it's a little heavier than your average garden tool bag, weighing over two pounds. So if you're not one for lifting heavy tools often, this might not be the best choice. Other than that, it's one of the best garden tool bags I could find. I wish I'd known about this one earlier!
Ensign Peak Deluxe Gardening and Tool Tote Bag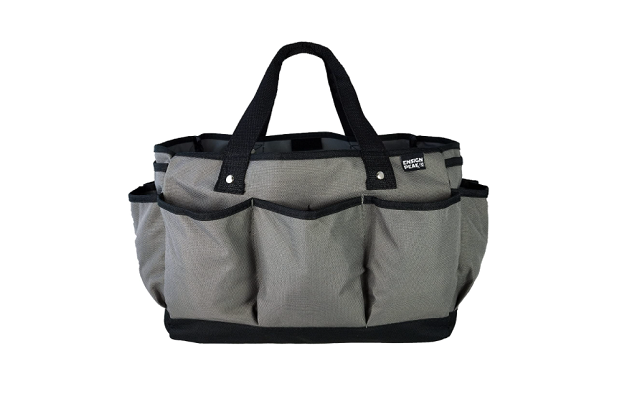 Another great pick is this bag from Ensign on Amazon. This double-handled tote comes in black and grey, is sturdy and durable, and even has 14 pockets!
It might not be machine washable, but a little spot-cleaning with a rag will get it spic and span again in no time — a little dirt and mud won't stop this tote! The polyester and vinyl backing is sure to hold up to the test of time.
The only downside I could find is that large, heavier tools are prone to falling out of the bag — and that a few gardeners found it to be too small. Its dimensions are 12″ W, 9″ H, and 7 1/2″ D — if you feel like that will fit your tools, I advise you to give this bag a go!
McGuire-Nicholas Mighty Bag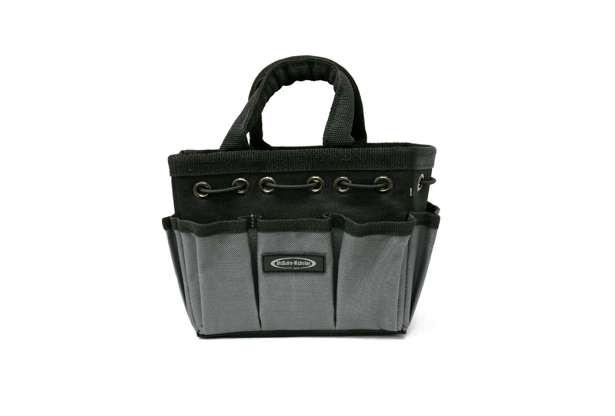 This next bag is one tough cookie that comes from a company that's been around since 1932! Talk about reliability! This little tool bag from McGuire Nicholas on Amazon has 7 pockets along with the main compartment for stashing away your tools and has padded handles for easy carrying.
The only thing that might be a downside is the size — when I called it a little tote I wasn't kidding. Its dimensions are 5 x 8 x 6.25 inches — which is great if you're looking to carry a handful or two of tools along with you. However, if you have a large collection of gardening tools, this isn't the bag for you.
Truly Garden Garden Tote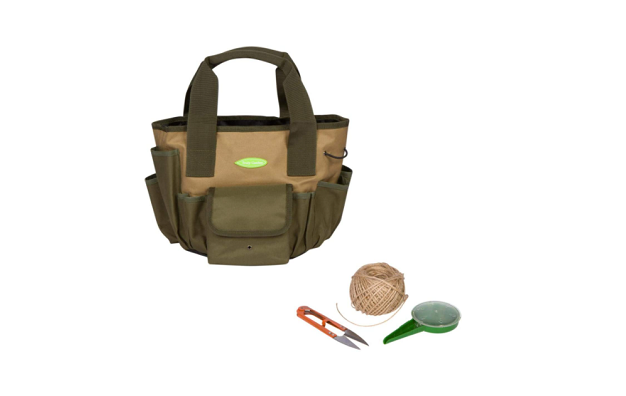 Another bag that made the list is an adorable, sturdy, stand-alone tote on Amazon that is waterproof with a rubberized bottom. It can also fit a 2-gallon bucket inside! Just grab a food-grade bucket and let it sit snugly in your tote — now you can harvest veggies and carry your tools at the same time. No more back and forth trips!
It even has an elastic loop in the tool pocket to keep things snugly in place. It even has a special pocket for storing and dispensing twine! Plus it's even designed to stand up on its own with or without a bucket.
I don't know about you, but I'm definitely putting this one on my wish list.
Mydays Outdoor Multi-Pocket Gardening Tool Organizer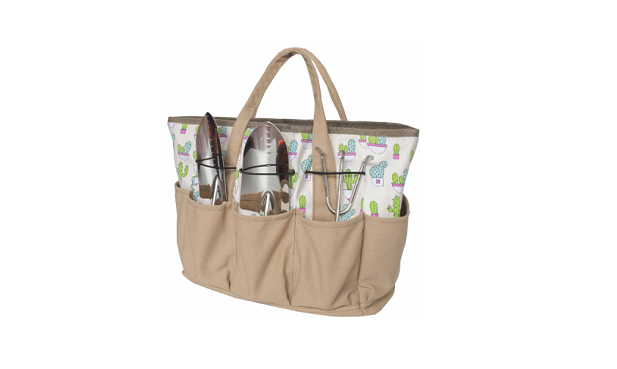 Another bag that I'm just crazy about is this absolutely adorable tote on Amazon. It's made out of lightweight canvas, has multiple pockets, and fabric handles for comfortably carrying it to and fro.
This little bag isn't just durable and practical — it also comes in a few different colors! And one is cactus print! I'm just a sucker for things with cute prints –when things are fashionable and functional, I go nuts. This little bag is absolutely perfect for tossing in your tools and getting on the move pronto.
Some gardeners had mentioned that they wished the bag was made of a thicker material so it could stand up on its own — but other than that, this is one bag without a snag.
Martha Stewart Heavy-Duty Canvas Garden Bag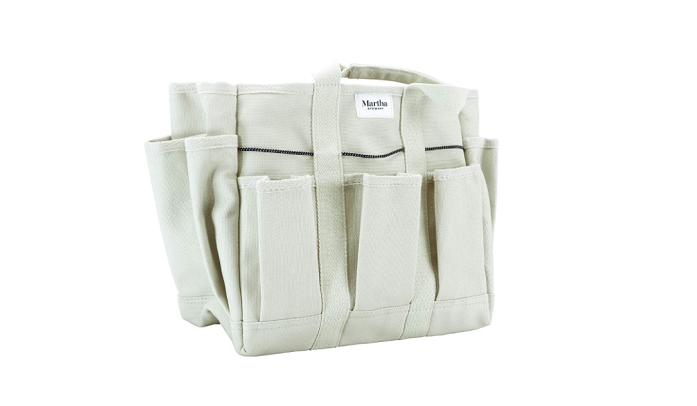 This canvas bag from Martha Stewart on Amazon is one of the best if you're an on-the-go gardener. It has both interior and exterior pockets, as well as sturdy, comfortable straps. But it's made out of cotton canvas — so it won't stand up on its own.
Other than that, it's a sturdy bag that holds a lot — when I say this bag is heavy-duty, I mean it!
It requires spot cleaning, but it shouldn't remain wet for too long. Like any canvas, it's prone to molding if it's left outside — or in a wet environment for extended periods of time. So if you live in a hotter, dryer climate, this is a great bag to consider.
FAQs
How did you pick these bags?
I went with the bags that had the best feedback and the most useful designs. A lot of these come with lots of pockets and fabric that's easy to dust the dirt off of and clean — and every last one of them has plenty of reviews from satisfied gardeners.
Should I buy a cheaper gardening bag?
You could, but I wouldn't recommend it. You get what you pay for — and I feel like if you enjoy gardening, you should invest in a quality bag. Anything that makes you happy will always be worth it in the long run!
Why not buy locally?
You can buy locally, but stores in your area can only have so many bags. If you've looked and not found anything you love, what better place to find a wide variety of bags than here on the web?
How do you pick out a good bag to give as a gift?
You always want to pick out something that you would be happy to receive when it comes to quality. Another thing to consider is what kind of garden a person keeps. Do they do a lot of work that keeps them outside for most of the day? If so, try to pick out something lightweight, but sturdy. If they're more of a casual gardener, pick out something that's smaller and stores away easily. Try to put the needs of that gardener first when thinking about it!
You've Got This in the Bag
Well, I suppose that's it! Hopefully one of my picks turns out to be the best garden tool bag for you. And I hope whatever bag you choose helps make gardening a breeze.
My absolute favorite on the list is the TACKLIFE bag — it's steady, reliable, and does well on rainy and scorching days alike. Plus I can fit it just about anywhere when I'm not out and using it.
Whether you're getting a bag for yourself, a friend, or someone in your family, you know you've got a lot of great picks to choose from. Happy shopping!
Which bag did you choose? Do you have your own favorite gardening bag you recommend? I'd love to hear from you — leave me a comment below and let me know!