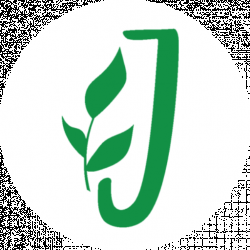 Latest posts by Jardin HQ Team
(see all)
If you've come here thinking, "There's no way I could possibly read an entire article on hoses," you thought wrong. Just wait until you start that big garden project, only to turn on that cheap hose you bought at the big box store and have it split on you.
Then you'll wish you'd have marched your wet, muddy self back inside to read that entire article on hoses you came across today. Save yourself the time, money, and frustration, and trust me when I say that hoses matter. A lot.
You don't realize how much they matter until you buy a really good one. Once you use a really good one, you'll never look back. It will be easy to use and last you for years.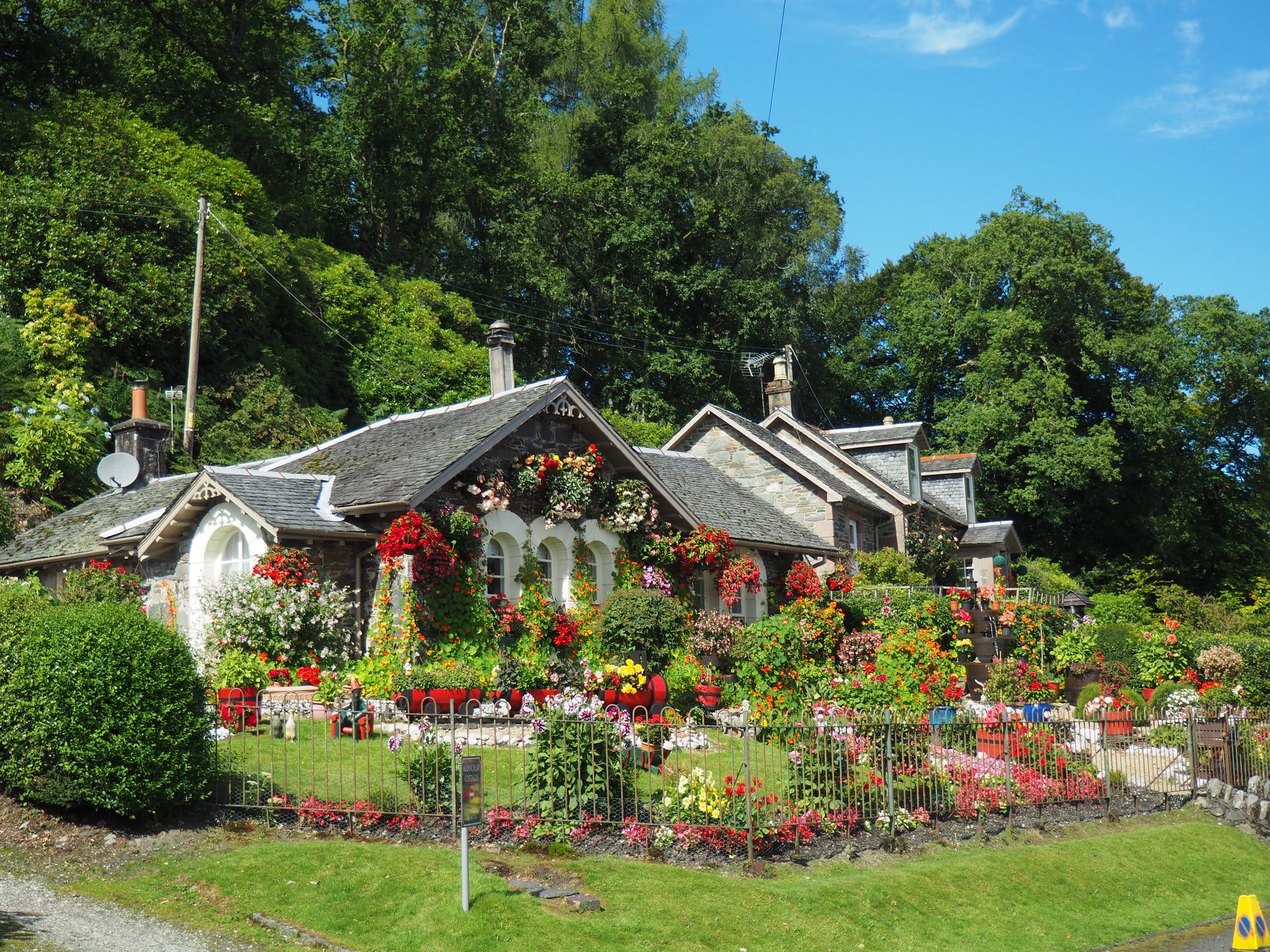 This guide will help you figure out what's really important and how to find it. It doesn't have to cost you a lot. There are great hoses at every price point and for every type of gardener. New technology has made a lot of things possible.
While the old, heavy, rubber hoses still have their place, there are also lightweight, kink-free varieties that come in handy, too.
What to Look For in a Garden Hose
Because garden hoses come in so many different sizes, colors, and styles, you have to know what you're looking for. Not only that, but they also come with plenty of features like multi-ply construction, microbial protection, and kink resistance.
You can get hoses that are more durable than others, have water control valves, interchangeable nozzles, or come with reels attached. There are so many choices out there that you may already be overwhelmed.
Here are the main things you should look for when shopping around for a garden hose.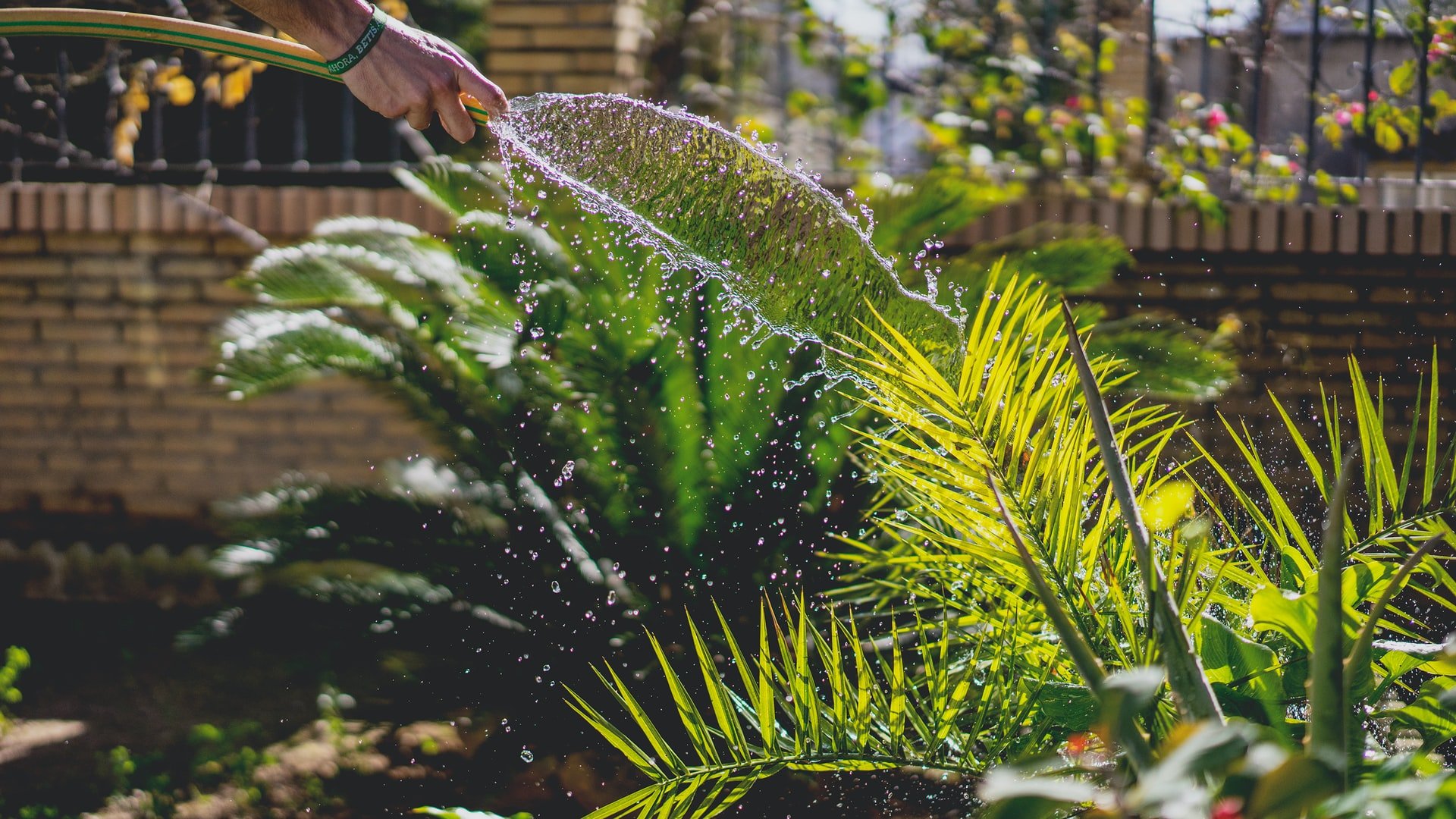 Material
If you're looking for something that's lightweight, affordable, and easy to handle, a vinyl or vinyl-reinforced hose is your best bet. They're not as durable as other materials, but because they're so inexpensive, you can likely afford to replace it if it breaks.
Rubber is more durable, but heavier. It can withstand temperature changes better and will likely last a lot longer. It's also less likely to burst or kink.
You can also get hoses that are made of extra-flexible materials, like plastic. They're lightweight, which makes them easy to tote around the garden. They're also easy to store.
Hoses made of collapsible materials are also pretty nifty. They expand as they fill with water, which means when you turn them off, the water drains out and the hose lays flat for storage.
Ply
Think toilet paper. One-ply? Definitely not gonna get the job done. Four-ply? Now we're talkin'. This refers to the layers of the hose and directly correlates to strength. The more ply a hose has, the stronger it will be.
Most household hoses range from one ply to six and have a mesh reinforcement layer in the middle.
If you're using your hose multiple times a day, you're going to want something that can withstand the constant use, especially in the heat of the summer sun. If you only use it occasionally, maybe you don't need something quite as strong.
Size
Standard garden hoses in the United States are 5/8 inches in diameter. However, you can get them in 3/8, 1/2, or 3/4 inch diameter as well. The larger the diameter, the quicker the water delivery.
This is important when you're talking about how big of a garden you have to water or how much water a particular plant might need on a daily basis. It can also be important when it comes to filling up a pool at the beginning of the summer.
Length
You can get garden hoses in lengths that vary from 25-100 feet. However, if that's not long enough, you can get connectors that will link two hoses together. You may also be able to find longer specialty hoses in a few places.
While some circumstances may dictate the need for a longer hose, keep in mind that your water pressure will decrease as the length of your hose increases. Make sure you get a hose that's long enough to reach where you need, but no longer.
It's best to buy two shorter hoses and connect them when needed. That way you can maneuver the short hoses much easier most of the time and only have to use the long one when necessary.
Fittings
The fittings, or couplings, at the end of the hose is where you attach it to the water supply. You can get hoses with metal or plastic fittings. The metal fittings are usually brass, and they're much more durable than plastic, but they're hard for people with limited hand strength.
If you need something that's easy to tighten by hand, get a plastic fitting that's ergonomically shaped. Some hoses come with reinforcement close to the fitting to prevent it from kinking near the spigot.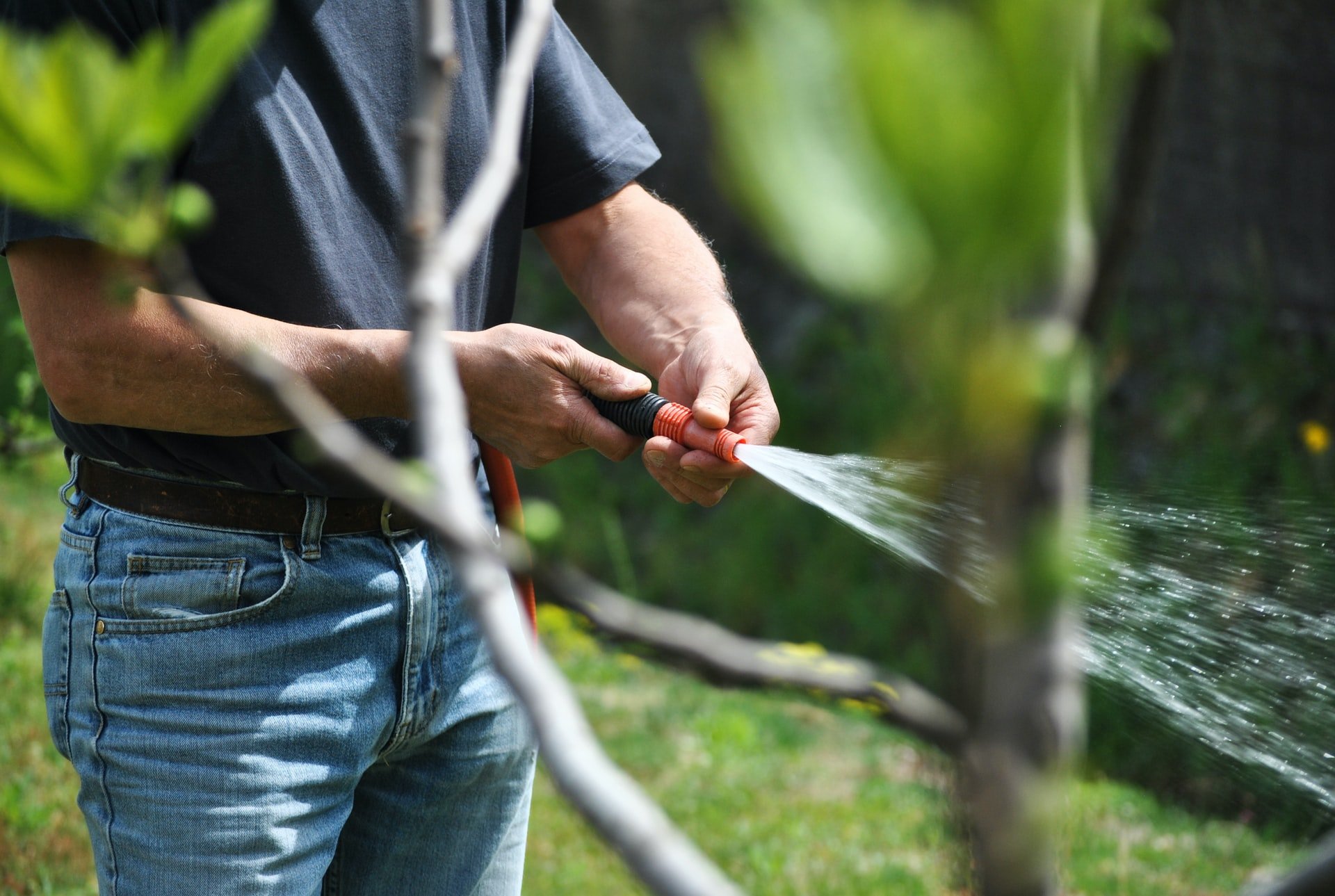 Type
There are many types of specialty hoses such as sprinkler hoses or soaker hoses that are meant for irrigation. If you're looking for something that does most of the work for you, look into either of these types of hoses.
Sprinkler hoses lay on the ground and have holes throughout the hose that point upward. They gently spray water through these holes and act much like a sprinkler would. While they don't oscillate, they cover a much longer area than a single sprinkler would.
Soaker hoses feed throughout your garden and you can bury them underneath the mulch. They're made of a porous material that lets water soak through. Turn them on and let them soak your plants with moisture.
You won't have to lift a finger as your soil and vegetation absorbs all the water it needs. The benefit of this type of hose is that there's very little waste.
Nozzles
While most garden hoses don't come with nozzles, these attachments can make use of your garden hose a lot easier. An adjustable spray nozzle allows you to turn the dial and change the flow of water to suit your needs.
It's perfect for a variety of plants, which makes it a great investment for almost every gardener. You can even use heavy-duty commercial varieties for household cleanup jobs.
Reels
You can protect your garden hose and prolong its life by using a reel for storage. It keeps your garden hose off the ground, eliminating standing water, which can cause rot. It will also prevent you from tripping or mowing over it.
You can mount reels to the outside of your house or in the garage, or you can roll your hose up on a portable reel and move it around the garden with you as you need it. They come in so many different styles, allowing them to be both functional and decorative.
Safety
One thing many people don't think of when buying a garden hose is safety. Gone are the days of kids playing outside all summer long and not coming home until dark. Do they even drink straight from the hose anymore?
However, if you live on a farm like me, it's something to consider. If you, your family, or your pets will be drinking from the hose, make sure you get a hose that's FDA and NSF certified. They're guaranteed to be food grade and free of lead, BPA, or phthalate.
They won't affect the flavor of the water, so it will taste much as it does from the tap. While you should never drink water that's been sitting in the hose in the hot sun, you can safely drink from one of these hoses as long as it's been flushed out first.
Our Favorite Garden Hoses
Not every hose will work for every person, but here are some of my favorites. I've had lots of gardens over the years and I've used lots of different hoses. They all serve their purpose, so after evaluating your needs, make sure you get the one that's right for you.
This kink-free hose is right for most general purposes. While no hose is ever going to be totally kink-free, the Flexilla does a pretty good job. The hybrid polymer is a flexible, proprietary material engineered to get rid of any kinks that do form once it's filled with water.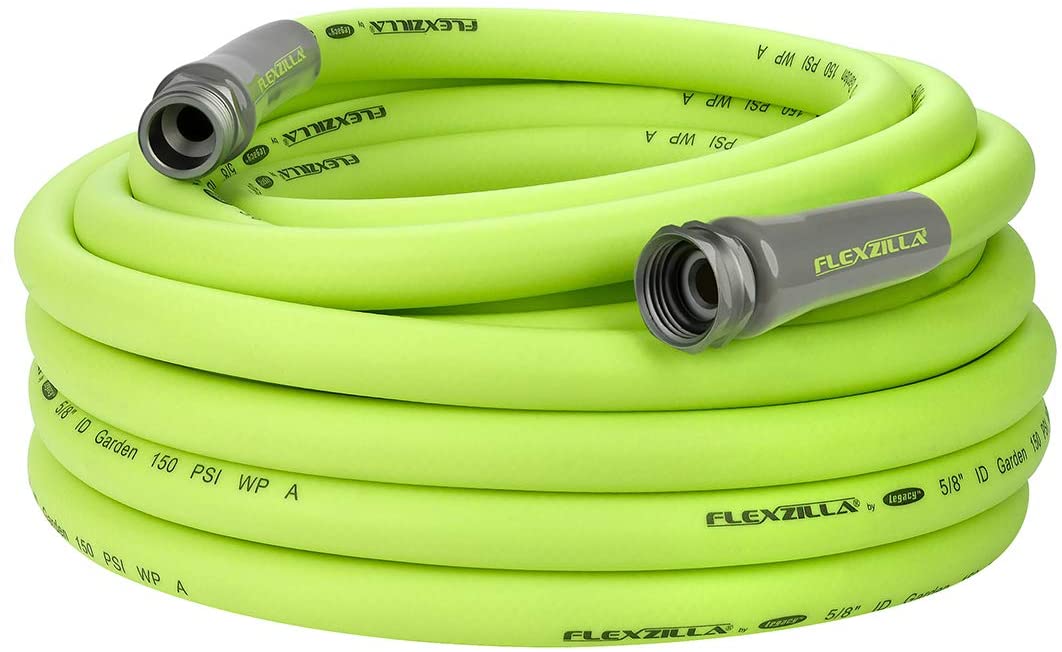 You'll find experts who tested it and homeowners who swear by it. I've used it, and I loved it. In fact, it seems backward, because it doesn't even try to retain its shape. It just lays there. When you turn the water on, it won't roll back up or coil.
Just roll it out where you want it, attach your sprinkler, and quit worrying about where that sprinkler might spray when you get the water going.
While the material isn't tested or certified, the manufacturer does claim that the hose is lead-free and safe for drinking water. It's also easy to use in all weather, meaning you can use it in -40 to 150°F.
It comes in a standard diameter of 5/8 inches, but you'll find a variety of lengths from 3 to 100 feet. All hoses come in their signature bright green and they offer a limited lifetime warranty.
If you have a small garden or yard, this hose is great for tight spaces. It's super lightweight and kink-free. It only weighs 3 pounds for every 50 feet, making it easy to shake out when you need to get to work.
Even those with limited mobility (hence the small yard, am I right?) can wrangle this small hose around to water their containers or planters that may be scattered throughout the front and back patios.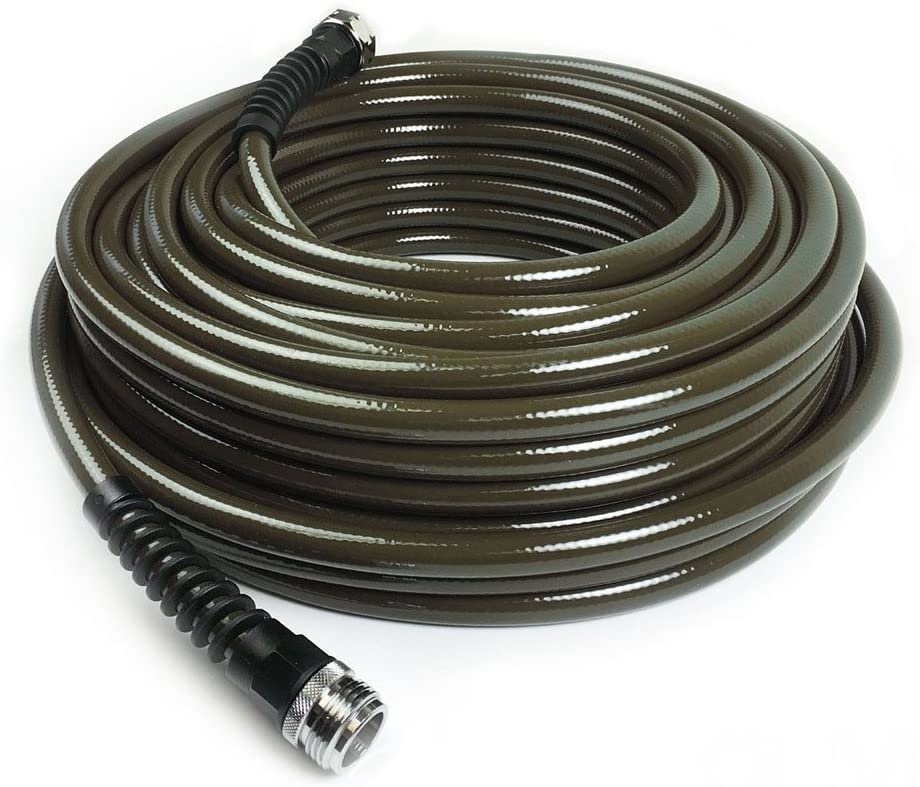 It's 7/16 inches in diameter, which makes it easier to handle because it's a bit smaller than the standard 5/8. It offers a bit less water pressure than normal. It's also made of FDA and NSF-certified materials so it's great for anyone who needs a drink during yard work or playing.
You can choose between two fittings. The chrome-plated brass is lead-free, or you may choose stainless steel. It comes in 25, 50, 75, or 100 feet.
The hose itself comes in four colors so you can choose from espresso, cranberry, olive green, or eggplant to coordinate it with your garden decor.
If you'd rather have a larger diameter in the same material, you can get the 500 Series in 1/2 inch or the 600 Series in 5/8 inch.
All Water Right hoses come with a 30-day money-back guarantee and a limited 5-year warranty. They're made in the USA.
If you're looking for a complete watering system without having to build one yourself, this could do the trick. It's a neat setup. It includes a reel to keep your hose out of the way when you're not using it, which is half the battle.
The hose is 82 feet long, which should be plenty long enough for most people. With the 6.5-foot leader hose, it's a great way to eliminate having to choose between 50 or 100 feet.
It's 9/16 inches in diameter, giving you a bit less diameter than the standard 5/8. And it also comes with a seven function nozzle, making it even more adaptable to your individual needs, whatever those may be.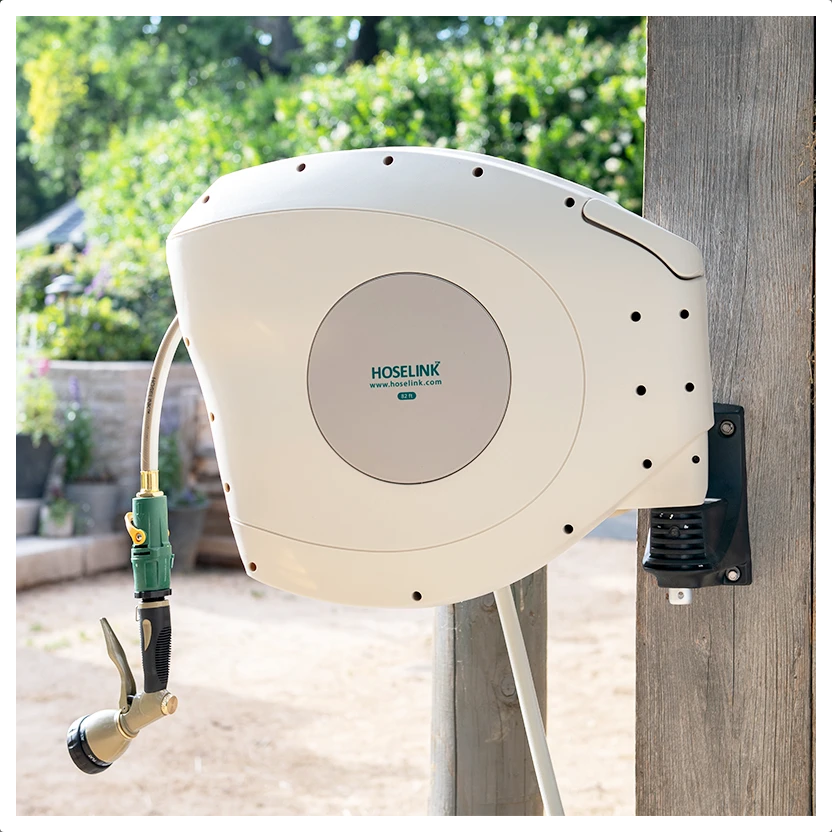 After mounting the reel, you can swivel it 180 degrees, giving you great access at all angles, no matter where you are in the yard. Plus, with stop anywhere technology, you can unroll the hose and stop it where you need it before it gets out of control.
The reel seems easy to install and use and it retracts easily with automatic rewind. It holds up well over time and the whole thing only weighs 30 pounds, which seems like a win for all of the equipment you get.
Both the hose and the reel are made of PVC and polypropylene. It's not food grade, so don't fill up Fido's food bowl with it or let the kids get a sip of water after playing flag football in the yard.
While the reel protects the hose in extreme weather and the set is very nice, the hose is built into the reel and can't be replaced. It does; however, come with a two-year warranty.
If you need a heavy-duty hose that's tough enough for more jobs around the house besides just gardening, take a look at Craftsman. You can wash the car, power your pressure washer, or keep this hose outside all winter and not worry.
Landscape professionals pick this hose a lot because they need something that will withstand commercial applications like mixing cement. They also need something that can stay outside all the time in all types of weather.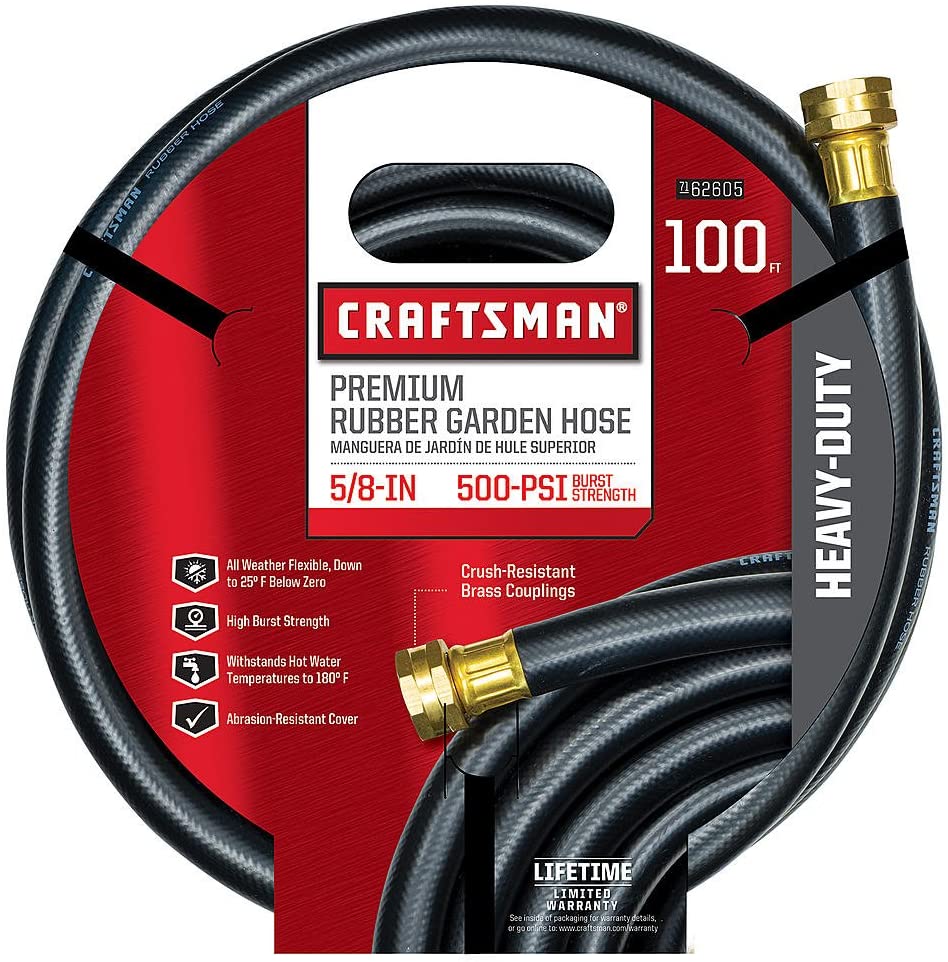 The fittings are made of brass and the hose is made of a rubber vinyl compound that will withstand -25 to 160°F. It's not food safe, but it's about as durable as you'll find anywhere.
It may look aged after enduring the elements, but it will still look as good as ever. Don't quote me on it, but as long as the fittings remain intact, you can run this hose over with a car and it would never bat an eye.
As is the case with all Craftsman products, they include a lifetime warranty that covers literally everything, including – you guessed it – running over it with your car.
With a plain black, rough exterior texture, it may not be glamorous, and the color may rub off on your hands, but it'll get the job done. It comes in the standard 5/8 inch diameter and 25, 50, or 100 feet.
This soaker hose can offer deep moisture to your most delicate plants that don't like to be sprayed often. It's flat and flexible, so it's easy to navigate through your planters or bury in the mulch. Keep in mind that a covering too heavy may affect performance.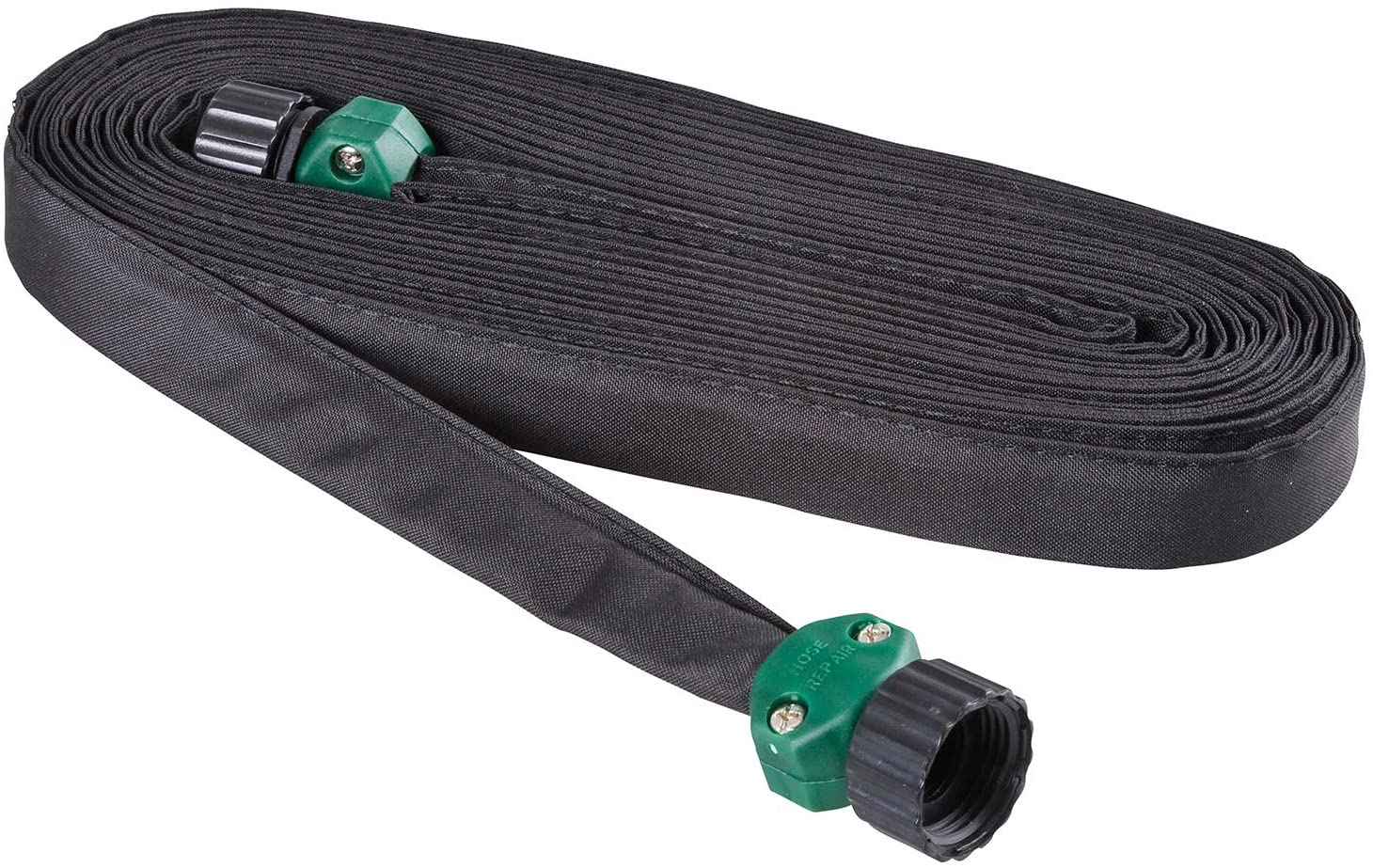 The design also makes it easy to drain, fold, and store when you're done. The fitting size is 3/4 inches and it comes in 25, 50, or 75 feet. You can also remove the cap to attach multiple hoses.
It's made of polyester, ABS plastic, and PVC and comes with a two-year limited warranty.
For a sprinkler hose that will water your new grass or a long narrow strip, this hose is a versatile choice because it can also be used as a soaker hose. Use it with the sprinkler side up like a sprinkler hose or the sprinkler side down as a soaker hose.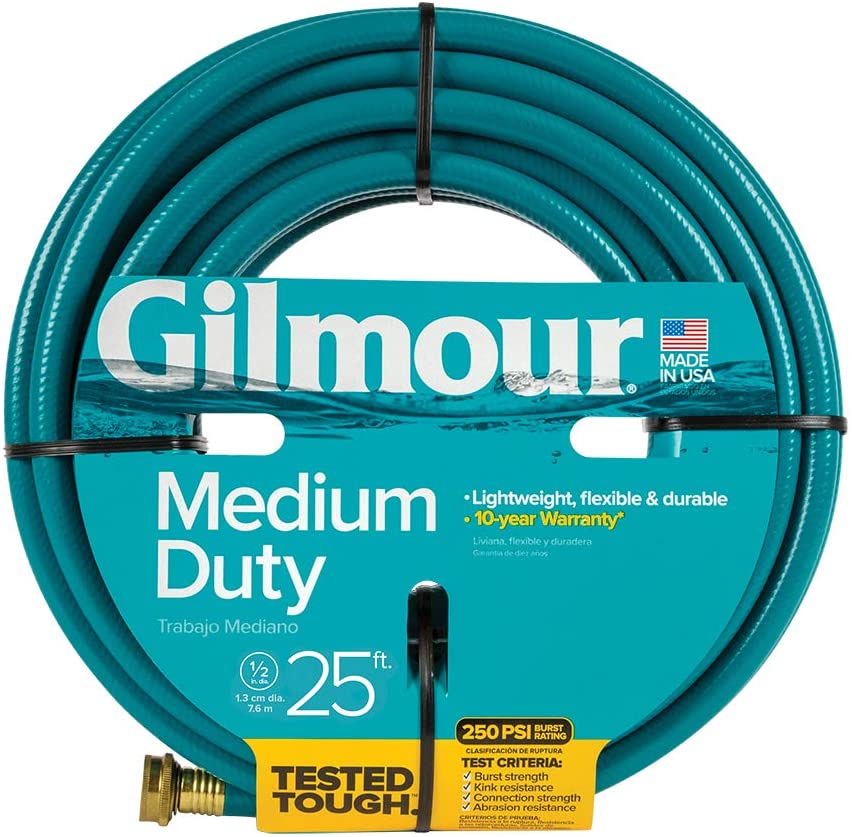 While it's not quite as flexible as the Melnor soaker hose, it's more sturdy and durable. It's also made from recycled plastic, which makes those ecologically-minded individuals happier.
It has the potential to spray a full 5 feet on both sides of the center sprinkler at full power.
The fittings are plated with nickel, the diameter is 5/8 inches, and it comes in 50 feet. You can link three hoses at a time and it comes with a lifetime warranty.
FAQ
If you're shopping around for a new garden hose and you're wondering what to get, these frequently asked questions may help you decide.
Question: Which is the best garden hose brand?
Answer: You'll find more garden hose brands than you can count, and depending on where you shop, you'll also find the store brands, too. However, some brands are more highly rated than others.
For instance, Craftsman and Water Right are two of the most highly rated garden hose brands you'll find. Melnor, Orbit, Aterod, and Tardigrade are also excellent. However, you will also want to choose a brand that makes the style that works for you.
Question: What is the best kink free garden hose?
Answer: While Flexzilla is one of the most highly rated kink-free garden hoses on the market, there are others. Among the best kink-free garden hoses you can buy are NeverKink Commercial Duty Series 4000, MaxFLEX by Scotts, Tuff-Guard by JGB Enterprises, Forever Garden Hose by Flexon, and Extra Heavy Duty NeverKink by Green Thumb.
Each of these has its own advantages, so check them out to see if one might work better for you than another.
Question: What is the best flexible garden hose on the market?
Answer: The technology that makes expandable hoses is relatively new. Brands haven't been well established yet, so it's tough to say who's the best. However, what makes a flexible hose good, in theory, is its ability to expand and contract while withstanding wear and tear and water pressure.
It should be kink-free, self-draining, and lightweight. Hopefully, it's also made of quality materials including a latex core, a TPC core, and a nylon shell. So far, reputable brands include Aterod, Knoikos, Delxo, GrowGreen, TBI Pro, and HBlife.
Washing Away Your Worries
Rather than rushing out and grabbing the first hose, you find on the shelf, think for a second about what kind might suit you best. You'll get what you pay for in the long run, even if you have to spend a little more.
Nobody wants to mess with the frustration of kinks, attaching and detaching, or a hose that melts in the heat of the sun. Summer is supposed to be fun and relaxing, so keep it that way with a good quality hose that will do what it's supposed to do.
Your hose should bring you just as much joy as the flowers it waters. The only sweat you should be breaking is tanning out by the pool enjoying your flowers and maybe – just maybe – planting some more of them.