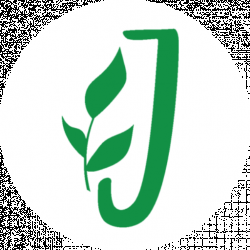 Latest posts by Jardin HQ Team
(see all)
It is challenging to set up and maintain a garden. You will be required to buy a lot of equipment, some of which are lesser-known. These minor equipment help the major ones function optimally and enable you to get the best out of them for your garden's good. One essential piece that helps spread water across different parts of your garden efficiently is the garden hose splitter, which is why today we'll tell you how to find the best garden hose splitter.
You will find several vendors selling garden hose splitters, and we will highlight some of the top options in the market and let you select the best.
Read on;
What is a Garden Hose Splitter?
This is a piece of equipment that lets you connect two or more hoses to your primary water supply. If you have one tap in your garden, you could connect a garden hose splitter and have two or more outputs.
This lets you handle multiple tasks that need water; for instance, you could water different parts of the gardens and finish the job in half the time you usually do.
Factors to Consider When Choosing a Garden Hose Splitter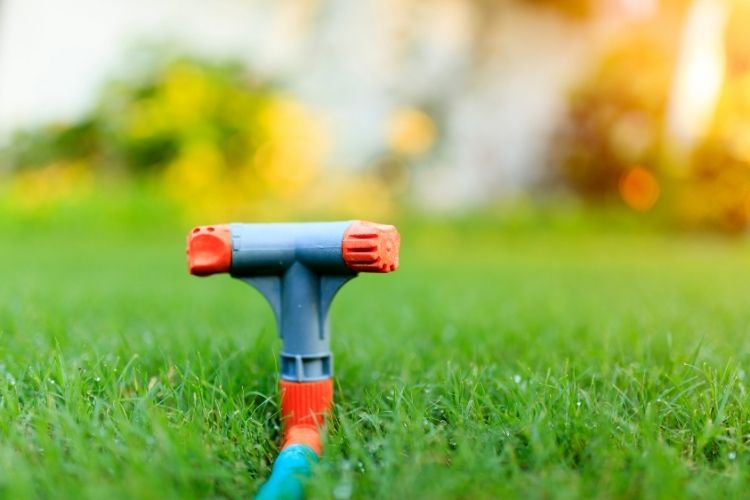 Number of Channels
This is the number one feature to check out in a garden hose splitter.  Many output channels do not directly make the garden hose splitter better as they affect the pressure. The input point pressure should be considered, as it should be high enough to sustain the output pressure.
In simple terms, having too many outputs can significantly reduce the pressure, which is not ideal for some applications, like watering plants.
Material
Always watch out for the material used to make the garden hose splitter. This will define how long it will last and some of the environmental conditions that can affect it. Most splitters are made of plastic with metallic parts.
Plastic might not survive impact but can last longer since it does not corrode when compared with other metals. All types of material have their good and bad and understand this before you pick one.
Cost
Look out for the average cost of garden hose splitters before setting a budget for it. Luckily, they are not very expensive, and many people can afford to buy a good one. However, the cost of a garden hose splitter is directly related to the quality, and expect to spend a little more on the heavy-duty brands that will serve you for a long time.
If you are operating on a stringent budget, you should also find a low-end model that will meet your requirements. Do not just expect them to last the test of time like the high-end ones.
Warranty
Check any garden hose splitter to see if they have a warranty. Some manufacturers will oversell their product and give you high hopes, only to find it breaking down after a few weeks.
The good thing is that these splitters last a long time, and you will find them with two- or three-year warranties. A warranty is good since it shows how confident the manufacturer is about the quality of their product.
Best Garden Hose Splitter: Our Top 7 Picks
2ways 2x Metal Body Hose Splitter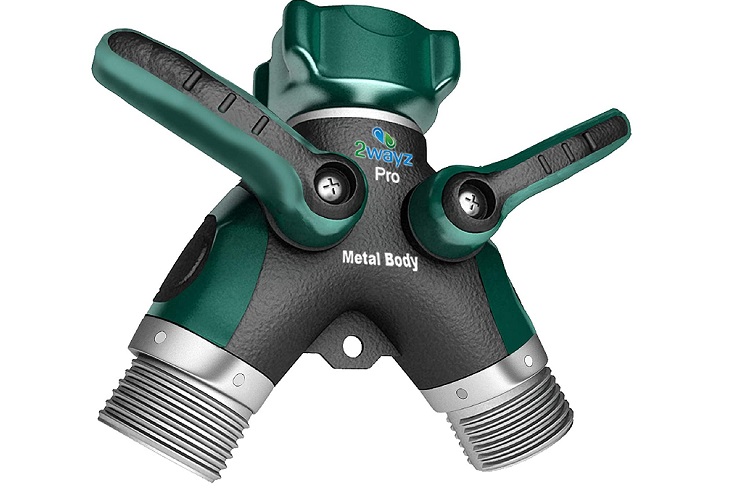 This is our top choice owing to its ease of installation and durability. The input and output streams are made not to fall no matter the amount of impact they get.
The overall design consists of two faucets joined together with metal bolts. This structure makes it hard to disconnect the two parts even with extensive use. The neck is made with threads that hold the other parts very well. All this makes the operation of the garden hose splitter efficient and easy to use.
Besides the neck structure, you can use the protruding handles to shut the splitters ON and OFF. This lets you decide whether you want to use one of the splitters or all of them. The rubber enhancement makes it easy to fasten and unfasten the splitter's different parts, a plus for people with stiff hands and arthritis. Besides, you do not need any tools to set up this splitter.
Just as it is with other top-rated splitters, this model can rotate 360 degrees without unfastening any parts, something that improves the application since gardeners can pull the hose in any direction.
Pros
Simple to set up
Durable
No leaks
Cons
The neck joint is not very strong since it is not made of metal.
Kasian House SLI200613 Hose Connector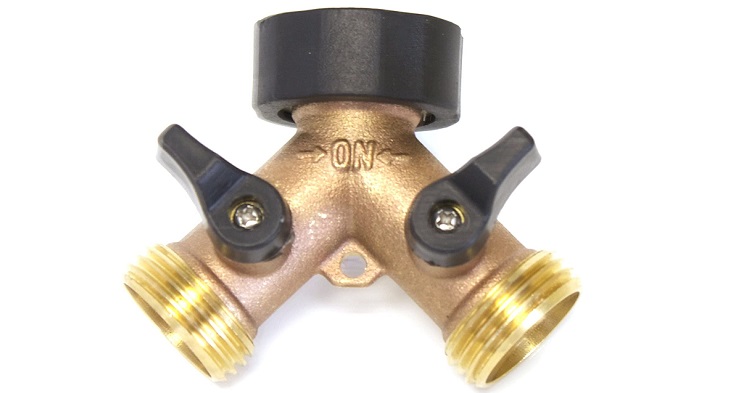 This is a garden hose connector that lets you connect two hoses at once. It is easy to set up and use, and the two hoses can be controlled differently. You don't have to use any tools to set up as your hands will be enough.
Kasian house splitters are made of heavy-duty brass and will last a long time. The package comes with extra rubber washers that can help enhance the seals' tightness in case the original ones wear out.
The handles are comfortable, and they can be opened and closed without hurting your hands. The outlets' dimensions are designed to fit some of the common hoses, and unless you are using something special, your hose should fit in perfectly.
Despite the brass material, this piece of equipment only weighs .15 pounds and is almost negligible, in case you want to move around watering your garden.
Pros
Easy to install and use
Top-quality design
Durable, thanks to the brass construction
No leaks
Additional washes to enhance tightness if the current ones wear out
Cons
Might have lead
It can be hard to use if you keep it away for some time.
Morvat Heavy Duty Garden Hose Splitter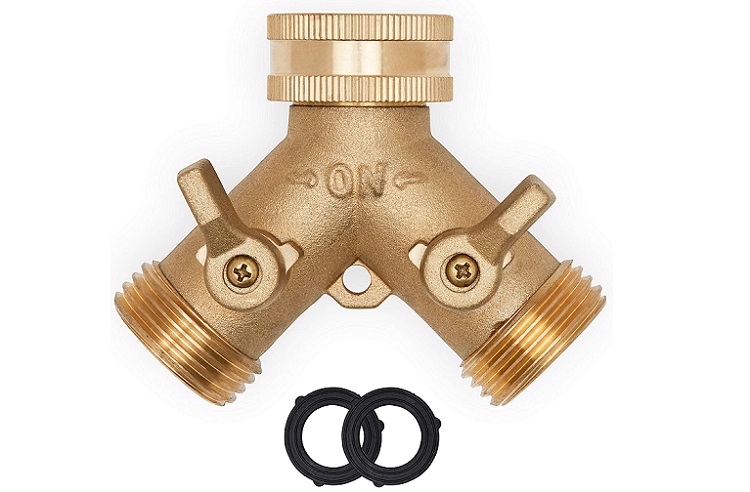 This model has undergone a massive transformation in the past couple of years, with the latest design coming out as strong as ever. If you need a splitter that lets you deliver water at high pressures, this should be your go-to pick.
It is a heavy-duty brass splitter with two tap outlets that let you utilize it for various applications. As a result, you do not have to switch between the two splitters as you can multitask efficiently.
The brass material used to make the splitter guarantees durability, and it should last the test of time and take impact comfortably. It can sustain high-pressure water applications and go through various climatic conditions without rusting.
One of the major concerns people share about garden hose splitters is about the leaks that develop over time. This is not an issue you will experience with this splitter, as the manufacturers have fitted it with high-quality valves that are tight enough to prevent any water from passing through. Besides, it is simple to set up and control the flow of water.
Pros
High-quality valves to prevent leaks
Easy to install
Very durable
Cons
Delxo Garden Hose Splitter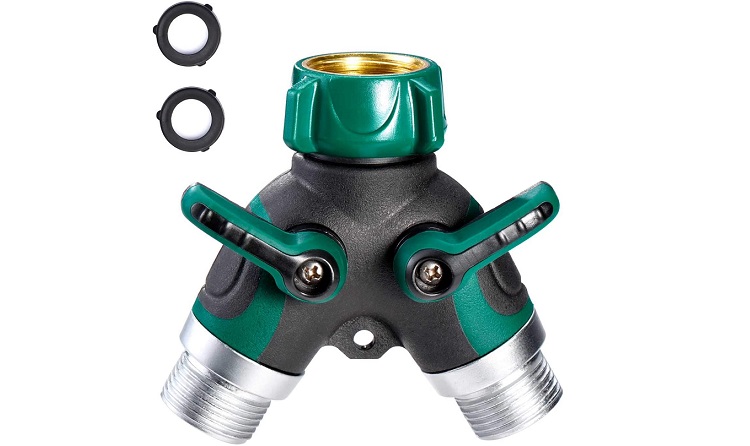 This is another garden hose splitter that is recently upgraded to add more metal to its body. It is well threaded and fully secure with a Y valve, easy grip, and two smooth handles. This collection of features make it more durable and easy to use.
The metal body is nicely coated with comfortable and colorful rubber to enhance the splitter's functionality and aesthetic appearance.
This splitter's ergonomic design makes it very reliable, and it won't fail you even in extreme conditions. The two spouts are connected using metal bolts and extremely fastened so that they can never be disconnected. The collar section is connected using threads that attach the two parts perpetually.
The rubber coating helps to open and close the valves easily, which is ideal for those with arthritis. The splitter can be rotated 360 degrees, which lets you use it on any part of your garden. It is resistant to weather conditions since the plastic coating shields the metal and prevents rust that can otherwise compromise its functionality. The metal in use is aluminum, which shows that rust is not a concern.
Pros
Metal body enhanced with plastic.
Not susceptible to rust
Unlimited moneyback guarantee
Cons
Reported to leak after some time
User-Friendly 4-Way Garden Hose Splitter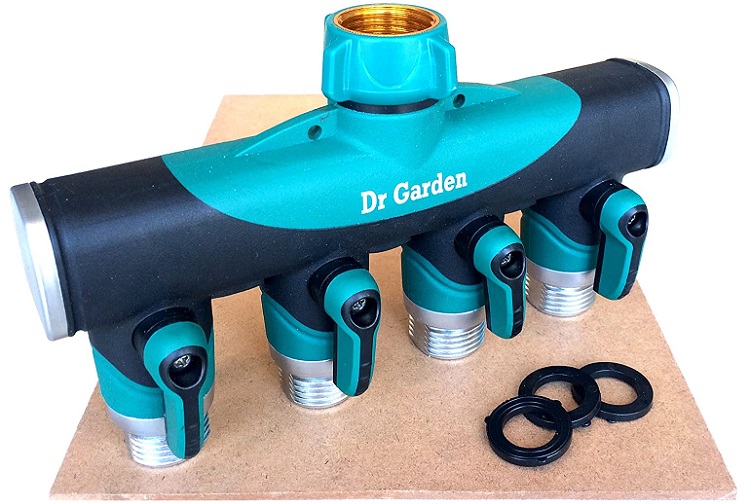 As the name suggests, this is a user-friendly splitter that lets you connect four hoses and get the most out of your primary water supply. Some of the common splitters you will find around are too intent on functionality and tend to compromise the user experience part of it, affecting people with stiff hands and arthritis.
This splitter is comfortable on the hands, thanks to its metal body laced with plastic and rubber. Its construction is very sturdy, assuring you durability. Also, it is rustproof and lead-free.
The splitter relies on the latest swivel connector technology, something most splitters have not yet adopted. This involves using a brass thread that makes sure that the hoses that connect to the outlet channels do not bend.
The technology also makes the splitter more durable, thanks to the threads. The outlets can be opened and closed using levers, which are easy to use than the common valves seen on many splitters.
Pros
Additional four channels
Levers are user friendly
100-percent money-back guarantee
Cons
Glorden Heavy Duty 4-way Splitter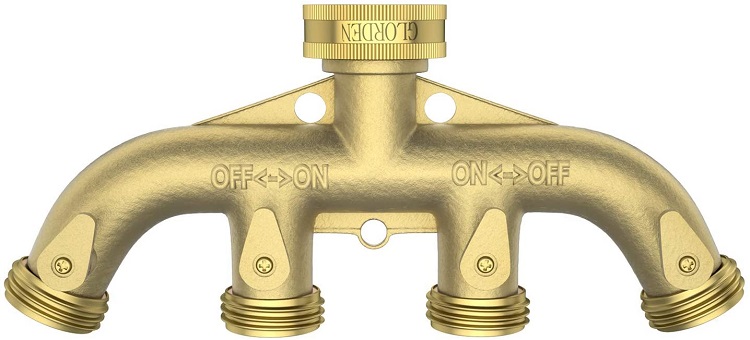 Everyone looking for a hose splitter aims to find a top-quality one, does not leak, rust, and has maximum water pressure. These are just the features that define the Glorden Heavy Duty 4-way Splitter.
This piece of equipment has four outlets, allowing you to extensively utilize a single water point in your garden. It is purely made of high-quality brass, assuring you of durability and efficient operation for a long time. Brass is a known tough metal and can withstand climatic conditions such as snow, rain, and sunshine. It is not vulnerable to rust and corrosion.
All the four outlets have their own valve control systems that let you control water flow in each outlet. This aids in convenience as you can adjust and control the flow based on your needs. The brass material is eco-friendly, with the rubber handle adding on-to the grip when using it.
Pros
Four-way outlet
Individual valve control
Durable nozzles
Cons
IPOW Solid Brass 2-Way Splitter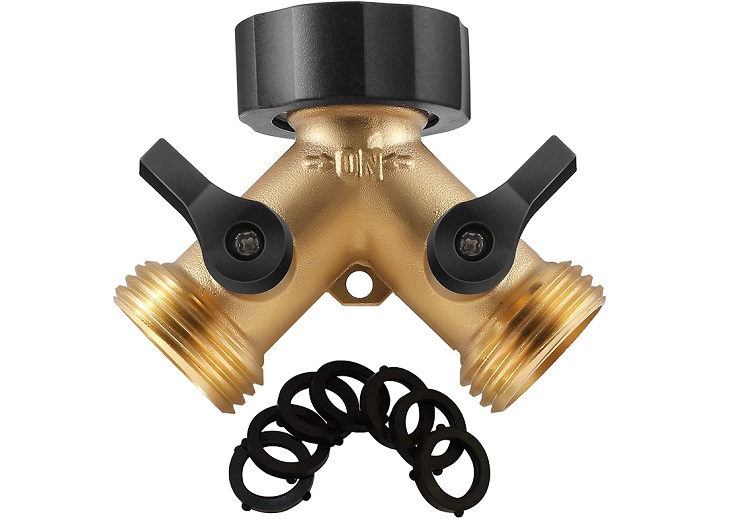 This is a simple Y-shaped brass garden hose splitter. It is lauded for delivering dual water channels at sufficient pressure to sustain your applications. It has a sturdy and solid structure that assures durability and makes it function perfectly well.
The splitter does not have any leaks, even with lengthy use under high-pressure applications.
The brass material is resistant to corrosion and the effects of weather elements such as rain, snow, and sun. The splitter is easy to connect, thanks to the wide black grips and valves made to operate perfectly.
Pros
The swivel connectors are simple to use
Solid structure
Fits most common hoses and pipes
Cons
Frequently Asked Questions
Question: How does a garden hose splitter work?
Answer: The principle of operation of a garden hose splitter is very straightforward. It attaches to your primary water supply, which could be in or outside the house. On the outlet side, you should attach the hoses, depending on the number. Depending on the model, the outlets should have individual on and off valves that let you control how water flows in the outlets.
Question: Can you connect two garden hoses?
Answer: This is possible, but it depends on the fittings. Luckily, most of these garden splitters are made using standard dimensions, and you can screw a male hose's connector to a female one. You can also find connectors that will join two garden hoses if the connectors are not standard.
Question: Are all hose connectors the same?
Answer: All hose connectors are the same size, but the hose's internal dimensions are what bring the difference. Typical fittings can either bet five or eight-inch (internal diameter), with a thread of 11.5. The difference in materials also makes the difference, and at times, you might require to buy third-party coupling to help them attach.
Bottomline
Garden hose splitters are not complicated pieces of equipment, and we have seen very impressive models that have received a ton of positive reviews from customers who have used them. Most of them are sturdy, durable, and can withstand significant impact while serving you perfectly for a long time.
Be mindful of the tips to watch out for when shopping for a garden hose splitter, as these are what will guide you when selecting the best one. From the lot listed here, the best pick is the 2ways 2X Metal Body Hose Splitter due to its durability, ease of use, and overall design.