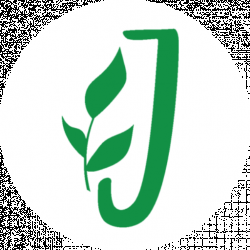 Latest posts by Jardin HQ Team
(see all)
When it comes to gardening, there are always big bulky things to carry around the yard. Walking back and forth with armfuls of seeds, sod, and gardening tools is probably why some clever person invented and marketed garden carts. I can't imagine it was very difficult to convince everyone else they needed a garden cart too. The problem is, invention and marketing have not slowed down. Now there are so many different types, sizes, and brands of best garden cart models that it makes selecting the best one a bit difficult.
This is why we have pulled together a list that features all the best garden carts. You can use this list as a reference point when deciding which garden cart on the market is best for you. To decide what makes a garden cart the best, we will consider the following features:
Price point
We want to find a garden cart that is inexpensive but not cheaply built. It is better to spend a little extra money in order to get a sturdier, longer-lasting cart.
Weight
Garden carts are built to carry heavy items and we need to keep in mind that a human must push or pull these items and the cart through a lawn.
If you get a cart that is too heavy, you may not be able to move it; however, if you get a cart that doesn't hold the weight you need to carry, it won't be of much use either.
Durability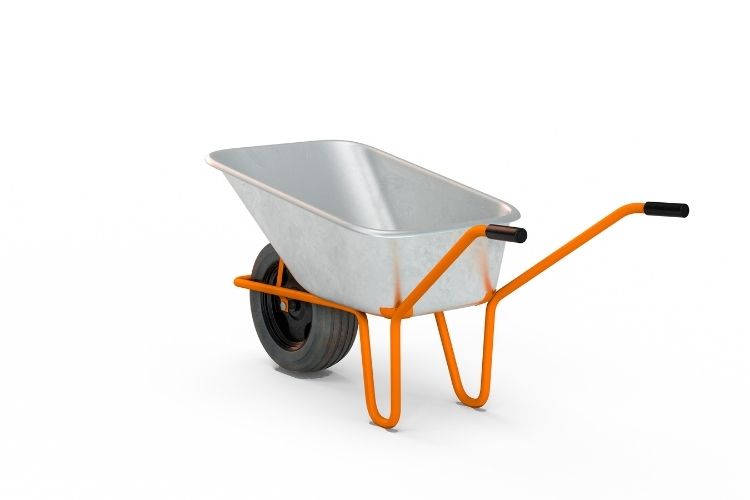 We definitely want a garden cart that is durable and will hold up to working long strenuous hours outside.
Tires
These are essential features of a garden cart. Without them, the cart doesn't work properly. We need to look at the different types of tires and decide which will best suit our gardening needs.
Pneumatic Tires
These are the type of tires that you pump air into. They are better for maneuvering across grass and soil. Their downside is that they can wear, tear, and leak easily.
Flat-free tires
These are the type of tires that are made of solid rubber and do not require air pumped into them. They work fine on soil and grass just like the pneumatic type. Their downside is that they do not provide as smooth of a ride as the air-filled tires.
Plastic Wheels
These are the type of tires that are best suited for light-weight carts and wagons. They work best on surfaces that are smooth or paved. They can also crack and warp when temperatures are extreme. Because they have several downsides, this tire option is not as highly recommended.
Alongside the type of tires used to construct a garden cart, there is also the consideration of how many tires are on the cart. The number of tires on a cart will provide the cart with maneuverability for certain terrain and situations.
Four-wheel carts
This is the most stable type of cart. They can come in a pushcart version or a pull cart version.
Three-wheel carts
This type of cart is electric. They have the stability and maneuverability of a four-wheel cart but with added power.
Two-wheel carts
This type of cart is easy to steer and can be pushed or pulled as the situation requires.
Handle
This feature may not seem like much, but just consider moving a garden cart a few yards without one, or, with a broken one. We need to find a garden cart with a handle that will be easy to hold, maneuver, and store when not in use.
Versatility
We need a garden cart that can multitask. This should be a versatile and utilitarian tool that gardeners can use for a variety of tasks around their home and garden.
Now that we know what features to focus on, we can begin searching the different types of garden carts. So, let's begin investigating the best garden carts to meet your gardening needs.
Dump Carts
Dump carts are similar to dump trucks but scaled down for use in the garden. These carts can be used to haul almost any gardening item to-and-fro, and then, it dumps the item wherever you choose. Dump carts are particularly perfect for hauling and stacking firewood, cement bags, or leaf piles. Honestly, there is so much that these carts can do that they may be the ultimate garden cart.
Best Four-Wheeled Dump Cart
Gorilla Carts Heavy-Duty Garden Poly Dump Cart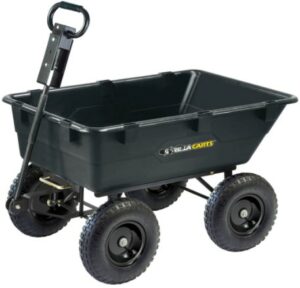 Price point
This is a very reasonably priced dump cart from Gorilla Carts. With all the use it will get in your garden, you will be sure to get your money's worth out of this garden cart.
Weight
This dump cart weighs 68 pounds. That's approximately the same weight as an Irish Setter.
While this is not extremely heavy, it is something to consider if you are not able to push or pull a lot of weight. Remember, you are likely adding weight to the cart with loads of gardening material, so 68 pounds is the lightest this cart gets.
Durability
Designed and built to carry heavy loads, this dump cart is meant to be a long-lasting and durable garden tool. It also features a rust-resistant poly bed and a 1-year limited warranty.
While there is no guarantee that any item will last a certain amount of time, this cart is built with durability in mind.
Tires
The tires included with this cart are 13-inch pneumatic tires. This means that they are susceptible to leaks and holes. However, pneumatic tires are easier to roll through lawns and gardens than the other options.
Handle
The handle design of this cart is amazing. It can either be used to pull the cart by hand or it can be hooked up to a lawn tractor or ATV. With the cart's load capacity at 1,200 pounds, being able to attach it to a motorized vehicle is certainly going to help transport it.
Versatility
This dump cart works for almost any kind of garden and landscaping project. It is versatile in that it can be pulled by hand and by motorized vehicle, it easily dumps the cart bed, and it hauls up to 1,200 pounds of material.
Pros
Rust-resistant poly bed
Steel frame
Padded convertible handle
Can be pulled by hand or by a motorized vehicle
13-inch pneumatic tires
1-year limited warranty
1,200-pound hauling capacity
Quick-release dump feature
 
Cons:
Weighs 68 pounds without any items inside
Comes with pneumatic tires that may leak
Assembly can take several hours
 
Best Two-Wheeled Dump Cart
Polar Trailer Utility Cart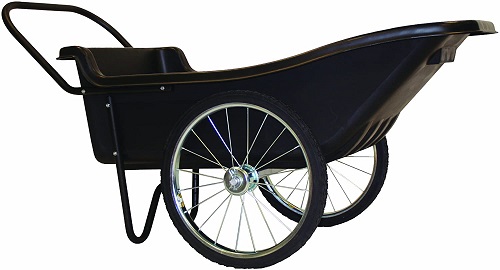 Price point
This cart is an investment, but if you are an avid gardener, it could be your best and favorite tool.
Weight
At 49 pounds, it is not going to be a significant amount of weight to push around. But you should consider what you may be carrying and how much your back can handle.
Durability
A cart like this one is designed to carry heavy, dirty, and bulky items. It is built to take a beating and last.
Tires
The solid rubber tires that come with it are sure to add to the durability factor. They may cause a few more bumps along the way, but if you don't have to worry about a flat, it's alright.
Versatility
This cart by Polar Trailer is simply made for carrying loads that need to be dumped at a site. While it is able to carry many different types of materials, it does not offer much else in the way of versatility.
Pros
Solid rubber tires
Hauls nearly any material
Easy to dump by hand
Easy to assemble
 
Cons
A pricier option
Not designed to be towed by a motorized vehicle
 
Best Electric Cart
Snapper XD Cordless Electric Self-Propelled Utility Cart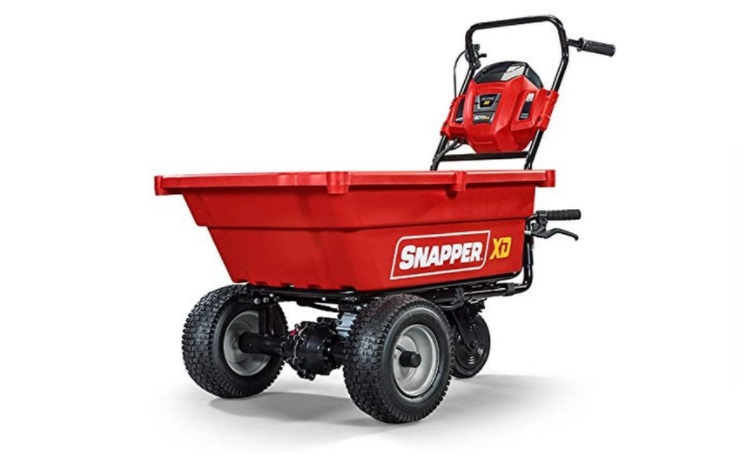 This is the type of garden cart you may want to purchase if you have a large lawn. The battery-powered motor will certainly keep you from overworking your back as you move heavy loads. Here is an Electric Cart you'll love: Snapper XD Cordless Electric Self-Propelled Utility Cart
Price point
Any electric cart is going to be pricey, but the help they will give in the garden is well worth the price.
Weight
This cart weighs 86.5 pounds, but since it is self-propelled, weight should not be a big issue. Unless the batteries run out while the cart is parked in the yard, you shouldn't need to push it anywhere.
Durability
It is built with a reinforced frame and a heavy-duty transmission that will work hard without breaking down quickly.
Tires
Electric carts come with three tires for stability and maneuverability. This particular cart comes with turf tires to better move across the grass without destroying it. The rear castor tire can be locked into place with a foot brake.
Handle
The handles of this cart are ergonomic and made of rubber for easy handling.
Versatility
Doubles as a tow-behind cart that can be hooked to a lawn tractor.
Pros
Comes with turf tires
Self-propelled for easy hauling
Comes with a dump bed
Comes with ergonomic handles
Can be hooked to and towed by a lawn tractor
Cons:
A pricier option
A battery must be charged to work properly
 
Best Flatbed Cart
Gorilla Carts Heavy-Duty Steel Utility Cart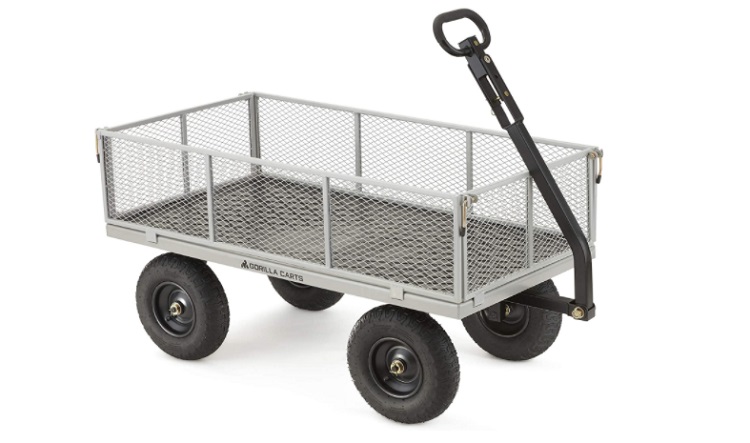 These are the type of carts that are designed for carrying things that you don't want to tip over. Items such as flower pots, flower trays, and lawn decorations are just a few examples. Many flatbed carts come with removable sides so that larger items can still be hauled on them. Check the Gorilla Carts Heavy-Duty Steel Utility Cart
Price point
This cart is reasonably priced, especially when you consider all the hauling it can do.
Weight
Weighing in at 61.3 pounds makes this a sturdily-built cart with only minimal heft. Do keep in mind that this is the minimum weight of the cart and it meant to carry much more weight.
Durability
The steel mesh bed is designed and built for durability. Its height will keep it from scraping the ground and its strength will keep it from falling apart when bumped into things.
Tires
Four 13-inch pneumatic tires accompany this flatbed cart.
Handle
The handle for this flatbed cart is padded and can be pulled by hand or towed with a lawn tractor.
Versatility
Flatbed carts are versatile by design. Almost anything can be carried in a flatbed cart and since this cart has removable sides, loading and unloading are significantly easier.
Pros
Easy to assemble
Good ground clearance
Removable sides
1-year limited warranty
Can be pulled by hand or towed by a lawn tractor
Cons
Best Foldable Garden Cart
Timber Ridge Camping Wagon Folding Garden Cart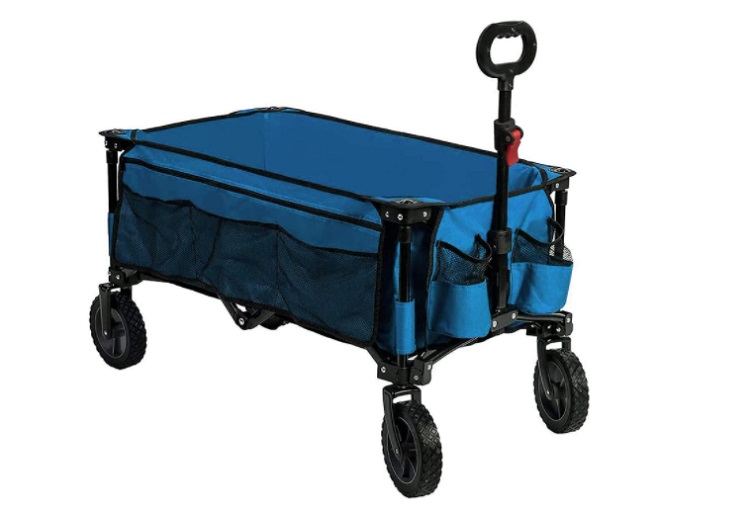 This type of cart is designed for space and storage. Foldable carts like Timber Ridge Camping Wagon Folding Garden Cart are ideal to use while shopping for garden supplies and transporting garden supplies.
Price point
This cart costs a very reasonable amount, especially when considering how versatile it is. You are going to be able to use this foldable cart for so many things besides gardening that it is well worth the price.
Weight
With a weight of only 22.8 pounds, this cart is definitely built for travel and easy hauling. Amazingly, it can support up to 150 pounds.
Durability
Unfortunately, the durability of a foldable garden cart is minimal. This is because it is made of materials that can bend and tear easily.
Tires
This cart comes with four hard plastic tires that rotate 360 degrees. This means that the cart is not adept at handling rough lawns, but is designed for smooth or paved areas.
Handle
The extendible handle on this cart is built for pulling and storing.
Versatility
A flatbed cart like this is incredibly versatile since it can be used to carry so many different types of materials. Its versatility disadvantage is that it cannot be rolled on all surfaces.
Pros
Lightweight
1-year manufacturer's warranty
Easy to store
Easy to set-up
Reasonably priced
 
Cons
Tires cannot be easily rolled across rough surfaces
Foldable materials may rip, bend, or break
 
FAQs
Question: What is the difference between a garden cart and a wheelbarrow?
Answer: While garden carts and wheelbarrows are both designed to do similar tasks, they are slightly different tools. Here are some of the differences to help distinguish them from each other.

Garden Cart:
• Has between two and four wheels
• Has a low center of gravity
• Usually has a flat and wide bottom with vertical sides

Wheelbarrow:
• Has one or two wheels in the front
• Has two straight handles in the back
• Is shaped like a half-barrel with high sloping sides and a rounded bottom

Best Wheelbarrow: WORX Aerocart 8-in-1 Wheelbarrow
Pros
• Lightweight at only 49 pounds
• Can be used in eight different way with available attachments
• Flat-free tires
• Two wheels for extra stabilization and easier pushing

Cons
• Some attachments are purchased separately
• Not constructed with the most durable design or materials
Question: What is the difference between a cart and a wagon?
Answer: It used to be that these were considered two different, but similar items that did similar work. Today, they are terms that are interchangeable. A cart and a wagon in the modern sense are referring to the same thing.
Question: What are some other ways to use a garden cart besides gardening?
Answer: Since garden carts are built to carry loads, you can use a garden cart to carry anything, even if it is an item that has nothing to do with gardening. Consider using your garden cart for any of the following:
• Hauling groceries
• Towing kids or pets around a park
• Storing your camping or beach supplies
Concluding Thoughts
Think of a garden cart as a gardening assistant that is happy to do all the heavy lifting and storing.
If you have a garden or a large yard, investing in a good quality garden cart can make your time outside more pleasant and less backbreaking. So, now you know all the reasons why you should get a garden cart and what the best garden carts on the market offer.