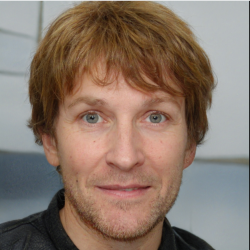 Latest posts by John Hughes
(see all)
Aeroponics is a soil-less method of plant cloning, which uses an air pump and an aeroponic cloning machine. These machines mist the plants using a nutrient-rich solution from above. The system is highly efficient and precise, allowing you to get many cuttings from just one mother plant. 
How do you find the best aeroponic cloning guide? In this blog, we will look at finding a perfect guide for your aeroponic setup and how to get the best from it.
What Is Aaeroponics Cloning?
Aeroponics cloning is a revolutionary new technique that uses air and pumps to suspend a rooting medium above a water reservoir. Rather than sitting in water, air-suspended roots are exposed to more oxygen, promoting faster and healthier growth. 
Plants will grow faster and healthier with more control over their environment — you can even customize your nutrient blend to optimize growth.
Benefits Of An Aeroponics Cloning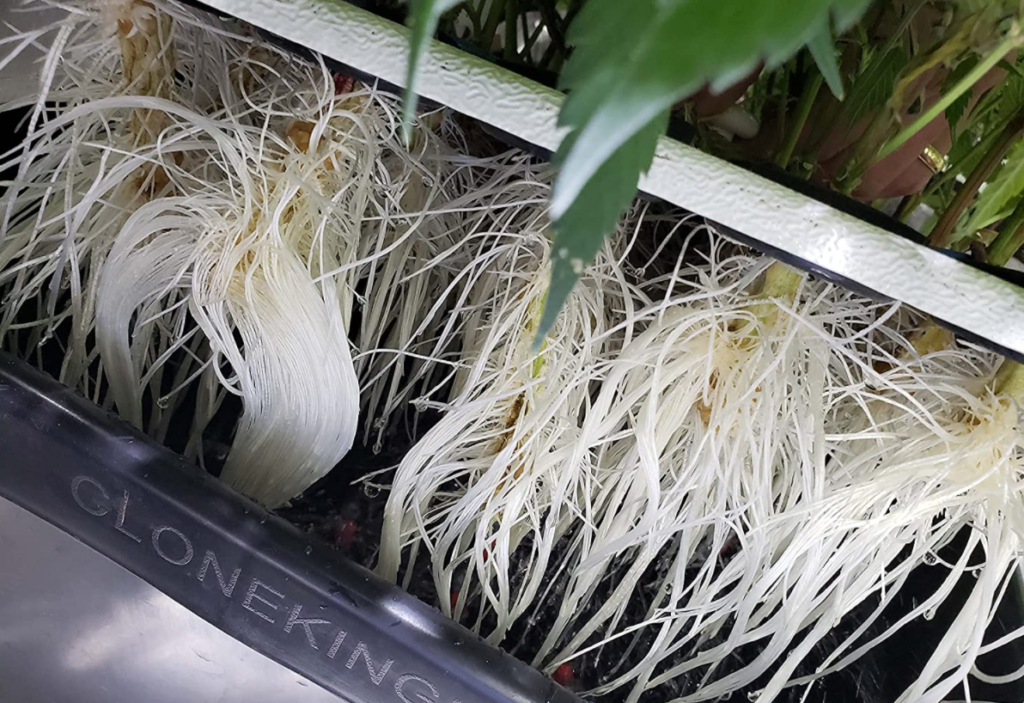 As more people become aware of the benefits of aeroponics, many are wondering how the process works. Basically, aeroponics is the cultivation of plants in a nutrient-filled environment without the use of soil. In other words, it is considered an alternative to hydroponics.
The apparent benefits of aeroponics cloning are that it produces better yields and is easier to maintain than traditional methods. However, there are some other benefits of aeroponics that would interest anyone interested in getting started in the hobby.
Better Nutrient Uptake
The roots of plants grown in aeroponic systems are exposed to the air, allowing nutrient absorption from a nutrient solution via a mist or dripped directly on the roots. This leads to faster growth and better nutrient use than traditional systems, where the roots are in the soil. Aeroponic growers do not need soil, and they can quickly determine what nutrients the plants need for optimal growth.
Faster Growth
Faster growth means you will be able to grow your plants in a short time. If you grow your plants in pots, they can take up to a year to reach harvest.
With a system like this, it is possible to get the same crops in half the time. The method also allows for the specialization of individual plants. For example, if you are growing herbs, you could concentrate on just one or two kinds, allowing them to mature more quickly and to have a better flavor.
Easy To Monitor Plant Health
Since the plants are in a controlled environment, monitoring the plants' health is much easier. This is important because you want to make sure the plant is getting everything it needs. By cloning, you can check close to the leaves to see if anything is wrong. Your plants will be healthier, and you will be able to detect any nutrient deficiencies before they affect your yield.
Fewer Pesticides Meaning Less Pollution
Aeroponic growing systems are a great way to minimize pesticide usage within a commercial greenhouse. Because there's no soil involved, pests and diseases won't be able to thrive as quickly. That means you can keep harmful pesticides to a minimum, increasing your yields and minimizing threats to both workers and customers.
Uses Less Fertilizer
With the controlled environment, fertilizer absorption is fast. This minimizes the need to apply fertilizer more often, reducing the environmental impact. In addition, you do not have to exert more effort or expense in buying fertilizers.
It Gives Better Quality Yields
Aeroponics cloning gives better quality food. The roots can absorb more nutrients, which gives your plants the minerals they need. They also grow faster, so it does away with instances where you have to wait for harvest time. With this method of gardening, you can have fresh produce in just a short time after planting. 
Consumes Less Water
In contrast to most gardening methods and food production, aeroponics uses 98 percent less water than conventional techniques. Since plants don't require soil or a rooting medium, aeroponic farmers use about 99 percent less water than in-ground farms and about 78 percent less water than greenhouse farming.
The Best Aeroponic Cloning Tips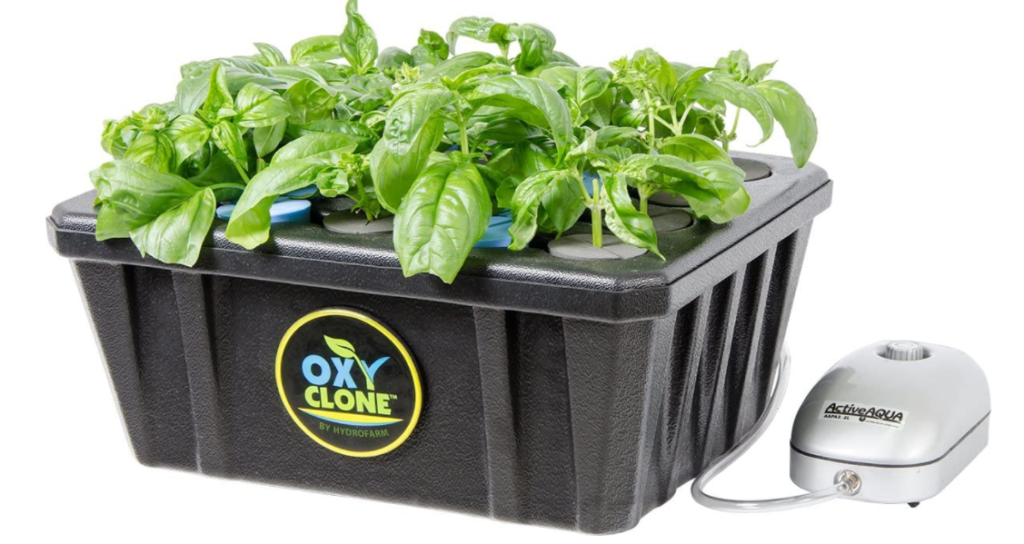 Choose The Ideal Mother Plant
When it comes to aeroponic cloning, the most important plant is the "mother plant." Knowing how to choose a good one will make all the difference in your overall success. The mother plant is the root of production. She must be healthy and free from any microbial or fungal infections. Color and aroma are also crucial in raising plants for specific cloning purposes.
Use a Clean Cloning System
Cleanliness is imperative in the aeroponic cloning process. Clean your pump, manifold, sprayers, base, lid, and cloning collars at least once a week to ensure success. Everyday household items such as hydrogen peroxide, bleach, alcohol, and castile soap can help clean quickly. Don't forget to back scrub, rinse with lots of water, and dry your aeroponic cloner thoroughly after use.
Maintain The Proper Water Temperature
For successful cloning, the water needs to stay at a specific temperature. You can keep the water at that temperature by adding antibacterial or anti-fungal disinfectants into it. This helps with the temperature and reduces the need for using these disinfectants throughout the cloning process.
You will also have to prevent the water from getting stagnant. The water must be constantly changed so that it stays clean and healthy. A dirty tank is a breeding ground for harmful bacteria. The plant roots are susceptible to these microbes, and they could die as a result. For all these reasons, make sure you take some time and invest in a proper hydroponic cloning tank.
Use The Best Quality Premium Fills
When doing aeroponic cloning, you should not be satisfied with any of the average premium fills. Expensive but worthwhile, high-quality premium fills are still the best option to use. You will have faster root growth with a higher quality fill than if you used a low-quality fill. More robust root growth will result from thicker root strands.
This is another significant factor in the results of aeroponic cloning. A thick and healthy root strand will grow quicker than a thin one, resulting in faster clone development. The most effective way to get stronger root growth is by using high-quality nutrients. When you are cloning plants grown with high-quality nutrients, you will have access to thicker root strands.
Maintain The Right Conditions
For optimum results, ensure that you have the best-growing conditions inside of your home. Meaning that you need to ensure that you have the proper amount of light, fresh air, humidity, and temperature. All of these things play an essential role in making sure that your plants will develop properly. Without these things, it will be hard for you to get the results that you want.
Here are some additional tips.
Maintain the pH level of the water at 6.0

Use well-sharpened and sterilized cutting materials

Do not rush through the cloning process so that you  can avoid making mistakes

Minimize the use of additives as they may contain harmful chemicals which may harm your plants.

When taking stem cuttings, remove any extra leaves to allow the plant to focus on developing roots and not keep those leaves alive.
Five Best Aeroponic Cloning Systems According To Reviews
Clone King 36 Site Aeroponic Cloning Machine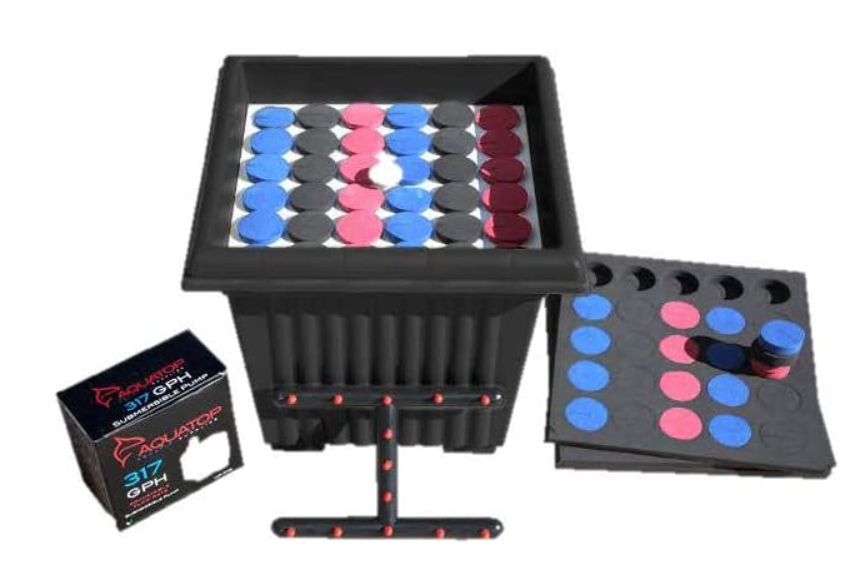 This kit comes with all the supplies you need to start your very own hydroponic garden. The kit includes a complete 36 site system, reservoir, lid, pump, and inserts. It has 13 spray heads for coverage which is unmatched in a system this size. This is perfect for those of us looking to grow our produce in the comfort of our homes. This kit includes easy-to-follow instructions that will make cloning a snap. Plus, expect 100% success rates.
Pros
It's quite an affordable option

Easy to learn and operate for first-timers

It comes with all you need to do your cloning
Cons
They can do a lot better on their instruction manual
OxyClone OX20SYS 20 Site Compact Recirculating Cloning Propagation System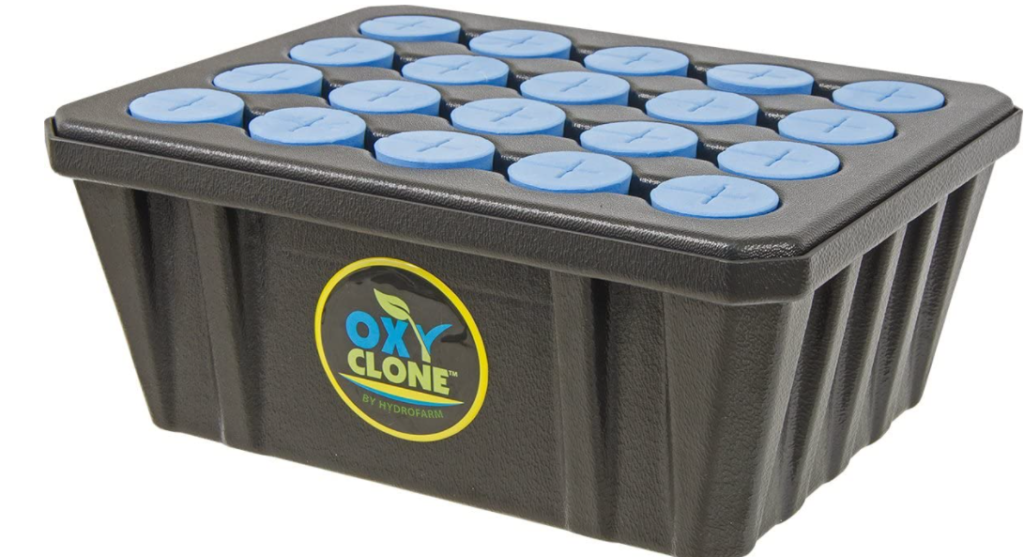 This kit will let you grow 20 plants at once. Plant cuttings in any of the 20 chambers, and the system will deliver high oxygen levels to each section. The attached venturi valve also draws in air bubbles while the submersible pump delivers turbulence to create an optimal environment for various plants.
The kit includes a 20-site reservoir, a 20-site lid, and a supply of oxyCERTS for propagation. It also comes with a single-outlet 3.2 L/minute Active Aqua air pump, 160 GPH Active Aqua submersible pump, and 3ft of 0.25-inch tubing. The kit is made of a robust and durable plastic and has a water capacity of 1.75 gallons.
Pros 
The aqua pump provides oxygen and water

Low risk of clogging or leaking
Cons
Some users complained of a defective pump
TurboKlone T24D Cloning System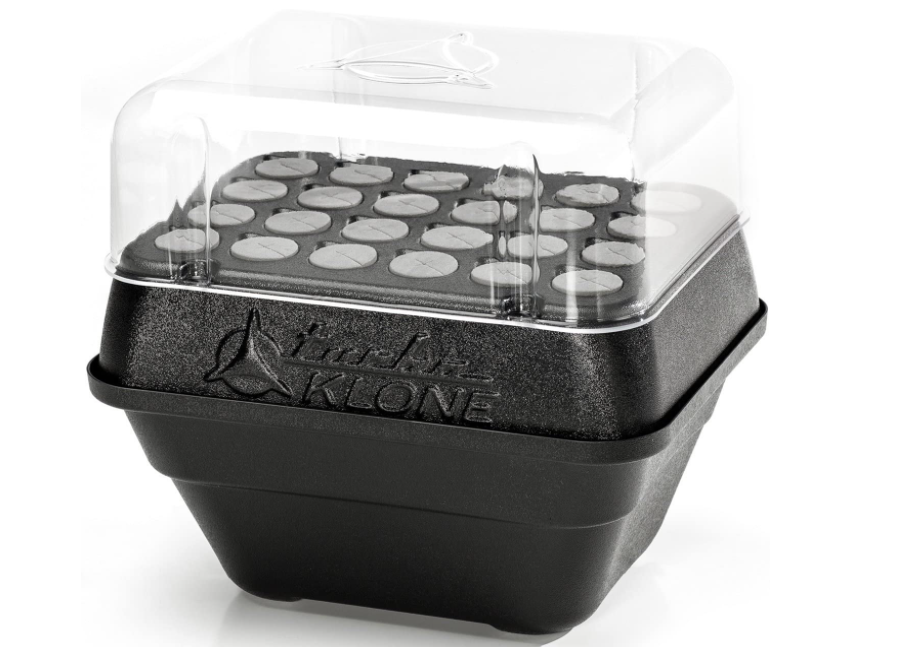 One of the great features of this product is that it has a humidity dome to prevent leaf transpiration and initial transplant shock. It also has a submersible pump/manifold that provides a fine spray of continuous water and oxygen to your cutting. This system is easy to configure for up to 60% more sites than other systems of similar size, and it stays cool thanks to its fan and shroud. The rounded edges make it much easier to clean, too.
Pros
Very easy to clean

It has a fan that cools your plants and the system. 
Cons
Tends to perform inconsistently 
GrowBright OctoCloner 8-Site Aeroponic Cloning/Propagation System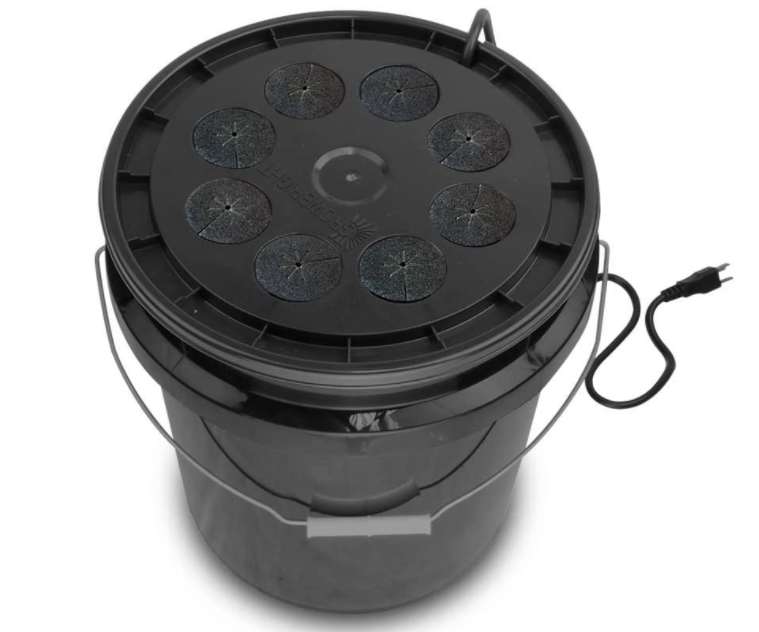 For someone living in colder climates, this is the best cloning system. The system is an 8-site aeroponic cloning machine. It features a 5-gallon black bucket reservoir, factory-molded 8-site lid, (8) radial-punch neoprene collars, and a larger 250 GPH pump. It also includes (2) 365° rotary sprayers, standard 3-prong grounded plug, and complete instructions on successfully cutting clones.
Pros
It comes with an instruction manual making it easy to learn and use

Well designed and durable
Cons
Jump Start CK64060 Heat Mat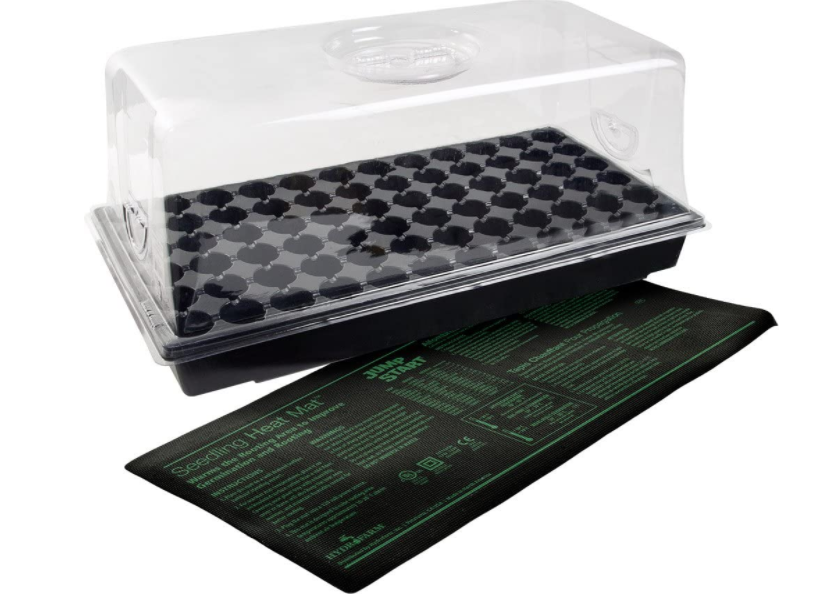 The 7″ Dome is the perfect way to grow bigger and taller starts. With a better humidity control system, optimum growth is easier to achieve. It provides excellent germination success, and the 17 watts, 120-volt bulb ensures excellent light penetration. The 11″ x 22″ watertight base tray helps to make sure that seedlings stay at the right temperature. 
Pros
Spacious making it ideal for more and tall plants

Adequately ventilated to regulate humidity

It has a heat mat that absorbs excess heat
Cons 
How To Get The Best Aeroponic Cloning Guide – Factors To Consider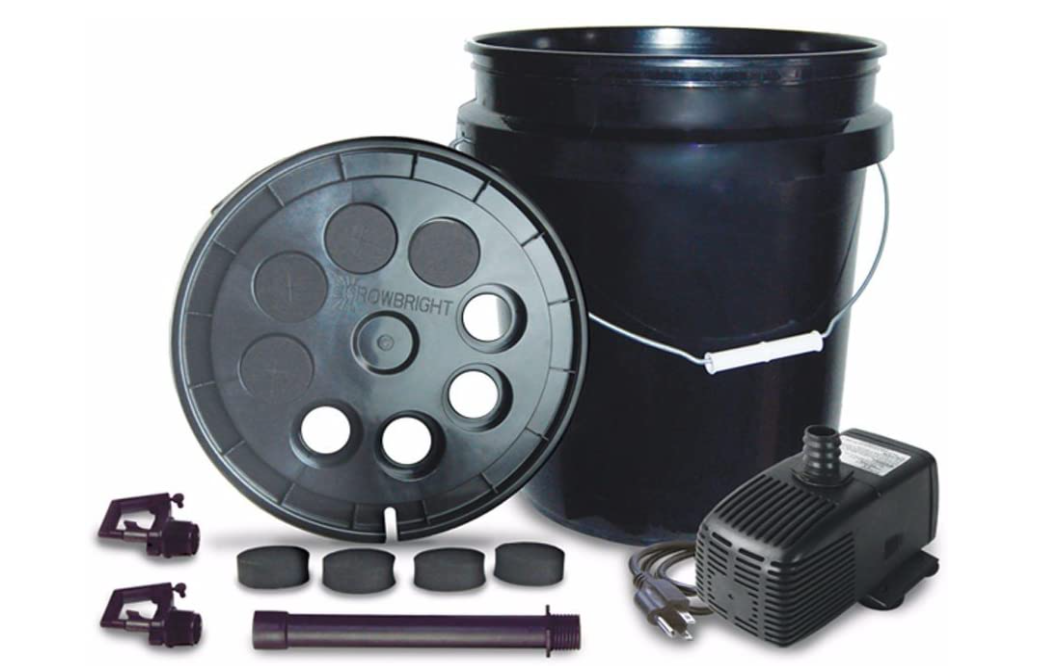 Plant cloning is a term that is often used interchangeably with plant propagation because the two processes share very similar goals. The difference lies in the fact that while propagation increases the number of plants available for harvest or sale, cloning creates plants with identical genetic material as the individual plant or parent cloned. Here are a few factors to consider to get the best aeroponic cloning guide.
Customer Reviews
You can use customers' reviews to find the best aeroponic cloning guide on the market in a snap. The reviews will tell you whether a product is effective, how easy it is to use, and what people's past experiences have been. If you want to find a product that will answer your questions and solve your problems, check the reviews first!
It Comes With a Money-back Guarantee
When you're looking for an aeroponic cloning guide, you'll want to get one that is working. With a money-back guarantee, anyone can see the results without risking their hard-earned cash.
Easy to Understand
The best aeroponic cloning guide is one that can be read and understood by beginners. It has to be simple and easy to follow, guiding them through the entire process from start to finish. The best aerial imagery applications for agriculture are those that have been tried and tested. They are the ones that deliver the data needed for optimizing crop yields.
Consider Things Like Cost
You might think you've found the perfect aeroponic cloning guide, but if it isn't affordable or provides no value, you might want to think again. The perfect aeroponic cloning guide should be affordable and provide value for money and be easy to use.
Quality of Information
The best cloning guide should have a simple interface that guides users seamlessly through every step of the process. It should also provide a great deal of information on the best nutrients to use and how to troubleshoot common issues.
FAQs
Question: What factors should I consider when buying a cloning machine?
Answer: The ventilation system, type of lighting used, size of the holes, and vials length are some factors to consider.
Question: Are aeroponic foods healthy?
Answer: Foods grown in an aeroponic system are just as healthy as those grown in soil. What matters most is the nutrient solutions used.
Question: How long does aeroponic cloning take?
Answer: It depends on the plants you are cloning. Some will start growing roots within three days, while some take up to two weeks, after which they are ready for transplant.
Conclusion
A lot of people love gardening, but not everybody is a green thumb. Luckily, there are many ways to learn the basics of gardening and even improve your gardening skills. Aeroponics cloning is a very safe and effective way to clone your plants. It offers a faster cloning process, which saves you money because you do not have to buy as many starter plants to get started.
In addition, it also allows you to clone your plant at any time of the year, not just during the growing season. Aeroponics gives you full control over the environment, giving you the ability to control the nutrients, heat, and humidity best suited for your plants.